Did you notice that the NY ING Marathon was SUNDAY?  Yep, for thousands and thousands and thousands of people, a year of training ended in just a few short hours.
(although, I'm not sure how short hours seem when you're running 26.2 miles. . . I still can't believe there are people who just get up and RUN 26.2 miles!)
It was exciting to follow this year's Marathon since I know (ha — KNOW) two of the runners: Jared Fogle (of Subway) and Meb Keflizighi, the winner of the 2009 Marathon.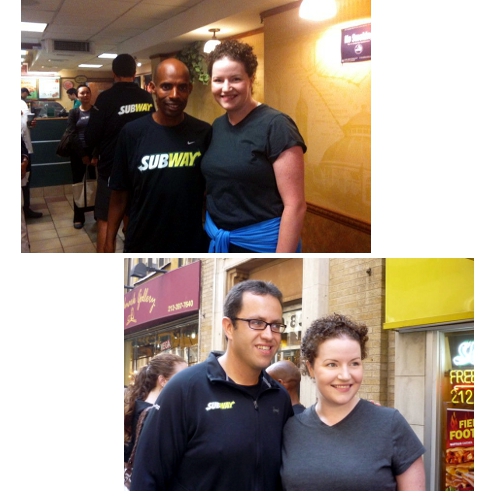 Sadly, Meb Keflizighi, whom I met and with whom I ran around New York in September, did not see another 1st place finish.  Gebre Gebrmariam, of Ethiopia, finished first this year with a time of two hours, eight minutes, and fourteen seconds.
But, Meb did NOT run a shabby Marathon — his official time is 2:11:38. Just a little under three minutes slower than Gebrmariam.
SERIOUSLY! Can you believe these guys can run 26.2 miles in just over two hours?  I am still flabbergasted every time I think about it.
What about Subway's Jared?
He did VERY well for a man who admitted to me that he was NOT a runner; he didn't start training for the 2010 Marathon until the beginning of this year.  Jared's official NYC ING Marathon time was 5:13:28.
I honestly doubt that running a marathon will ever by in my future, but I did set a goal to run a 5K.
Am I a natural runner?  No, like Jared, my body does not have a natural rhythm and ability to run.  So, why running?  As I have said before, running requires activity.  Breathing.  Stretching.  Focused movement.  It requires one to use every single muscle — there is nothing passive about running.
If I want to push myself — to train my body to breathe and move effectively — I feel running is the way to do it at this point in my life.
It's my "Commit to Fit[ness]" goal.
Investing in Fitness
Aside from a pair of running shoes (a pair of Asics for which I spent a whopping $26 dollars — yay for sales!), I haven't spent any money toward my 5K goal.  I've been using all of my old workout and running clothing, my treadmill, and (when running outside) my normal double stroller.
Scratch that — I've TRIED to use my double stroller, but it has been very apparent that a normal stroller just can't hold up to the wear and tear of running on pavement.
It's time to buy a good jogging stroller.
My husband and I have talked for years about buying one, but I've been the one to hold off on the purchase; like with most households, money doesn't grow on trees around here.  Spending money on a jogging stroller — something that has not been a necessity — couldn't be my priority.
But, with my new 5K goal, priorities have changed slightly. Since my money situation hasn't, I'm so excited that Subway is helping a Mama out!
Giveaway: Money for your Fitness Goal
To help out those of us committed to becoming healthier, fitter versions of ourselves, Subway is giving – GIVING — (up to) $100 to be used toward a fitness goal.
I am using that money toward the purchase of a double jogging stroller.
What about you?  Is there a class you've been wanting to take — Zumba or Yoga?  Do you need new running shoes for your Commit to Fit goal?  Have you thought about hiring a personal trainer or joining a gym?
Subway will give one reader up to $100 to be applied to his or her fitness goal.

Yes, up to $100 dollars.

But, this isn't free money, people — Subway is serious about their Commit to Fit program.   The funds must be used toward fitness/exercise classes, supplies, attire, race fees, or fitness gear; the person who wins this giveaway will need to submit a receipt as "proof of purchase" and Subway will reimburse the winner (up to $100).
For someone who is truly dedicated to becoming healthier, this is a fantastic opportunity to invest in his or her health and spend money that wouldn't normally be spent.
To Enter
(NO purchase is necessary to enter)
Leave a comment, answering the following question:
If you won this giveaway, what would you invest in to better your health?
Bonus Entries (please leave a separate comment for each bonus entry):
Like Following In My Shoes on Facebook (1 bonus entry)
Subscribe to my RSS Feed (1 bonus entry)
Follow Following In My Shoes via Google Friend Connect (1 bonus entry)
Follow me on Twitter (1 bonus entry)
Tweet the following message:


I entered to win $100 f/ @subwayfreshbuzz for my fitness goal. Are you serious about living a healthy life? http://bit.ly/aRo6mV #commit2fit

(1 bonus entry per tweet – Max of 3 tweets per day; please include the link to your tweet in your bonus comments.   ** NOTE – I have disabled the ability to "right-click" on my blog, but you can still copy text. To do so, highlight the text and then, while HOLDING DOWN the control button, press the "c" button. This will copy your text and allow you to paste it in Twitter. You can also use the "Retweet" button at the top of this post, if you'd rather.)

Follow @subwayfreshbuzz on Twitter. (1 bonus entry)
Like Subway on Facebook. (1 bonus entry)

Open to US Residents only. Giveaway will end at noon, Monday, November 15th. Winner will be notified by email and will have 48 hours to confirm his/her win.

Disclosure: Subway is also providing me $100 toward my Commit to Fit Goal, which, like the winner of this giveaway, I must validate with a receipt.  For the full story of my fitness goals, see my post about when I attended the Commit to Fit launch event in NYC.