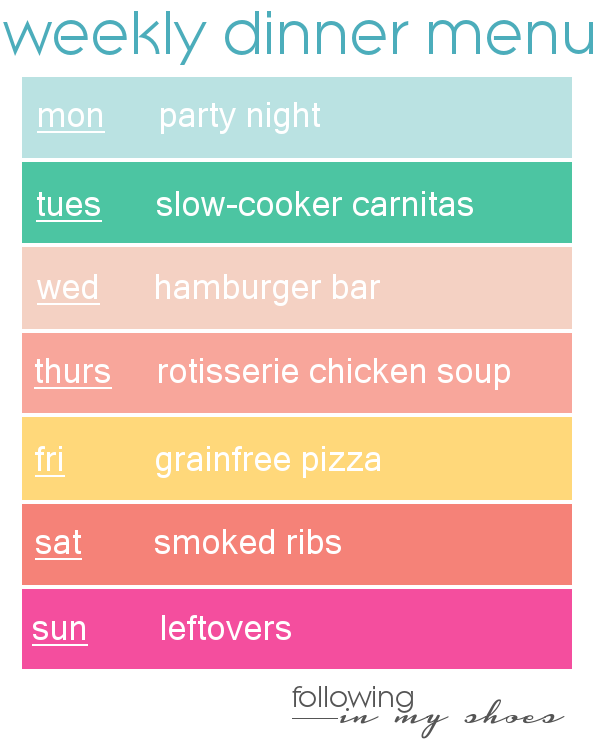 Why is Christmas next week?  Can ANYONE explain how that happened?  Wasn't it just December 1st yesterday?
In true holiday fashion, I've been enjoying food.  Lots of food.  Healthy food.  Not healthy food.  Sugar.  Processed.  Starbucks. Chick-fil-a.  Yep.  All of it.
Menu-planning has been a "yeah, I kinda-sorta did it" activity — usually done in the grocery store while trying to shop with three tired and crabby children.
This week, as I deal with some issues that I KNOW from experience are the result of poor food choices, I put on my big-girl panties and said "Enough is enough."  Time to follow the mantra I'm always sharing with my Kindergartener, Mr. Boy, and "Make Good Choices."
With the exception of a Christmas party Monday night, I made myself choose healthy (and frugal since I still have Christmas presents to buy) meals.
What We're Eating This Week
Monday
Dinner: Party Night
Kid Lunch: School Lunches — yep, the Kidlets ate from the cafeteria because Mama spent all night making and packaging teacher/school personnel gifts. My children thought they'd won the jackpot.  Ingrates.
Tuesday
Dinner: Carnita Nachos (I use this Slow-Cooker Carnitas recipe — it is AMAZING; the last time I made it, there were enough leftovers to freeze so this meal will be a really easy one: just thaw, heat, and serve with organic corn chips)
Kid Lunch: Thermos Lunch of Meatballs in Sauce w/ Gluten-Free Pasta & Cheese, Fruit, and Carrots and Snap Peas.  I use the Thermos brand Funtainers for sending hot lunches to school — I've used them for myself too and they work REALLY well.  The food stays HOT!
Wednesday
Dinner: Lettuce-Wrapped Hamburgers, Baked Sweet Potato Fries
Kid Lunch: Apples wrapped with Ham and Cheese; Carrots and Snap Peas, GF Pretzels
Thursday
Dinner: Roasted Chicken & Veggie Soup, Grain-free Brazilian Bread (a cheater variation … from my grocery store freezer!)
Kid Lunch: Apple-Nut Butter Sandwiches (Sunbutter for the Preschool who's school is nut-free), GF Pretzels, Carrots and Snap Peas
Friday
Dinner:  Hamburger Veggie Paleo Pizza (using remainder of marinara from Tuesday lunch) and Salad.  I use a paleo naan recipe for my crust — it's fool proof and delicious.
Kid Lunch: Ham & Cheese on a Stick, GF Pretzels, Veggie and Fruit
Saturday
Sunday
Breakfasts are generally full-fat yogurt, freezer-stash waffles, eggs from our girls (who are FINALLY LAYING AGAIN after the longest egg-strike in history), and the like.
All those GF Pretzels in the Kidlet lunches?  Yeah, I have a TON leftover after making treats for Teacher Gifts.  I'm sure the Kidlets will be sick of them by the time the week is over!
And for the New Thing …
After 3 years of hemming and hawing over Essential Oils, I finally decided to bite the bullet and jump in.  Now, the past three years have been spent researching a TON and talking with many, many, many folks.  At first, I was thinking about getting my oils through one of the well-known MLM oil companies, but after additional conversations and other readings, I decided to go with Rocky Mountain Oils.  They are not a MLM so you just purchase directly from the company.  They also sell some oils on Amazon (with free Prime shipping) and I've gotten a few there when they've been cheaper than on the RMO site.
As far as the prices go, they seem to close (in some cases a bit cheaper) to the MLM oil prices but, in most cases, you are getting 2-3 times the amount of oil. Plus, they also know and work intimately with their farms/growers and can provide batch information for each bottle of oil.
After the first 2 weeks, I'm sold on oils!!!  Our entire family had been sick for over a month with back to back colds, strep, stomach bugs, and sinus infections.  It was ugly and miserable.  By the third day of diffusing and topically applying some "germ fighting" oil blends, every single person was better.  No longer snotty or congested.  My chronic sinus inflammation/pain was at a ZERO.  All five of us were completely well,
So, now I diffuse those oils daily to make sure it stays that way!!!!!