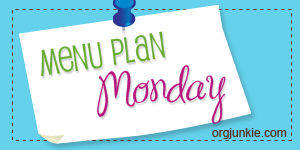 So, yeah, last week was my experiment on combining healthy, nutritionally balanced meals with calorie awareness (keeping each day around 1500 calories).
It went pretty well and I think I'll keep it up!   🙂
(Because of a weekend trip, we did not use each recipe last week, so I carried them over)
Here are our meals for the coming week:
Tuesday: Lemon Pepper Tilapia, Grilled Asparagus
Thursday: Lemon Thyme Chicken Tenders, Spinach and Strawberry Salad
Friday: Flatout Bread Margherita Pizzas and Salad (pizza recipe below)
Saturday: Chicken Fajitas with Whole Wheat Tortillas

Flatout Bread Margherita Pizza
(makes one serving)
1 Flat Out Wrap (I use the Multi-Grain wraps)
1 tsp Garlic Powder or minced garlic (1 small clove per pizza)
Fresh or canned diced tomatoes (I use Hunt's Diced Tomatoes)
Directions:
Lightly brush the olive oil onto the Flatout wrap.
Sprinkle 1 tsp of garlic powder or 1 clove minced garlic onto the wrap.
Top with mozzarella cheese.
Add your preferred amount of tomatoes and fresh basil.
Put in the oven, using the broil or lo-broil setting; remove when cheese is bubbly and lightly golden.
This is one of our favorite pizzas right now — light, flavorful and very crispy!
*This post linked with OrgJunkie and Chive Talkin'.