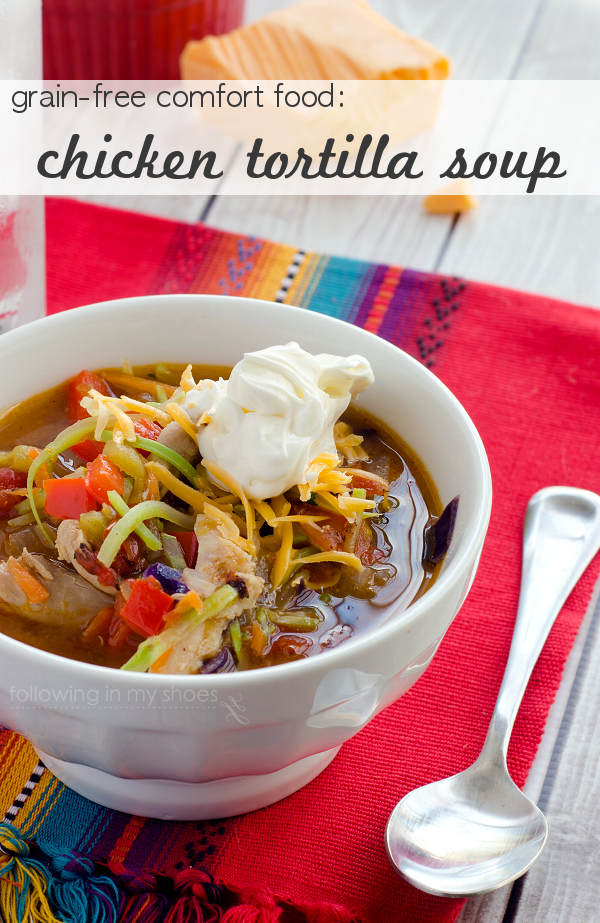 The past few weeks, I've spent many a night reworking my Grain Free Chicken Tortilla Soup recipe.
You see, when I first got married, I could only barely cook.  And by barely, I mean that I could make toast but couldn't hard-boil an egg.  I could make a grilled cheese sandwich and open a can of soup but I couldn't cook a decent meal in my slow cooker.
It was bad, y'all.
This curly-headed gal, however, was determined to learn cookery, she knew what good food should taste like, and she was gutsy enough to try, try, try, try again in the kitchen.  AND … because she (we're talking about me, just to be clear) could read and follow a set recipe, and by following established recipes (to a "T"), she eventually learned how to cook.  Yes, I learned what flavors worked together and which ones didn't.  I learned how to julienne, how to make my own broths and stocks, and the slow-cooker became my very bestest friend.
By the time I had two children, I no longer needed a cookbook in front of me.  I could throw things together and get a meal my family liked.  BUT … now, four years after I first started sharing recipes on Following In My Shoes, I've gotten even better.  I just know more about food now …
Which means some of my older recipes leave me a little embarrassed.  Good but not great.  Horrible pictures.  Badly written instructions.
I've decided to spend this year reworking those very early recipes.  I want everything on my site to be the very best it can be … dishes that your family will love and recipes that won't leave you frustrated.
That's my goal, folks, and first up is my Grain Free Chicken Tortilla Soup (originally published in 2010 as "Mock" Chicken Tortilla Soup).  I made this soup when I was working (so very hard) to lose my pregnancy weight from Mr. Boy.  It's a low-carb and veggie-rich bowl of comfort food goodness.  And version 2.0?  Oh, YUM!!!!  YUM!!!!!!!!  YUM!!!!!!!!!
I hope you enjoy!