There's nothing like the South in the spring. . . but I could do without the horrible, destructive weather.
When we left Oklahoma after Easter, we drove through numerous bouts of rain, hail, and even had to outrun a tornado.
Not. Fun.
I had hoped that would be the last dance with Mother Nature but it wasn't.  We're still in Northeastern Oklahoma, visiting family, and last night my kidlets had their first experience hiding from a tornado.
Hiding in a fire-walled bathroom (courtesy of my Dad's church) with four children, including two preschoolers and a toddler, is not my first choice for Sunday night entertainment…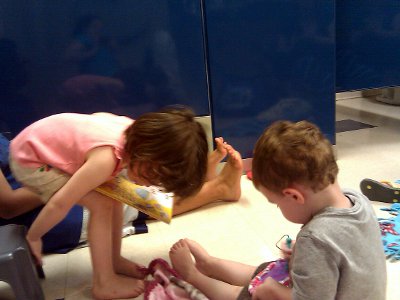 especially when you have children fascinated by toilets thanks to potty-training.  And, when, in your haste to get to the "safe place," you forget to put shoes on your kidlets.
We sat through at least five different rounds of hail, some of which was larger than a golf ball.  Tornado sirens blared while we played "Simon Says."  The dogs (yes, we brought dogs into the mix) sat, shivering, knowing better than the children what was really going on.
While tornadoes touched down around our little town, and many in our area are still without power and some homes were lost, we came out safe and unscathed.
But, our "big city," Joplin, MO, did not fare the same.
Joplin is about 30-40 minutes from my parents' home and is the go-to place for shopping and medical needs.
Today, much of it lies in complete devastation.
One of the hospitals was hit hard (all the windows blown out and chunks of exterior walls were torn off) and is uninhabitable.
My sister's OB office is gone — flattened along with other medical offices and pharmacies.
(She was scheduled to be induced this week, giving birth at one of Joplin's two hospitals. Thank God the baby came early.)
The local Walmart, Lowe's, Home Depot and hundreds of other businesses are destroyed.  The high school in practically gone.
The neighborhoods are unrecognizable.
Homes splintered and trees – which I admired the other day during a trip to Joplin – snapped and stripped of leaves.
People homeless or trapped in what was their homes.
Cars are strewn about like discarded children's playthings.
The death count is currently hovering around 100 but is rising.
The images coming out of Joplin are surreal.  I was just there a few days ago, shopping with my sister and getting tea from Starbucks.  We drove down Rangline, the main road that was hit by the tornado, and had a good sisterly chat about married life.
I drove past the Burger King that's no longer in existence.  I went into Walmart — which now stands with less than half of its building intact.
It's hard to take it all in — especially as we hear from friends who are looking for their family members . . . or trying to help neighbors find their children.
Today, our area is experiencing more tornado warnings, hail and dreary, heavy rain.  Certainly not what is needed from Mother Nature.
And, based on what I'm seeing from the Little Lady, who is terrified of storms and cries out with each bolt of lightening and peal of thunder, I can only imagine the fear and shock felt today by the residents of Joplin.
They're not even getting  a break from "weather."
If You Want To Help:
May 24th: If you want to help the people of Joplin, MO, here are some resources and tips for helping Tornado Victims (from the FEMA blog).
If you are local and want to help, please check the KOAM site for updated info on volunteering, drop off sites, and current needs of Tornado Victims.
You can also visit the KOAM site for other information, such as how to report missing Tornado Victims and Pets.