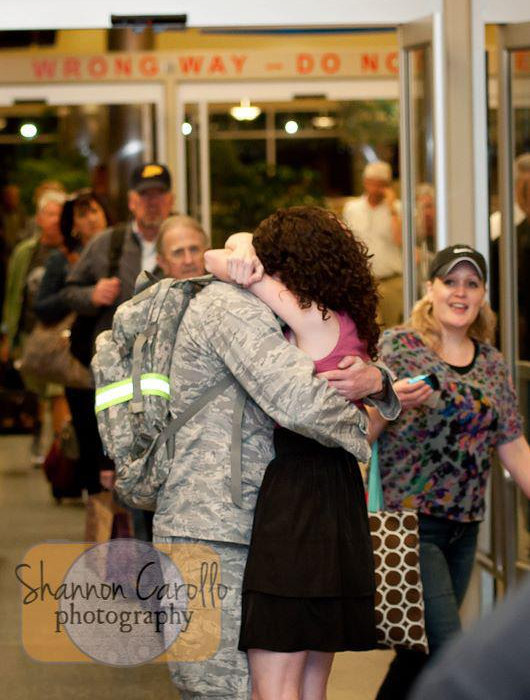 For years, our holiday travels have been set in stone: my husband's Texan parents for Thanksgiving and my Oklahoman parents for Christmas.  A simple plan that meant we always (nearly always) got to spend time with every family member and enjoy our favorite childhood holiday foods.
This year, we're changing things up . . . "reverse that" as Willy Wonka would say. For the first time, it's thanksgiving at Gramie's house in Oklahoma. A small affair in my mother's dining room with my sister, Sarah, and a few elderly members of my Dad's church — men and women who would otherwise spend the day alone.
But, there will be two faces missing that day: my youngest sister, Hannah, and her Air-Force husband.
As an active Military family, their time isn't always their own. Last year, she spend the holiday season without her husband as he was stationed in the Middle East.  Long, long days and long, long months of being separated.
Then, one happy, happy day in the spring, he came home — and the gorgeous photography captured by her photographer that day makes me tear up each and every time I see it.
This year, Hannah and her husband are preparing for a cross-country move to a new base . . . which means no holiday giggly sister time with all the Sisters.  No late night board games after the other guests have left.  No secret snacking on baked goodies after all the Kidlets are in bed.
But I can let her know that I'm missing her laugh and thinking of her this Thanksgiving — with a little card from Cardstore.  A card and a family-favorite recipe: Chipotle Cranberry Sauce for her Thanksgiving Table.
(and the leftovers make an amazing Turkey and Cranberry Panini — the perfect comfort food when "family" is a long-distance situation)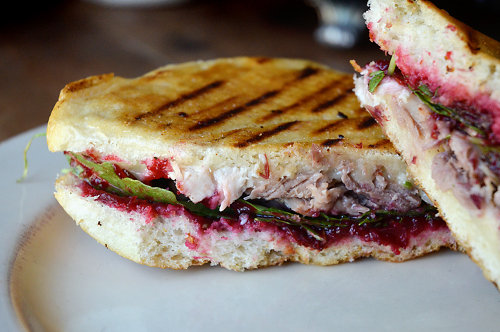 Share with Your Family This Holiday Season
This holiday season, Cardstore is helping each of us extend our Thanksgiving celebration and promote the spirit of giving by allowing me to send each of you my special recipe and a Cardstore coupon code good for one free card! I just need you to complete these two simple steps:
Step 1: Leave a comment below sharing one Thanksgiving memory that makes you smile
Step 2: When the registration box appears, complete the form
Step 3: That's it! My recipe and a coupon code from Cardstore will be sent to you by mail
This is a sponsored conversation written by me on behalf of Cardstore. The opinions and text are all mine.