If you've seen my Twitter updates over the past few days, you've seen mentions of being sad, wanting to cry, and the announcement that this Dec 31st was the first time, in five years, that Hubby and I weren't together for New Year's Eve.
Absolutely pathetic.
The Little Lady and I are still in Oklahoma, waiting for the two bent rims on our car to be repaired. Incidentally, this the SECOND Christmas in a row that our car has been damaged while in Oklahoma. What the heck??? I think OK is jealous of our Texas plates . . . or else, OK hasn't forgiven me yet for moving south of the Red River.
Anyway, I was alone . . . dateless . . . sad and depressed about New Year's Eve. Just your general, silly little state of feeling sorry for myself.
But, dude — I got HOOKED UP and had the PARTY of ALL parties.
(get ready to be jealous)
Who was the one to bring me out of the my funk and help me bring out my funky party self?
This little charmer right here:
Sorry about the picture — that was his angry face . . .angry at ME face. You see, our date didn't go so well. Why? Because I'm a better pirate than he is.
That's right, I'm a better pirate. You see, our party plans included a variety of activities: binging on chips and dip (and brownies — can't party without chocolate), watching "The Incredibles," and playing "Pirate's Cove."
This was my pirate: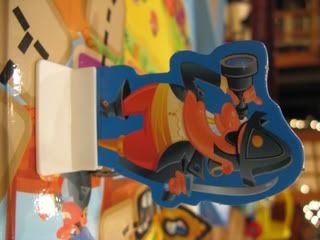 I named him Peg Leg Wally "Gold-tooth" McGuin. He's the coolest pirate in the Cove.
I don't know if it was because of "Gold-tooth," or my pirating skills, or the fact that my nephew was distracted by the TV in the background, but it didn't take long for me to amass quite a Booty.
(that is the correct use of booty, right??? I mean, you know what I mean, right? I'm talking about gold, ya know . . . . not the OTHER kind of booty. That's a whole other post . . . that couldn't be posted on THIS blog)
Here's my winning pile of booty, in case you're still confused: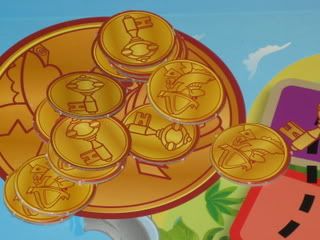 And, here's my date . . . and his reaction when I bragged that I, a girl, was a better pirate:
Apparently, despite the sound whipping he received playing me, he still didn't believe that he'd REALLY been bested by a girl.
Get used to it, Dear Nephew, I ALWAYS play to win.
Happy New Year's.