Dear, Hubby —
What's wrong with this picture?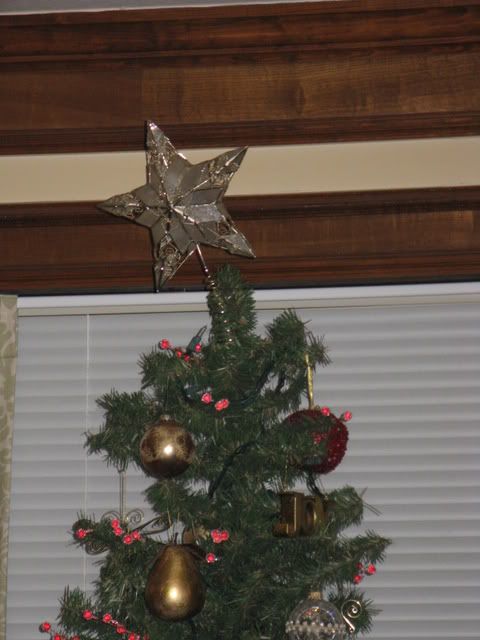 Well, aside from the obvious focus, color, and crooked star issues????
Did you say that the "wrong factor" lies in the fact that it is a picture of a CHRISTMAS TREE??? In FEBRUARY???
Woo hoo! You win!
And, I lose.
Yes, we still have our Christmas trees up . . .in the middle of February. In case you haven't noticed, this is NOT the norm for most people.
But, it is not my fault. Even though I am a Christmas-fanatic, I am not so in love with that most festive of seasons that I leave my decor up year round.
Oh no — normally, I have things promptly put away on the 1st of January. It's tradition.
Somehow, tradition went out the window this year. I blame you.
Now, I realize that I can't blame you for all bad things that happen around here, but you totally gets the blame for my decorations still being out and about.
You see — you, a "manly man", REFUSE to climb up into the attic and bring down all of my boxes.
Refuse.
But, your Mama and my own Mama have REFUSED to give me permission to climb up there myself.
"You do not have any business up there in your condition," they have told me.
(I have to admit — it is kind of nice to be able to use "my condition" to throw work your way.)
So, Hubby — if you're reading today . . . ummmm . . . can we PLEASE put stuff away this weekend? I'd hate to have to call your Mama again — but I will. Consider that threat now out there.
Love, Your Wife.
P.S. Happy 35th Birthday!!!!!!!!!!