I'm tired of going round and round and round with my husband and father-in-law over today's topic. Ugh — BOYS!
It has nothing to do with my future son — we're not arguing over his name, the clothing he will wear, or whether or not he will be allowed to play with dolls.
We're arguing over this: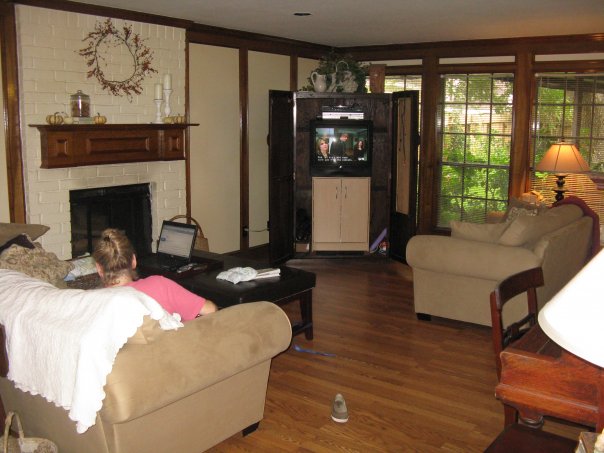 I want your attention directed to the trim/molding in this room. This is the point of our dissension.
I want to paint the woodwork a creamy white, to match the cream colored trim, molding and cabinetry in the kitchen; we have an open floor plan . . . to me, the look of white trim butting up against the natural wood trim is disjointed. In addition, despite a wall of windows, our living room is a naturally dark room — thanks to North/South facing windows. The darker trim only exacerbates the dark look of the room. FURTHERMORE, the majority of our furniture is a completely different wood color . . . and it drives me NUTS that everything looks different!!!!
I WANT TO PAINT THE TRIM!
(plus, if the trim is painted, I feel that we will have more options as to what the drywall panels (in between each vertical trim piece) can be painted . . . because, YES, I want to paint those too)
But, my "boys" have reacted to this desire as though it's a travesty, a terrible act against humanity and all wood craftsmen.
Can I do all of this painting by myself right now? No.
Do I want this project completed before the baby arrives? Yes.
Will my father-in-law & husband help me? NO!
Am I really so crazy by wanting to paint the trim in our living room and dining room?
I need answers from objective perspectives. Should I put my foot down and insist that the trim is painted? Or, should I give in to the male voices, suck it up, and just live with what I've got?