This past Sunday, my Little Lady turned three, and in honor of the occassion, I dusted off my sewing machine.
(yes, I actually have one . . . in my guest room . . . a room I never enter . . .but, that's a whole other post)
Mama was gonna make a shirt.
You read correctly — a shirt.
Inspired by the $20, $30 and $40 custom applique birthday shirts on Etsy, I was determined the Little Lady would have one.  Did I have that kind of money to spend on a preschooler's shirt?  Um . . . no.
It was time to pretend to be creative.
With the hint of an idea in my mind, I trotted down to Hobby Lobby.  Shoulders squared and brow furrowed, I walked through the doors and headed to the fabric department  — like I KNEW what I was doing.
Oy, vey — my search for the perfect fabric took FOREVER!  The first fabric was too country.  The second fabric didn't have enough purple in it.  The third fabric would only look good on a toilet paper cozy.
An hour later, I found *the* fabric.   The perfect, slightly "mod", purple and green concoction.
When I returned home, fabric and supplies in hand, I showed the swatch to the Little Lady, ooo'ing and ahhh'ing over the fabric as I pulled it out of the bag.
She was not impressed.  It couldn't be eaten and it couldn't be played with.  My fabric was worthless.
Undeterred, I drew out my fabric scissors, threaded my machine, adjusted the tension and got to work.
Two hours later, I was finished and  . . . slightly pleased with my creation.
Was it a great homemade masterpiece?  Not hardly; in fact, every time I look at it, I see mistake after mistake after mistake.
But (and this is really the important part of having a custom birthday shirt) the Little Lady looked FREAKING ADORABLE!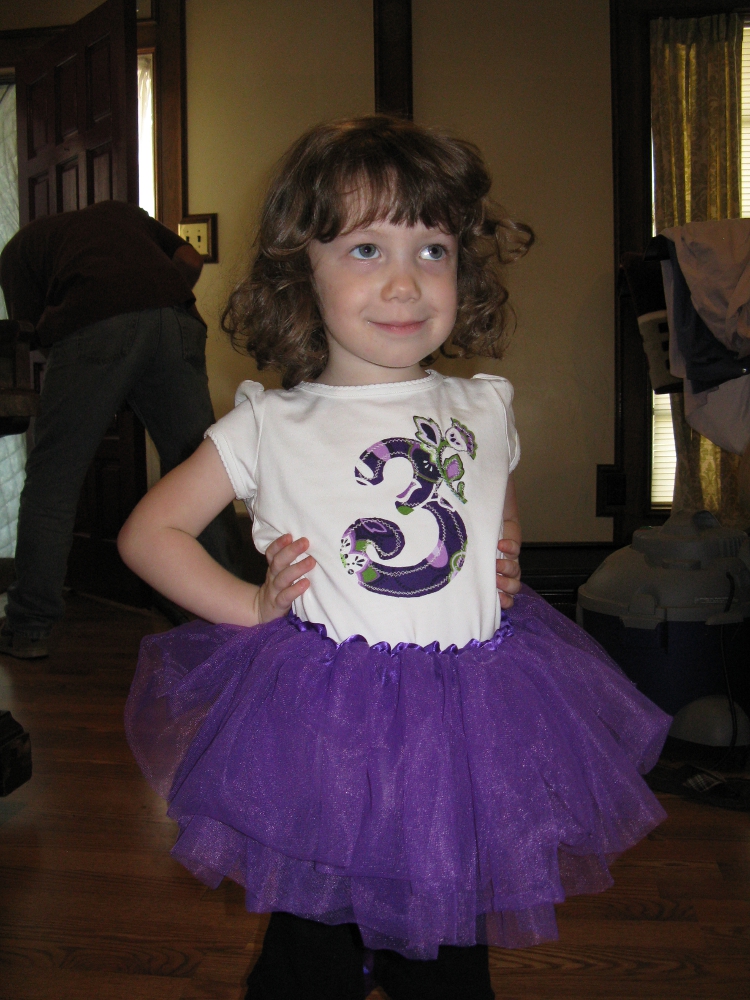 And, from one Mommy to another, is there really anything better than a perfectly cute little girl?
I didn't think so.
Linked with:
Some What Simple