"I was made for air-conditioning."
Everyone needs to know that itty-bitty fact about me. I should have it tattooed somewhere on my body. It's the reason why I get incredibly angry when I sweat, incredibly irritated when my cheeks flush, and incredibly frustrated when my hair frizzes. When any of these three things begin to happen, you really wanna stay clear of me!
My husband's family, on the other hand, glories in being with the great OUT-doors. The hotter and more muggy it is, the better most of them enjoy themselves.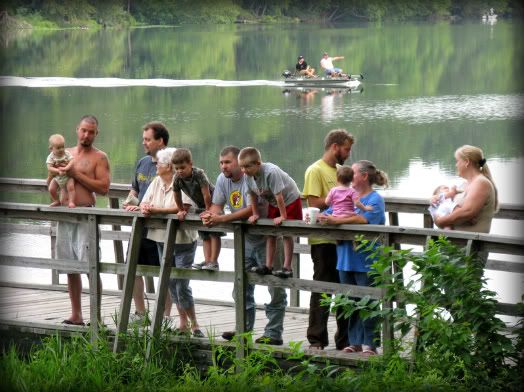 Even a little rain (or a lot of rain, as the case may be) doesn't dampen their spirits. Even ALLIGATORS roaming about, looking for some tasty, sweet morsel of human flesh, don't deter these people.
Wait — alligators? Yes, I wrote "alligators."
This weekend, my husband's family (my family too, as of four years ago) gathered in Huntsville, TX for their First Great Camping Trip. What? Never heard of Huntsville? Well, it's known for it's prison and prison museum, the largest statue of Sam Houston, and the alligator infested state park. The alligator infested state park is where we stayed.
Oh, the menfolk "promised" there weren't any gators over 2-3 feet. "Really, they're harmless," I heard more than one man say (including my own man).
"Harmless?" Ha! I raise your "harmless" with a PSHAW!!!!!!! Don't you boys watch the Discovery channel? National Geographic? PBS??? Alligators are vicious, carnivorous, creepy pre-historic looking monsters! You expect ME to spend consecutive nights with only a mere few feet of land separating us?? Again– PSHAW!
Our first morning, as the sun lazily rose over the lake, casting perfect woody reflections over the glass surface, we saw our first Alligator and it certainly was not only 3 feet long!!!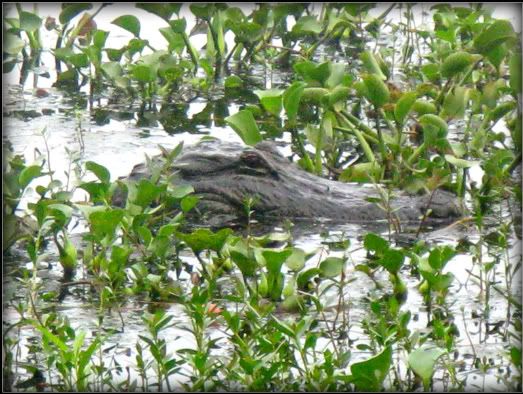 It moved slowly, smoothly creeping underneath the water, with only its angular, leathery gray head showing. The sight seemed surreal since not one muscle on tha alligator could be seen moving. It might as well have been a branch floating down the lake — it didn't look real.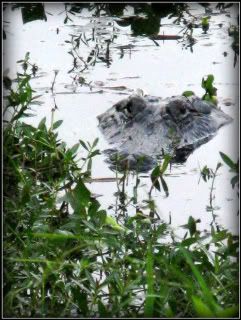 That, however, changed when it lunged toward us!!!! That's right — it charged toward the bank at a startlingly quick speed. One moment, not a thing was moving and then the next moment we ALL were moving — screaming, flailing away from that horrid creature.
Apparently, it wasn't really going after us but a poor innocent fish or frog at the edge of the shore. Poor animal — at least we could see it coming, which gave all of us girls enough time to scream. Loudly.
The boys just laughed.
Whatever — they were scared too. Unfortunately, I just wasn't quick enough to get a picture of that. Just wait till the next time. Wait, did I just write "next time?" Yes, I did. (sigh)