I think it is well known that I love food.  A lot.  I love smelling it, looking at it, photographing it, and — of COURSE — eating it.  And, even though I have eaten a lot of different exotic dishes and good ol' sould food recipes in my thirty-some years, I still have "My List."
And since I'm trying to streamline my posting these days and create weekly themes, I've decided to share five of the items on my list.  If I had to sit down and type every. single. gastonomic. thing. I want to experience, we'd be here for years.  Yeah, even *I* have better things to do.
Friday Five: Five Items on My Foodie's Bucket List
All of those recipes I want to try, restaurants and festivals I want to visit, and ingredients I want to put in my mouth.
(1) Bahn Mi — I have been obsessed with this since seeing my first crusty bread sandwich photo on Pinterest.  It was mouth-watering: simple pork, french bread, crisp veggies …. and I must have it.
(2) Mississippi Catfish — my youngest sister, who married a Mississippi native, swears that the best catfish to be had is in Mississippi.  If I can ever make my way to the Mississippi Gulf Coast, I am going to have me some catfish.  Golden and Crispy.  With lots of ketchup on the side (yes, I'm still 5 years old at heart).
(3) A Top Chef's Restaurant —  I don't care whose restaurant I visit, I want to eat at a "Cheftestant's" establishment.  I've already met one — FABIO! — but I need to eat their food.  Yes, I'm that obsessed and own two (2!) Top Chef cookbooks.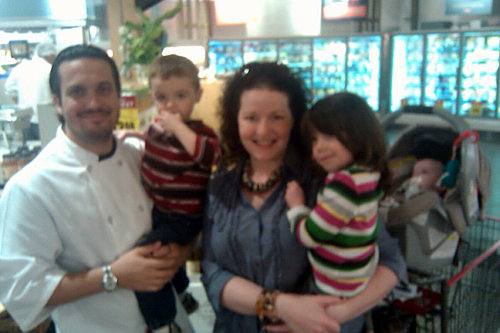 (4) Attend a Food Festival — again, I'm not picky.  It could be the Aspen Food & Wine Festival or, if I take that vacation in Mississippi with my sister, the annual Chefs of the Coast foodie weekend.  As long as there is great food and a chance for me to make memories with my family, I'll be there.
(5) Pumpkin Bread Pudding — do I really need to say more?  I adore pumpkin.  I lurrrrrve bread pudding.  I want to make those two flavors come together.  Soon.  I think I'll make it happen this weekend.
What about you?  What's on your Foodie Bucket List?
disclosure: this is a sponsored post but full of tasty truth and reflective of my own opinions and tastebuds.  This mama doesn't exaggerate or lie when it comes to food!