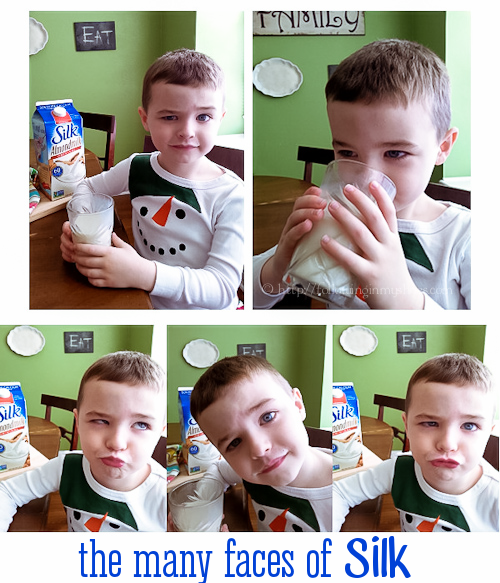 If you have a 4-year old boy — the son of a well-documented Class Clown (ahem, Husband) — then you know what happens when you bring out a camera of any kind.
Silly Faces.  Fierce Faces.  Milk Mustaches Galore.
I never knew a world that didn't involve Cow's Milk … until the arrival of Mr. Boy.  SEVERELY lactose intolerant, once we were finished with nursing, he wasn't able to handle anything but lactose-free milk.  And at his first birthday, when it was time to graduate from bottles of formula to cups of milk, it was Silk Almond Milk that found it's way into our grocery cart.
Each week, I put a new carton into the fridge because even now — when he has definitely outgrown his intolerance issue — Mr. Boy refuses to drink anything else.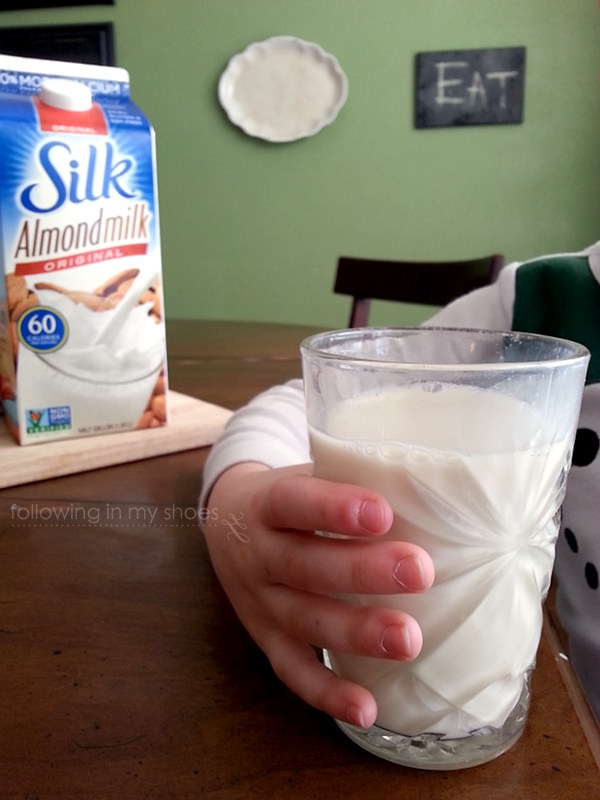 Silk Almondmilk allowed Mr. Boy to bloom into his silly, quirky, hilarious self.  I've never had to worry about his health while on it — it's calcium packed, non-GMO, plant-based ingredients have kept him strong and growing, developing into a smart little man.
Sniff … growing too QUICKLY into a smart little man.
Thankfully, we're not yet past the morning snuggles and the middle-of-the-night tip-toe adventures into my room — times when he still needs Mommy to hug and reassure him that the world is safe and beautiful and there are not monsters in his closet.
For now, I'll take what I can get — breathing in the scent of his sleepy little head and laughing at his monkey faces — while handing him another glass of his favorite milk.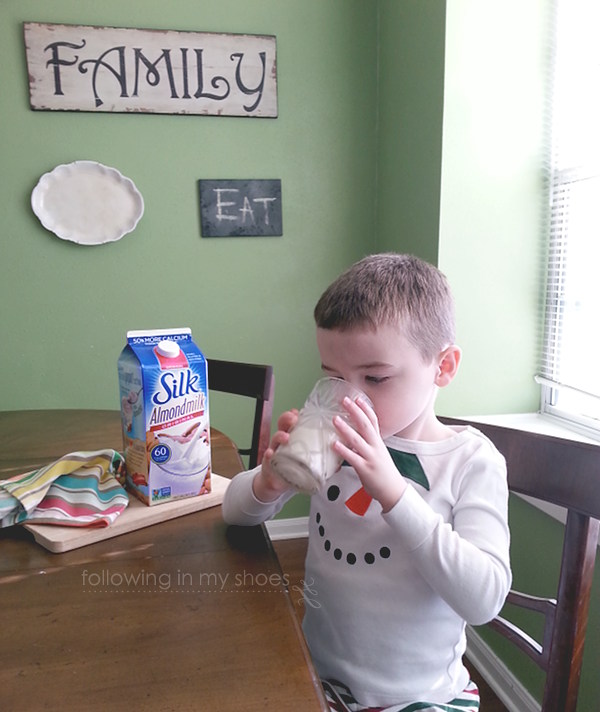 Try Silk Yourself
If you're also a Silk family (whether you love their Almondmilk, Coconutmilk, Soymilk, or Coffee Creamers) or are interested in trying out Silk, sign up for their monthly emails.  
As new registrant, you'll receive $0.75 off any Silk half gallon!
PLUS, you can also look forward to:
More coupons delivered to your inbox plus a special birthday offer
News of Silk sweepstakes and promotions
Monthly chances to win a year's supply of Silk! 
You can also follow Silk on Facebook!
How does Silk make you bloom?
This is a sponsored conversation written by me on behalf of Silk. The opinions and text are all mine.