subtitled: Run, Don't Walk, to Target. . . .NOW
It's the time of year when stores start putting out the back to school displays and teacher start looking for the best deals.  As a former teacher, I know what I'm talking about.
Schools provide curriculum, desks, and basic classroom supplies, but a lot of what a teacher uses throughout the year (both as teaching tools and classroom decor) is an out-of-pocket expense.  Classroom organizers, theme posters, reward charts, supplemental lesson materials, planners, that favorite dry-erase or overhead marker you just can't teach without . . . the list can get big in a hurry.
And, FYI: teacher supply stores are NOT cheap.  When I was still teaching, I had to budget for the items I wanted for my school year.  Posters — simple posters — ranged from $2-$15.  Yes — $15 for thematic posters  . . . . and that giant Shakespeare cutout I put on my wall (the one that my kids used to claim "watched" them and creeped them out. . . whatever.  You're 14 — he's Shakespeare.  He stays.).
This school year, as with the past two, I will be at home with my kidlets — and this year, I will be homeschooling the Little Lady.
Yep . . .biting the bullet and putting her in a full on preschool program. . . at home.  Just the two of us.  All day.
(as normal)
Trying to teach life-skills, along with readin', writin', and 'rithmetic.  Should be fun, right?
(right?)
Anyway, just like when I was teaching professionally, I've been planning and prepping for the new school year — building a curriculum and gathering supplies. . . which is why I nearly SQUEALED out loud when Hubby and I were at Target last night.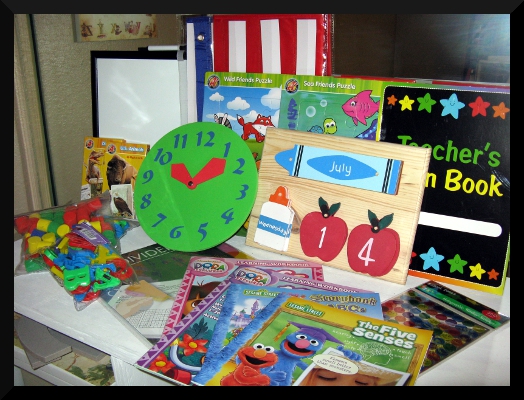 See all of that?  $20.  Yep — TWENTY BUCKS!
This week, it seems that the dollar aisle at Target is home to back to school supplies — both for teachers and parents.
What did I find?
Magnetic Letters
Pocket Wall Charts
Lesson Plan Book
Stickers
Activity Worksheet Books
Flashcards
Learning Clock
Wooden Calendar Set
Counting/Sorting Shapes
Puzzles
Dry Erase Board
File Dividers
There were also pens, pencils, markers, storage containers/dividers, grade books, and MORE.  I think I spent forty-five minutes filling my cart . . and then 20 minutes going through it all and weeding.  (Hubby was there to remind me that there is still such a thing as a "budget.")
So, whether, you're teaching in a public or private setting . . . or just want some cheap stuff for your kiddo, GO. TO. TARGET.
(and have fun!)