Alright — so. Sigh.
When I discovered that God had decided to let my body work and I was pregnant, I knew that I would "grow" with the baby. Visions of a cute little baby bump and fuller cleavage (always a plus) danced before my eyes. I saw pictures of pregnant models and actresses, all beautifully thin and pregnant, and KNEW that's what I would look like.
(I imagine there are quite a few of you shaking your heads and chuckling right about now, aren't you?)
I didn't realize that models and actresses are from another planet. . . cute little baby bumps on a thin body are a myth for most women . . and fuller cleavage comes with a price.
Yeah, my boobs and belly have grown.
So has my hips . . .
My face . . .
My butt . . .
My feet . . .
My thighs . . .
Let's put it this way — pretty much EVERYTHING, with the exception of my elbows, have expanded exponentially. And, I'm sure it won't be long before my elbows start gaining weight and I'll have to invest in some type of contraption to lift my weighty elbows and arms for me.
Sigh (again).
Under duress of extra, quickly gained weight, my skin has mounted a protest. Stretch marks have started popping up at an alarming rate. And. They. Are. EVERYWHERE!!! (well, except for my skinny elbows . . . but it's only a matter of time)
Of course, they aren't petite, cute, little pale marks — OH, NO! They are deep, wide, red, and they seem to resent following any set pattern. There are vertical ones . . . horizontal . . . diagonal . . . even a few that seem to be making a series of crop circles around my belly button (which, incidentally, is starting to loose its "innie" status).
I look like some new breed of exotic tiger.
(Like how I threw in the word "Exotic?" Did it help make my stripes seem sexier? No? Darn.)
I've applied lotions and oil since the day I learned my body had created a baby. I've downed gallons of water, trying to keep my skin hydrated.
Money down the drain.
I guess, if nothing else, I have something else to mention to Baby Boy. You know — like the "Nipple Conversation" — a fact that I can bring up the first time he is rude to me in front of his friends.
Oh, yeah — I'm looking forward to that!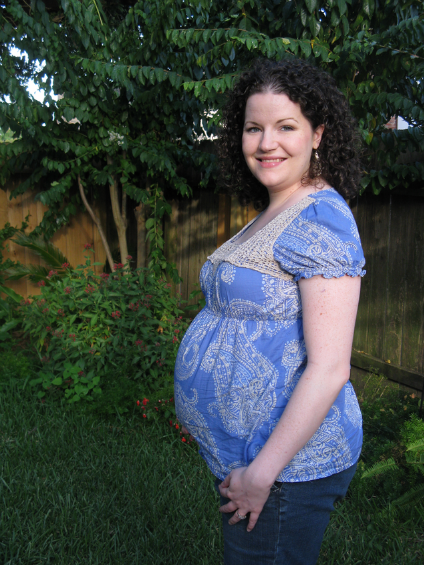 (28 Weeks)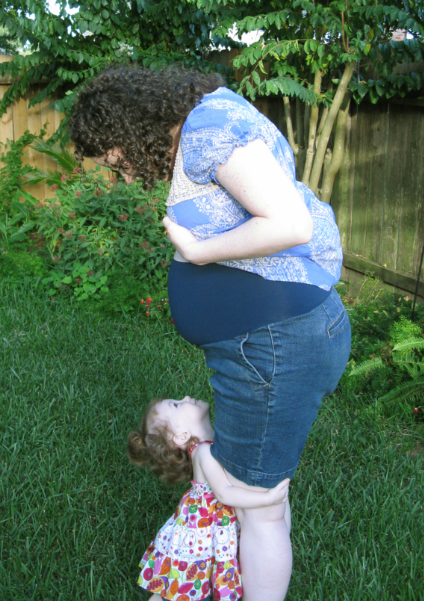 (
Oh, and yeah — I now have to bend over AND lift up my shirt to see the Little Lady. Sigh.
)