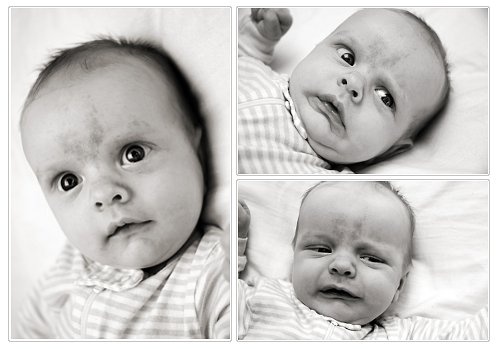 Does that statement make me a Bad Mommy?
Now, I'm not implying that I don't love the wee one who won't leave my arms. EVER.  'Cause I adore this little rat sweet thing.
I'm just not head-over-heels in love with this particular stage of life.  I firmly believe these first eight weeks are the hardest eight weeks in parenting and I FULLY understand why sleep deprivation is a form of torture.
There isn't a way to truly prepare for the newborn phase.  Sure, you can read "What to Expect" type books and websites — you can get updates from Dr. Sears — you subscribe to consumer guides to ensure your baby gear is the safest.
But. There. Is. No. Way. To. REALLY. Be. Prepared.
People tell you that sleep will be a thing of the past.
You'll hear stories of the countless number of diapers your new baby will go through.
Tidbits of advice will be thrown your way on everything from bottles to breastfeeding, carseats to carriers, pacifiers to play-yards.
But, nothing will help you understand — REALLY understand — and get ready for the shell-shocked life you'll live as a new parent.
It's like going to another country — you know you're going.  You've planned for it: plane tickets and visa are ready to go — there are packed bags of appropriate attire and good walking shoes.  Then, you land … and you realize don't understand a darn word anyone is saying … you're jet-lagged … and the sight-seeing tours you signed up for leaves absolutely no time for sleep or food.  You just go, go, go … completely exhausted and crazy, while this foreign life swirls around you in a jumbled blur.
It's a chaotic world of screams, grunts, blow-outs, laundry and always, always, always feeding someone else.
You spend every waking (and sometimes even sleeping) moments caring for someone else.  A completely immobile, fragile, dependent being.  And, all you ever get from this little one is more crying and screaming and dirty diapers.  No thank yous — no smiles — no laughter.
THAT'S one of the hardest parts for me as a newborn mom — no way of knowing if the baby likes what you're doing or even if he/she likes YOU.  When you're crazy from a lack of sleep, you think every little grunt or cry is a bad reflection on you as a mother.
And that just makes everything worse.
Then, just as you think you're going to go completely insane and might as well order a caffeine drip to keep your body going and run away with Hugh Jackman ('cause you know he would totally go for you despite the post-pregnancy body and the eye-twitch) . . . the little boogers share their first smile.
Of course, it will be at Daddy or Grandma and NOT at Mommy.  But, the hint and possibility of getting a grin from your wee one recharges you, which is when the next phase of newborn life begins: where you start cooing and gaga-ing like all of those people you used to make fun of … those "baby-talking" people.
Yes, I'm one of "those" now.  All because I'm ready and desperate for a little interaction from Barney Kneeknuckles.  Anything other than the frowns and crazy stares (and screaming fits) I've gotten the past several weeks.  Anything to make my sleep-deprived world a little brighter.
So far, the smiles (he has a scrumptious dimple, by the way — just a single one to the right of his rosebud mouth) happen just a couple of times a day.  Rare moments when this little boy decides it is ok to let his guard down and give Mommy a sign she really is appreciated and (dare I say it) adored.
I live for those moments.
They remind me "this too shall pass" and I'll soon have another funny, beautiful little person toddling around the house, saying "I lub you, Mommy."
It happened with the Little Lady and Mr. Boy.  We survived.
Barney and I will too.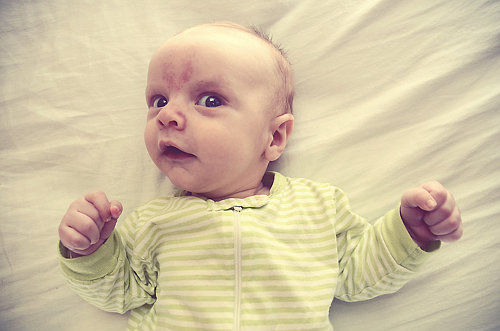 Disclaimer: this post was written after a night of continuously interrupted sleep … after consuming more than two cups of coffee … and typed in the "hunt-and-peck" fashion one adopts when holding/nursing a baby at the keyboard. Please excuse any typos, grammatical errors or generally crazy statements. Thank you and good day.