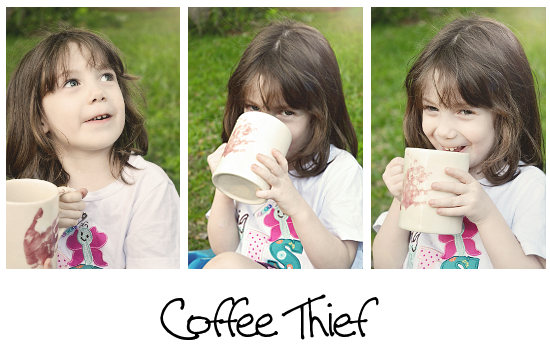 There are some people in this world who are "lucky."
I . . . am not one of those people.
If I forget my umbrella at home — it pours that day. If I am on the verge of running late to go ANYWHERE, that's the point when a child gets sick, colors on himself or herself, or has a blow-out.
Or the day my new dryer is delivered . . . my washing machine quits mid-cycle. That was Wednesday's unlucky venture.
Sigh. I wish I could share a beautiful story about me being lucky, but I just don't have the touch.
My daughter, on the other hand, is lucky. Really, really lucky.
Case in point? Her Gramie is in town — and the Little Lady has decided if Mommy is the Boss of the Little Lady, then Gramie (by virtue of being my mother) must be the BIG Boss of Mommy.
Using that best example of a 4-year-old's logic, she has been tattling on me to Gramie. Running to Gramie for secret stashes of gum. Begging Gramie for toys and stickers. Sneaking sips of her Gramie's coffee.
Using the "Big Boss"; for all she's worth.
Yeah — the Little Lady is lucky there is still a 4 year old girl in me. . . one who remembers when my Mom was the Boss . . . and one who still feels a wee bit of intimidated . . . and, therefore, doesn't mind when a few of Mommy's rules get broken during Gramie's visit.
I'll get back at her — someday: when I'm the Big Boss Gramie.
* * * * * * * * * * * * *
Are you lucky like the Little Lady? Check out International Delight's contest on their Facebook page— in honor of St. Patrick's Day, one lucky winner will receive a trip for two to Ireland! (And, if you're on Pinterest, the International Delight's Pinterest page has amazing recipes on their boards, all ready for someone to get busy baking and cooking and mixing!)
Now, tell me about the last time good luck was on your side?
For your chance to win a Keurig coffee maker and a one year's supply of International Delight creamer, complete these two steps:
1.Share the International Delight's Luck of the Irish Facebook Contest with your friends below
2.Tell us that you've invited your friends to enter the Luck of the Irish Facebook Contest AND tell about a time when good luck was on your side
This is a sponsored conversation written by me on behalf of International Delight. The opinions expressed by me do not necessarily reflect the view of the International Delight Brand. Official Contest Rules. Official International Delight Facebook Contest Rules.