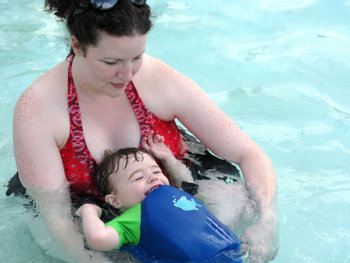 This year, one thing on my "to-do" list was to sign up for our subdivision pool.
I did it for me … 'cause being pregnant in Houston … in the summer … is miserable.  Just sayin.'
I'm a self-less Mommmy and I did it for the kidlets, the Little Lady and Mr. Boy.  I wanted to give them a chance to splash and play and have good ol' fashioned fun in the water.
(but, hey — if my hot, preggo self gets to cool off too . . . I am NOT going to complain)
But, as much as I'd love to just let them splash around to their hearts content, the Mommy in me is nervous around swimming pools.
It doesn't take but a second for something bad to happen to little ones when in a pool.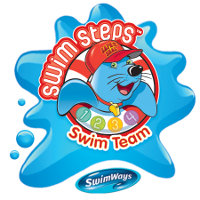 In addition to swim lessons (which will be starting up soon),  we have partnered with SwimWays to try out a few of their swimming safety products.
Now, does the use of swimming gear mean Mommy can lounge by the pool while her kidlets play in the water?  No — swim safety equipment does NOT mean parents can just let their kids "have at it" in the water.  Pools, while a great way to have fun and stay cool, are still dangerous and I make sure I am with the kidlets every second they are in the water. . .  floaties or no floaties.
But, I do breathe a little easier now that they each have their own floatation gear to wear.
Mr. Boy uses the Swimways Swim Shorty — a swim suit with built in floatation panels.  It did not take long to see that this suit would be well worth the investment.  During his first pool visit, Mr. Boy — completely fearless of the water — wanted to jump around, run and be crazy in the swimming pool.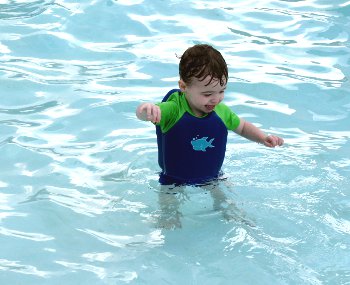 How does that much activity work for a 22 month old?  Yeah, he went face down in the water several times.  But, the Swim Shorty's floatation panels helped him as he figured out (with some assistance from Mommy) how to stand back up in the water.  I was pretty impressed how much leverage the floatation suit gave Mr. Boy as he learned to move in water.
After about 30 minutes, he was so confident in his abilities in the pool, he took off for the deep end and the very fun-looking slide.
But, Mommy put a stop to that adventure.
For now, anyway.
Disclosure: as a SwimWays Ambassador, I have received various water safety and water play products to try.  All opinions shared in this post are 100% mine.