The first year or so of the Little Lady's life was easy: clothe her, feed her, change her, love her.
But after she hit the twelve month mark, I realized something had changed. She needed structure and mental stimulation beyond what Playskool or Fisher Price could offer. I couldn't just put her in the exersaucer or playpen and expect her to entertain herself.
She wanted and needed challenges and intentional learning activities to thrive and be happy.
When I made an deliberate attempt to spend time with her — whether play, learning, or craft time — I saw a little girl who was happier … and a little girl who didn't "act up" as much.  And, as Mr. Boy grew, I realized the same was true of him.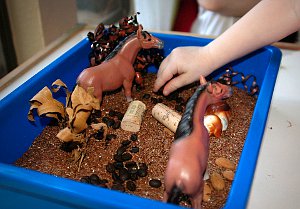 .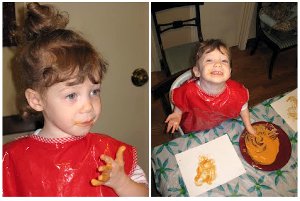 I know I'm not the only Mama always looking for new kid crafts and activities so I'm THRILLED to announce that, as part of the International Delight Community, I will be co-hosting a LIVE CHAT tonight with Kim from Today's Creative Blog.
We'll be discussing EVERYTHING kid related when it comes to crafts and activities — so please join us to share and learn!

Topic: Family and Kid Crafts and Activities
When: Tuesday (2/21), 9pm EST
Where: Here and There!  You can participate in the chat here (using the embedded chat box below on this post), or through Kim's blog.  (That's right — a live chat via blog.  I love it!)