Next month, my Little Lady turns four.
(sigh . . .  why did it happen so quickly?)
For her previous birthday parties, they've been fairly simple affairs with themes MOMMY picked.
1st Birthday: Beatrix Potter/Bunny Rabbit Theme
(This party was adorable… unfortunately, those pictures are some of the ones I lost when my computer died.  Lesson? Get an External Hard Drive for pictures.  Sniff)
2nd Birthday: Minnie and Mickey
3rd Birthday (a joint party with her brother): Carnival Party
This year, the Little Lady picked out her birthday theme for the first time.  Well, she picked out SEVERAL themes.  For awhile, she wanted a "Wizard of Oz-Pinkalicious-Ice Cream Sundae-Bumblebee-Swim Party."
Um . . . yeah.  Mean Mommy made her narrow it down to ONE idea.  She went with the Wizard of Oz.
Now, I think her decision had something to do with the fact I recently showed her the Wizard of Oz Barbie Dolls her grandmother gave her years ago.  I've had them in a closet, trying to keep them from ending up like the Barbies I had as a child.
You know — naked, marker all over their faces, and with really bad mohawk hair cuts.
Since showing her the dolls, she has talked of nothing else.  She WANTS to play with them.
So, a Wizard of Oz birthday it is . . .  with those dolls (which include a bunch of Munchkins) taking center stage.  But, what else can you do with this theme?
Oh, my  . . . PLENTY.
Take a look at some of the inspiration I've found for what we'll be doing next month.
(click on the pictures to be taken to the appropriate site — don't worry, the site will open in a new tab!)
Wizard of Oz Party Ideas
Wizard of Oz Invitations
Wizard of Oz Decorations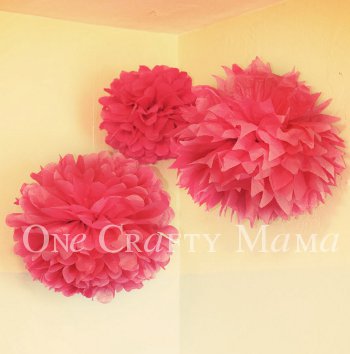 Wizard of Oz Party Food
Wizard of Oz Cakes and Cupcakes
Other Wizard of Oz Resources
Here are more sites, solely dedicated to sharing Wizard of Oz party ideas.  There aren't as many pictures, and some of them aren't very organized, but you can still find a million and one ideas for party games, party food, and decorations.
Cut and Keep – DIY Ruby Slippers (cute tutorial for turning old shoes into glamorous ruby slippers)
Perfect Party Ideas – Wizard of Oz
Mamapedia – Wizard of Oz Party (read through the comments to see a cute idea for a "Melt the Witch" game)
Birthday Party Ideas 4 Kids – Wizard of Oz (cute ideas for DIY invitations)
Birthday Party Ideas – Wizard of Oz (this site allows parents to send in the details from their real birthday parties . . . unfortunately, there is NO formatting to what the parents write, so it can be quite tedious to read through their party details.  But, if you're persistent, you'll glean cute ideas for food, games, etc.)
Birthday Party in a Box – Wizard of Oz (this site sells party supplies and also offers suggestions for making your Wizard of Oz party great)
Cute Party Ideas – Wizard of Oz (lots of ideas here .  . . including a funny one for your party food: "Flying Monkey Wings!"  Don't worry — they're just buffalo wings.  This cracks me up every time I think about it … maybe I'm just weird)
And, of course, you can visit online party supply stores like Birthday Express and Oriental Trading for specific Wizard of Oz party supplies, decorations, and party favors.