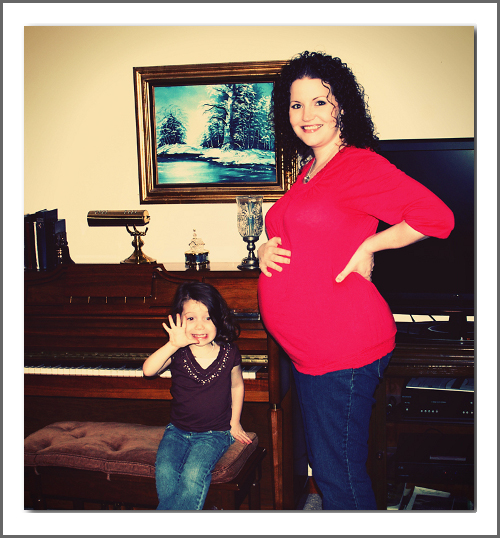 Barney Kneeknuckles is still "officially" genderless.  Well, he or she has a gender but he or she is keeping the information a complete secret from Mommy.
(thank you, little one — you're so funny)
But, this child is already revealing his or her personality:  Barney is a night-owl, waking up as soon as Mommy tries to go to sleep.
(joy)
This child has definite likes and dislikes: Barney loves cilantro and fried catfish (even though Mommy doesn't) and HATES chocolate.
This child has favorite dance moves: the popular one of the past few weeks is the "Pound and Kick the Bladder" move.  He or she curls up around that particular organ and goes to TOWN the minute my bladder gets the least bit full.
I'm trying to enjoy each minute of sleeplessness, musty smelling cilantro, and bladder assaults.  If Hubby has his way, there won't be a Numero Four (or five or six).   And, he's right; we'll have three children.  THREE . . . car seats, dental and pediatrician appointments . . . and eventually three sets of college tuition.
Financially, three is the stopping point for us.
But, after years of infertility and believing motherhood wouldn't come my way, it's weird to know we will soon have three children . . . and no more.
There will be no more hoping and praying for another child.
No more aching arms when I see a new baby.
No more wasted moments of melancholy and bitterness.
We will be "officially" done with babies.
That is SO weird to think … done?  We'll be done?  Really?
Yes, really.  It's just going to take awhile for my heart to understand this new phase of life.