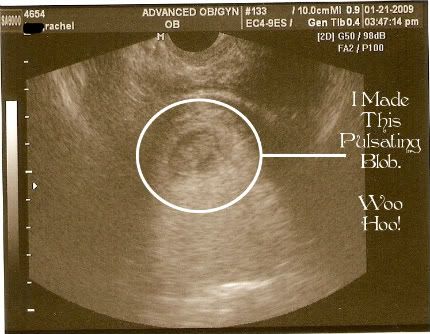 Well, I guess I should share the winning news first and details second.
Here is the official verdict, as proven by three separate measurements yesterday.
The Due Date?????
SEPTEMBER 1ST, 2009
WOO HOO!!!!!
This means that Lori correctly guessed the date and gets to choose her prize!!!
YAY!!!!!!!!!!!!!!
Now, for the details.
I got to see and
HEAR
the heartbeat (
woo hoo
). The rate was 167.
Hmmm, 167. Now, I know that this baby's gender isn't fully determined yet (although, according to my lil' day by day book, it does get nipples this week. That fact impressed my husband.), but I'm hoping that the slow v. fast heart rate theory will hold true.
'CAUSE I NEED ANOTHER GIRL TO USE ALL THE CLOTHES THAT THE LITTLE LADY HAS ACQUIRED OVER THE PAST 19 MONTHS!!!!!