The Little Sisters (That Girl and Sarah Sue) came for a visit and a baby shower this past week. Since we hadn't seen one another since May, they were eager to see my big ol' belly, watch it move, and go with me to my latest growth scan. Oh, and by the way, at 36 weeks, this lil' guy is already estimated to be over 7 pounds. HOLY COW! This information does NOT help my delivery fears.
But, the baby and my belly aren't the only things growing. Sigh.
Before I begin, let me share a wee bit of info about me: I have BIG FEET. Really, really big feet. In the 5th grade, and with a 7 1/2 adult sized foot, I was able to wear my mother's shoes. My big boats finally stopped growing around 8th grade, leaving me with a 10 & 1/2 shoe size.
I started this pregnancy with narrow, skinny, long, 10 & 1/2 sized feet.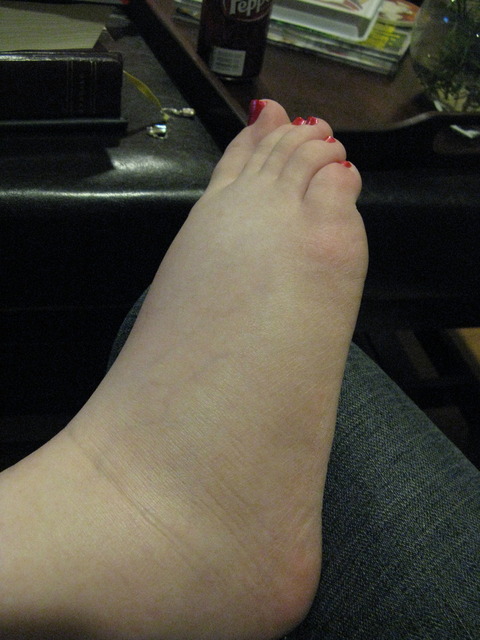 I have no idea what size these suckers are now . . . but I do know that my husband's Old Navy flip-flops (officially a man's size 11) are too tight. But do I care? No, I wear them everywhere and take them off everywhere. Like yesterday — in church. I sat there, unabashedly without my shoes — fat, swollen, tight feet splayed out in the aisle. So what if the Little Lady tripped over my discarded flip-flops. Mama was (somewhat) comfortable.
I've officially reached the point of not caring. You don't like my swollen feet? Don't look at them . . .and I won't look at you. Sounds like a good deal to me.
(Oh, and this picture? Yeah, this is NOT the worst of the swelling. This is an example of my foot on a good day!)
Even though they hurt, are stiff, and my toes periodically become numb and tingly, my feet really do crack me up! Really, they do!
Why?
My feet have turned into human play-dough.
Yeah. I said play-dough.
It was Hubby who first discovered this neat little parlor trick while, out of pity, he was massaging my feet (which, incidentally, is the BEST part of this whole scenario — daily foot rubs. I LOVE IT!) . As he rubbed my foot, he suddenly stopped with a loud "LOOK AT THIS!"
I looked and realized that I have pitting edema. My feet can be contorted into any shape. . . which is all my husband needed for easy and cheap entertainment.
And, apparently, it's all my 21-year old sister needs for a quick laugh too.
It didn't take long for Hannah and Sarah to notice my big feet. Their "grossed-out" emotions quickly turned to amazement when I pushed against the skin and showed the results.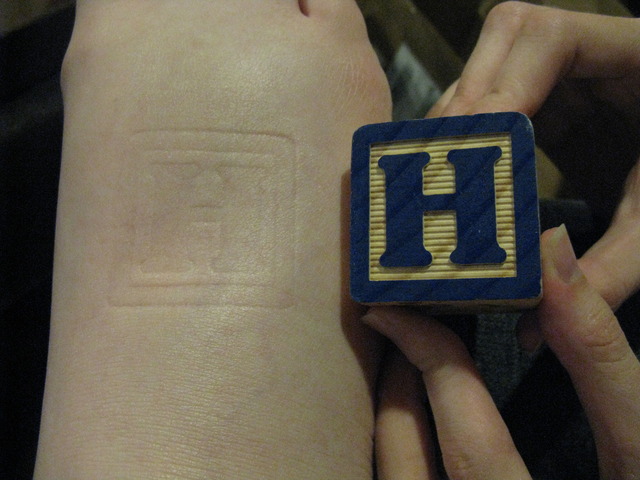 It was at that moment, a game was born: the "What Shape Can They Take On Now" game.
Hannah won the prize for creativity, utilizing one of The Little Lady's alphabet blocks to imprint her initial right across the top of my foot. With a light touch, she gently pressed the block against my skin. It didn't take long for her artistic endeavor to pay off. She removed the block and showed off her perfect "H."
Her pride and joy were instantaneous.
Glad I could entertain you, Hannah, for at least one night of your visit.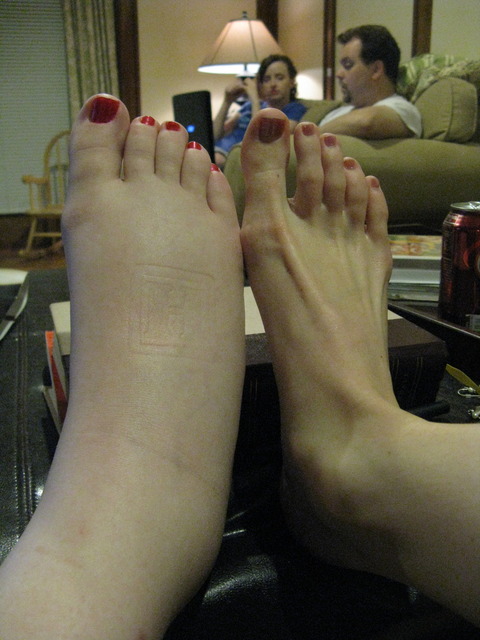 Now . . . any tips for relief? Anyone? Anyone?