Time after time last night, I attempted to join up with the biggest, baddest party ever, but each time I visited, the site would crash on me.
THAT'S how big of a deal this party is. It's the ULTIMATE Blog Party, from 5 Minutes for Mom, and everyone wants to attend.
Including this little ol' blogger here.  Yep, I'm a follower.
If you're visiting from the Blog Party, THANK YOU for stopping by . . . even if I am link #639 (heck, probably by the time I finish writing this post, I may end up link #234,567.  Oh, well if I do!).
So, I guess a little blurb about me is in order, huh?
This blog isn't a review blog.  Or a shopping blog.  Or philosophical blog.
You probably won't learn ANYTHING by following me. . . .well, not much of anything.
Here at "Following In My Shoes," I'm just trying to process the day to day and find the humorous side in all of it.
That's it, folks.  (feel free to subscribe anyway!)
As far as details go . . .
I'm the mom of 2 — known as The Little Lady and Mr. Boy.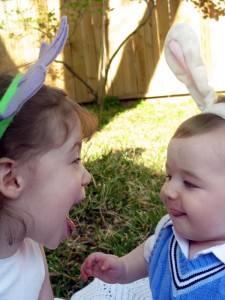 I'm the wife of one (thankfully, just one).
(p.s. the story behind this pic can be found here)
Other things of note?
I am forever forgetting to shave my legs, as documented here and here.
I recently divorced Target.  GASP!  I know!!!!!!!!  I'm still in mourning.  🙁
My Hubby has only seen me on the toilet ONCE . . . and, even though it was under good circumstances, it will NEVER happen again!
When I was pregnant last year, I learned that it's hard work making nipples and it's not good to forget your bra.  Sigh.
And, as people learned Thursday, I'm not above embarrassing myself for a few votes:
What?  Votes?  OH, let me fill you in!
I am one of the five finalists for the current Mamavation Mom campaign!!!!!!!!  Wheeeeeeeeeee!!!!!!!!!!!!!!!!!!!!!!!!!!!
Don't know what that means?  HERE are the details & info about the GIVEAWAY I'm hosting!
Wanna skip all of that and just vote for me (Rachel_L)?  Awwwww, you're so sweet!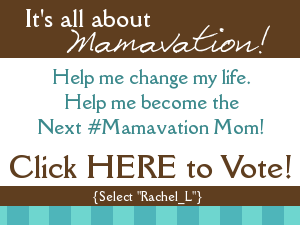 I guess that about wraps it up!  Not much else to tell — well, there IS . . . but I know you have places to go, people to see.  That's what this Blog Party is all about, right?
Now . .. off to Link up and see what astronomical number I end up with!
* * * * * * * * * * *
p.s Well, not too shabby, I guess.  I'm officially link number 671!  Go me!
Oh, and here's another linky — if you want other blog party hoppers to see your link one more time!
ETA: I forgot that we're supposed to list the prize we'd like to win! GAH!
Here goes:
Top Three Pics
USC 17 — CmomGo is offering up a $200 Apple Gift certificate. Provided by: CmomGo
US104 — Shoot Me Now is giving away one $50 Visa Vanilla Gift Card. Provided by: Shoot Me Now!
US69 — The Itty-Bitty Bookworm is a literature-based preschool curriculum. One winner will receive a year of our Bo Curriculum for 3-5 year olds. One winner will receive a year of our Bailey Curriculum for 18-36 month olds.  Provided by: The Itty-Bitty Bookworm
If my top three aren't available, then I'd love the opportunity to have any of these!
US112 — $50 Amazon Gift card Provided by: Robyn ~ Our Homeschool Home
US106 — Two winners will receive a free copy of the Letter of the Week preschool curriculum. Winner may choose curriculum via download or CD. Provided by: Confessions of a Homeschooler
US105 — Get Fit Pack: One lucky winner will get a triple threat of Jillian Michaels. Pack contains 30 Day Shred, Yoga Meltdown, The Biggest Loser Last Chance Workout. Pack also includes an aluminum water bottle to help stay on track and stay hydrated! Provided by: Green Mom Wannabe
Or . . . ya know — these: US6, USC 8, USC40, USC27, US91, US87, US84, US83, US75, US74, US72, US71, US57, US47, US43,
Yes, yes, I know I listed a bunch, but — hey — they asked!