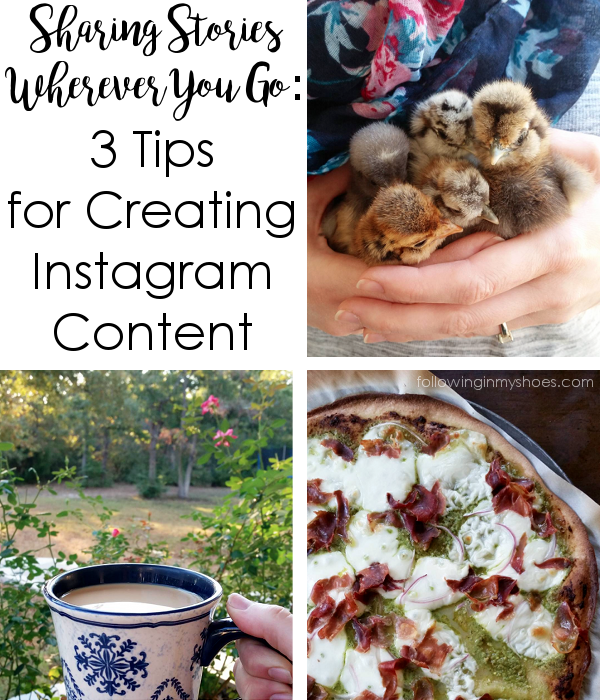 You may or may not have noticed, but I'm addicted to Instagram. I love the highly visual nature of it and the easy-to-build community that loves to chat with content creators.  Instagram has been my micro-blog over the past two years where I've shared recipes, lunch ideas, and many moments of motherhood (the good, the bad, and the ugly).
So — how do you create content that stands out among the millions of other voices vying for the eyes of Instagram users?
Tip #1:
You Do You

(share YOUR stories in YOUR voice.)

Whether you are a professional brand or an amateur photographer who loves to capture moments as they come, share images that reflect YOUR passions.
Often in the world of Social Media — regardless of platform — we find ourselves jumping on bandwagons. No, I don't mean buying an Instant Pot just because everyone on Instagram, Pinterest and Facebook is talking about it (ahem … guilty).  No, the Competition Bandwagon is one we all jump on from time to time.  Example — someone you admire is always posting pictures of cute crafts and getting tons of likes so YOU decide to do the same (even though the mere through of crafting makes your eyeballs twitch).  If it's not something YOU are passionate about, why jump on the bandwagon just because someone else is successful on it?  Instagrammers can distinguish between posers and the authentic.
You. Do. You.  Share what YOU love and what YOU are passionate about.
For me, this means I have two Instagram accounts (I know — I'm an overachiever … or crazy. The jury is still out).  My primary account is @followinginmyshoes, where I share the day-to-day moments of our life: tales of food and family.  My secondary account is for our farm-life: @faithwalkfarms.
'Cause only chicken-people want to see pictures from other chicken-people.
See what I mean? We're unique.
Tip #2:
Remember – We All Eat With Our Eyes First

(especially on Instagram)

More than ever before, a captivating photo or graphic is key to drawing in your audience, and Instagram loves a pretty picture.
Does this mean that you have to have professional quality photos each and every time in order to have good content on your Instagram account?  Absolutely not!  But, as your audience scrolls through their feed (or through a hashtag feed), you have a split-second to draw them in to you.
Use your in-phone camera (as opposed to an app) — 9 times out of 10, it is the more powerful camera and will give you a better picture from the start.
Take photos in natural light (whenever possible) for beautiful, crisp images.
Think about composition; the rule of thirds generally makes the best photo with easy focal point for your audience to instantly grasp.
Learn how to edit: there is no shame in editing a photo for Instagram! Whether you use an editing app or the editor in Instagram, learn how to brighten a photo or darken shadows for a bit of moodiness … play around with contrast and saturation to discover your personal style … and check out all of those fun Instagram filters.  Find the best photo recipe to enhance the story you are creating and sharing.
Tip #3: Don't Be Afraid to Be Spontaneous or Playful (or both at the same time!)
The Content Creating Gurus will tell you to plan ahead: both on your blog or your social media accounts. But, sometimes the best content — for engaging your audience — comes spontaneously.  Like that day when your son tells you (an hour before his Spring Musical) that he needs an "80s Costume" (true story).
Or that moment your Husband finally creates the headboard of your dreams and you FINALLY HAVE A GROWN-UP BEDROOM!!!
Or, the second you take leftovers and create the lunch EVERYONE ON INSTAGRAM WISHES THEY WERE EATING!!!!
Great Content is that which gets your audience engaged with YOU. Ultimately, be confident enough to share YOU — your ideas, your passions, your life … even the hysterically messy, photographed-on-a-whim moments.
Do you create and share content like this? Are you interested in working with brands on sponsored content opportunities? If you answered yes to either of these questions, join the TapInfluence marketplace and connect with hundreds of brands and agencies who power their influencer marketing campaigns through TapInfluence.
This is a sponsored conversation written by me on behalf of TapInfluence. The opinions and text are all mine.