When did Parenting become a Zone Defense situation?  A series of calculated plays where you cover your area and I cover my area — all in the hope nothing gets by us . . . while we pray there's a chance for a time-out huddle.
Doesn't it feel as though we haven't seen each other … and I mean really seen each other … in forever?  The chaos of "Life with Kids" begins from the moment we drag ourselves out of bed:
Daddy!"  "Mommy!"  "WAAAAAA!"
We start the business of feeding kids, corralling kids … telling kids that toothbrushes are not swords … and, oh yes, there's that newborn.  The new person who has disrupted life with his immediate and pressing needs.
(but we love him, don't we?)
Our children see us.  Talk with us.  Hug on us.
Your coworkers see you.  Talk with you … probably even shake your hand now and then.
As for Mommy and Daddy?  "Us?"  I think I remember telling you "Hi" about three weeks ago.  And, I might have kicked your leg last week in an attempt to get you to stop snoring.
(lovingly, of course)
But that's not going to cut it, is it?  Mommies and Daddies need more.  We need to talk.  To listen to one another.  To smile into the other's eyes.  To let each of us know that we (1) still love each other, (2) still want to be around each other, (3) and still think the other person hung the moon.
Maybe we need to schedule an online meeting while the kids are napping and you're at work.
What?  You think that's crazy?  Oh, no, SIR!  Just think . . . it will be QUIET.  We'll be able to HEAR each other.
(oh, how long it's been since we've talked in peace!)
Ahh!  It's revolutionary.  No kids around and we'll be able to communicate — granted, online events don't necessarily allow me to hug or kick you, but I'll take a chat over a hug right now.
I just want to hear how your days are going … and to tell you more than just "where to find the kid's jammies."
I.  Want.  To.  Talk.
It will be the perfect web conferencing solution to our problem.  We just have to schedule it.
(you can fit me in your calendar, right?)
Just consider this video screen capture your official invitation.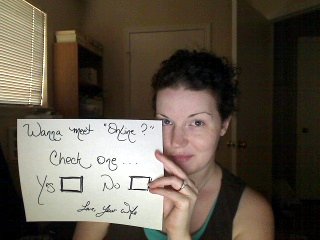 Love, Me.