My husband and I are parents of a toddler and expecting another baby next spring.  We know how much having a baby can change everything.  It's very easy to become super busy once baby arrives, and put romance on the back burner.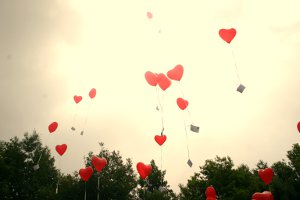 If you want your marriage to stay strong, it's important to make connecting intimately a priority, even though you both feel you have very little time and energy.  You're parents now, but the romance doesn't have to die.  In fact, you can bring the romance home to you, with these easy ideas for reconnecting with your spouse after having a baby.
Ideas For Keeping The Romance Alive After Baby Arrives
After baby is asleep, order take-out for dinner in bed. Watch a romantic movie or just snuggle together, and don't worry about crumbs (you can always just toss the sheets in the hamper in the morning).
Have a spa night at home. Light some scented candles, put on some gentle music, fill up the tub with bubble bath, and soak together in the tub while rubbing each other's feet.
Stroll baby together around the block in a pram in the evening. Hold hands while you walk, and talk like you did when you were first dating.
Take a shower together. Wash each other's hair and scrub each other's backs. Use tingling shower gels.
Have a candlelight picnic in the backyard, under the stars. Baby keeps you busy enough, so order in some food instead of using your little free time cooking, and relax together.
Take naps together. Cuddle spoon-style and wrap your arms together, and sink into the sheets.
Hug each other often. Grab your spouse from behind and hug with your whole body, at least five times a day. Smile while looking into each other's eyes.