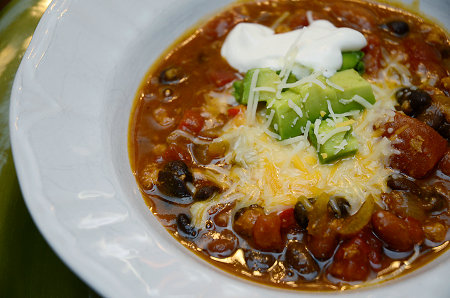 I have been craving chili in the WORST way the past couple of weeks.
Nevermind that we're still hovering around 159 degrees here in Houston — I need chili in my life.
Since I'm in a serious relationship with my crock-pot, I decided to tweak my normal pumpkin chili recipe and make a new slow-cooker version.
Pumpkin puree — NOT the pie filling — acts as a thickener, much like tomato paste would in a normal chili recipe.
The result was a perfectly spicy chili, full of protein and fiber (gotta stay healthy!), that my husband and kidlets lapped up.   This recipe makes enough for a crowd or for a couple of "freezer meals" for busy school nights when cooking is the LAST thing you want to do.
And — no — you can NOT tell there is pumpkin in it.  It just tastes like the yummiest chili ever.  With an earthy, spicy kick.
I promise. . . I didn't tell Hubby I had substituted pumpkin puree for tomato paste until after dinner.  His response?
"I would have never known — it tasted just like 'real' chili."
Mommy wins.
[print_this]
[/print_this]
Family Fresh Meals Recipe of the Week