UPDATE (8/7): Our home sold in two weeks for ABOVE our asking price …. AND we had multiple offers.  
The list below?  WORKS!
* * * * * * * * * * *
Ok, I know.  My house has only been on the market a week . . . how can I already have a post about successful home-selling tips?
'Cause I … Went … House-Hunting.
Oy VE!!!!!!!!!!!
People, people, people… if you are selling your home … inviting people to come and take a look … you have got to take care of some very basic things.
How To Get Your House SOLD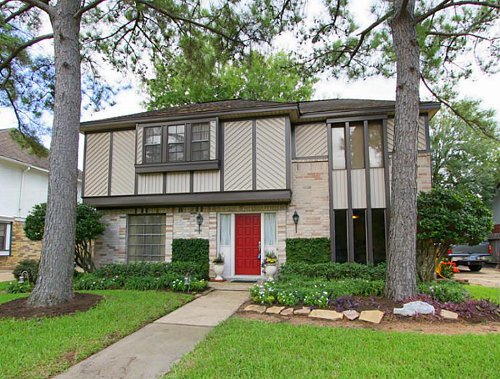 (1) Clean Your House… and

keep

it clean.
If you, like us, are planning to live in your home while it is on the market, you have GOT to make daily cleaning a part of your selling plan.  Believe me, I know it's a pain to keep things spotless but cleanliness is important!
While we were house-hunting this weekend, we saw several homes that were dirty.  DIR-TY.  Guess what?  We aren't going back for second looks.  They may have had the space for all of us but the dirty floor and hairy tubs were such a deterrent that we aren't giving them a second chance.
(2) Fix The Broken Stuff.
Shutter hanging off the house?  Piece of trim missing?  Door sticking?  Get it fixed!  If those little things are visible, your potential buyers start wondering what other maintenance issues your home might have and get scared.
We spent a mad two weeks working at a feverish pace to get our home ready and there were a few repairs on our list.  Nothing major but we wanted to make sure there wouldn't be anything that could (1) keep buyers away and (2) knock dollars off of our asking price.
(3)  Make Your House Smell Good!
I can't tell you how many times my sister-in-law and I walked into a home this past weekend and immediately said, "It smells like feet in here."  Guess what?  Each house was the home of BOYS.  (how did I know?  That answer is in Tip #4)
For the love of getting your house sold, invest in air fresheners, Scentsy, bake some cookies but do SOMETHING (on top of cleaning) to make your home smell fresh.
Smell is very powerful and instantly sets the tone for your potential buyer's experience in your house.  Avoid anything over-powering (some people are sensitive to strong perfumes) but find a way to make the air clean and homey.
(4) Make Your Home a Blank Slate — De-Personalize.
Want your  buyers to imagine themselves living in your house?  Then take YOU out of it!
As a house-hunter, it was hard to enter someone else's house … I felt like an intruder and even more so when I saw their pictures hanging everywhere or their names stenciled on walls.  You have got to take down your personal photos, scrapbooks, take down from the mantle the carving of your last name.  Buyers need to see their family living here … not yours.
(5) Speaking of taking stuff out: DE-CLUTTER!
As I went through the MLS listing to pick out houses for Saturday's viewing, I found myself turning my nose up at homes that had a lot of "stuff."  Why?  They looked small.  They looked like they were running out of storage room.  They looked messy.
The clutter kept these homes from looking move-in ready.
You want to make your home look spacious and ready to accommodate another family's possessions.  Why would anyone want a house that appears to NOT have room for anything?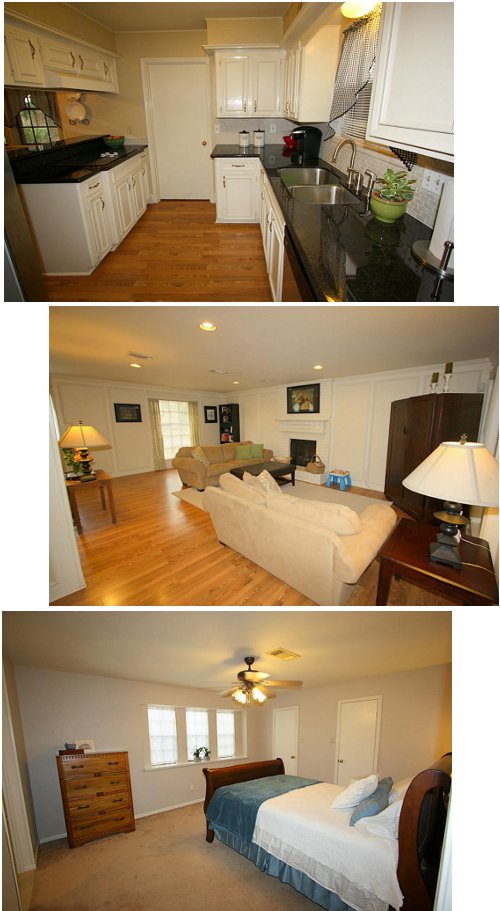 Utilize your garage or rent a storage room to hide bulky furniture.  We packed away our piano, several chairs and extra side tables to highlight the space in our home.  You don't want people bumping into furniture or having to turn sideways to get around.
Likewise, I took nearly EVERYTHING off my kitchen counters.  And, you know what?  I haven't missed any of it.  It really was just "clutter" and not anything necessary to daily life.
In our bedroom, I removed the nightstand that was by the doorway.  It helps the room feel larger the minute you walk in.
(6)  Make Sure The Exterior Looks As Good As Possible.
Landscaping and the exterior of your home are just as important as the inside.
Power-wash your house and sidewalk.  You can't necessarily control the color of your brick but you can clean it, and doing so will take tons of dirt (trust me — we power-washed last week) off and make your home instantly all the more inviting.
Freshen up beds with mulch.
Trim bushes and trees — especially those in front of any windows.  Overgrown shrubbery is not attractive and keeps natural light out of your home, making rooms feel dark and small.
Plant new flowers in your beds and/or add a few flower pots to your porch.  Flower brighten up your home and help your home feel welcoming.
(7) Determine What Upgrade or Cleaning Service You can Afford 
We can't all afford to completely renovate our homes before putting it on the market but most of us can spend some money upgrading different aspects of our houses.
Granite is cheaper than ever and, if you can afford it, a HUGE draw for buyers.
Can't afford granite?  Well, what about repainting your kitchen or replacing outdated pulls and knobs?  Or spending a few bucks and a few hours to put in new ceramic tile?  If you can do the work yourself, you'll save a ton of money and realize some updates are very easy (and cheap) to pull off.
Likewise, if you take a few minutes to research, you can find reputable carpet cleaners and window washers who will help get your house in ship-shape, making older carpet and windows fresh and sparking.  Our carpet, at the mercy of three kidlets, had many stains and rough looking spots.  We brought in a local carpet cleaning company (who were VERY reasonable) and they were able to get every. single. stain out!  It's amazing!  The carpets look years younger now and aren't an immediate distraction for buyers walking in.
(8) Don't Hang Around When A Showing Is Scheduled
Ok, here was the most awkward situation this past Saturday.  At 10:45 am, we had an appointment to view an occupied house.  Now, this appointment had been made THREE DAYS in advance AND our realtor had called the owner earlier in the morning to remind her of the showing.
What did this home-owner do?  Stayed home and DYED HER HAIR.
Kid you NOT!  Her son let us in and then promptly went back to the Play-Station in his room (guess what room none of us viewed because we felt awkward?).  Then, the Mother/Home-Owner came into the living room with a huge plastic cap on her head and a dye-bottle in her hand.
"Come on in, y'all!  Don't mind me — I decided to try colorin' my hair for the first time."
She went back into the bathroom to rinse.
We stayed about three minutes — didn't see the son's room and most certainly did NOT follow the home-owner into the master-bath.
If you know a buyer is coming through — LEAVE!  Yes, I know it is inconvenient.  I hate packing up the three kidlets and our dog when we have showings, but I want the people fall in love with my house … NOT be embarrassed about looking around because I'm there watching.
Take a walk, go to Target, head to the park but go somewhere so your buyers have the chance to consider your house for their future home.
Whew!  I know  — this was a long one, folks.  But, as a buyer and a seller, I was compelled to make this PSA.  So … did I miss anything?  What tips do you have for Sellers?