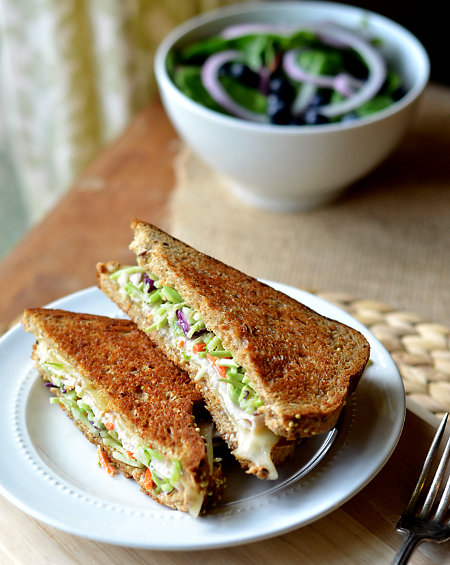 I did NOT just name a sandwich after myself.  Promise.
No, this sandwich is a real sandwich.  Made and sold at a real restaurant.  And I first learned about it from one of my favorite real foodies, Jane from This Week for Dinner.
As she shared, "The Rachel" is a simpler, lighter version of the Reuben sandwich.  Grilled bread hugging swiss cheese, turkey, cole slaw and a schmear of thousand island dressing.  That's all there is to it.
And, you can throw it together in minutes … but if you want to take it up a notch, then make it with homemade dressings.
OH, MY SWOON…. there is nothing better than homemade cole slaw and homemade thousand island dressing.  And since they use basic pantry and fridge staples, they are very frugal to make whenever you have a hankering for this sandwich.
I tweak my thousand island dressing and give it a kick with Sambal Oleck — a chili paste you can find in the Asian food aisle of your grocery store.  It adds a great pinch of heat that pairs well with the cool and crunchy sweetness of cole slaw.
As for the cole slaw, that dressing is about as basic as you can get with mayo, vinegar and sugar.  I prefer using white balsamic or rice wine vinegars and a dash of poppy seeds.  YUM!
So, the next time you're ready for a new grilled cheese sandwich, give the Rachel a try.  And get ready to fall in love.