What?  BOOBIES?  Does she have BOOBIES in her title?
Oh, heavenly day.
Yes, yes, I wrote boobies.  BOOBIES.
(there it is again)
And, I'm sure that this post is going to get all kinds of spam and all kinds of traffic from Google pervs.  Oh, joy.
Before you just give up on me and leave, let me assure you there is a very good reason for all of this boobie talk.  A very good reason.
This past Sunday, Mother's Day, instead of lounging around in bed while Hubby and the kiddos surrounded me with breakfast, flowers, and cards, I woke up at 5:30 am, threw on my Earth Footwear shoes, and headed for downtown Houston.
What in the WORLD got this (self-proclaimed) lover of sleep out of her bed at such an un-godly hour?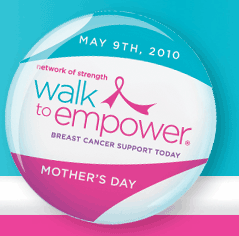 The Network of Strength had their annual "Walk to Empower" on Mother's Day — and, thanks to Laurie (who passed their info on to me), I walked alongside of several hundred people . . . instead of basking in a sea of homemade Mother's Day cards.
Survivors, those currently battling breast cancer, family members, advocates, and even Ronald McDonald walked along the downtown bayou, following pink ribbons and hearing the cheers of volunteers.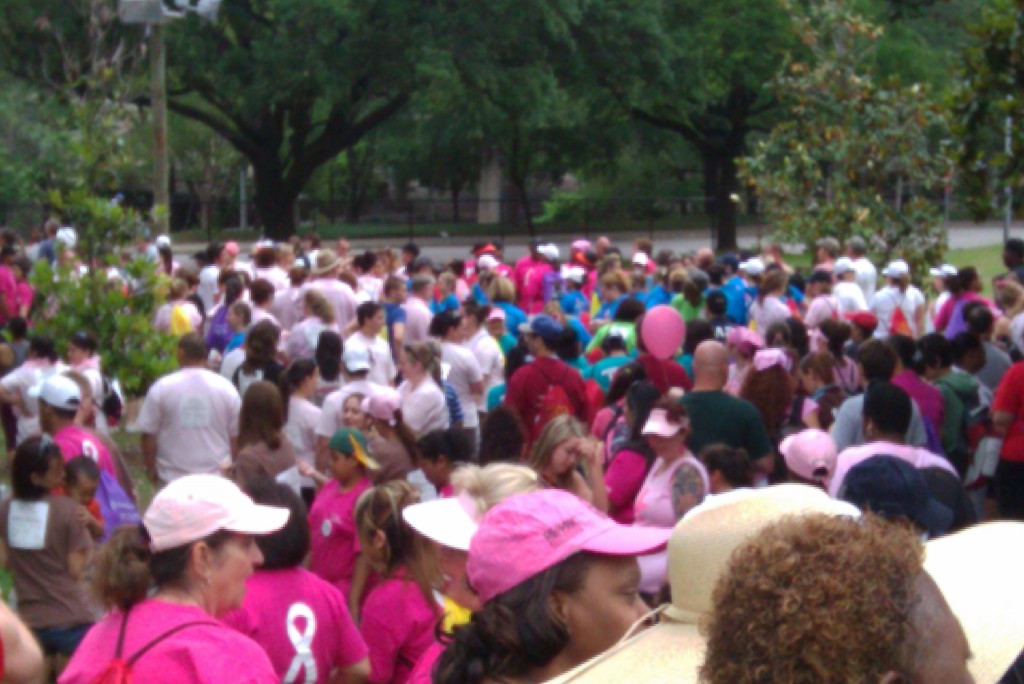 At the risk of sounding like a trite cliche, I must say that it was an experience unlike any I've ever been a part of.  Every where I looked, there were people in silly hats and silly shirts.  Dogs — Boxers, Poodles, Terriers, and Chihuahuas, wearing pink shirts, socks, and collars.  Everyone — regardless of the journey that brought them to this event — laughing and smiling.  Even those who had lost mothers to breast cancer were unabashedly laughing and singing and shouting.
It was a morning about strength, support, and survival — not about the ugly side of breast cancer.  Those who were in remission were there to rejoice and dance their way through the walk.  Those whose pink hats covered balding heads were there to show Cancer that they still have hope and determination.  Those who had lost mothers and sisters to breast cancer were there to be a walking tribute to those women . . .on Mother's Day.
Everyone was there to show that there is life beyond cancer.  And, it can be a life full of smiles.  Cancer can't take that away.