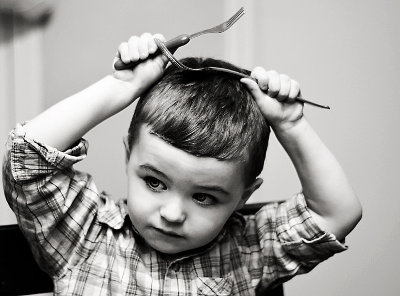 Dinnertime is anything but boring around around here.  Between the dog ducking in and out from under the table (hoping to snatch dropped food) to the Little Lady singing her side of a conversation to Mr. Boy using his head and utensils as a make-shift drum set, the evening meal is busy.  But, every night, we gather together … to experience the love of family and the love of food.
In my family, we are foodies — plain and simple.  Discovering new food, new ethnic dishes, new flavor profiles, new cooking techniques are some favorite hobbies for me and the Husband.
(just so happens to be a hobby with a hefty side-affect if you aren't careful!)
As the Husband and I work to lose weight, our main concern is not losing our "right" to enjoy food. There is no way we could live of off bran and celery and bland, dried out frozen dinners for the rest of our lives.
We need flavor.
I'm of the camp that believes eating healthy doesn't have to be all about deprivation but smart choices, portion control, real food (including, gasp, butter) and lots of water.  So, during our new[est] weight loss journey, here is what we are eating:
Monday: Grilled Garlic Chicken, Parmesan Roasted Broccoli
Tuesday: Broiled Salmon with a Sweet-n-Spicy Rub, Roasted Leeks and Brussels Sprouts
Wednesday:Turkey and Veggie Stirfry, Salad
Thursday: Chicken Marinara, Salad
Friday: Pesto Turkey Burgers, Salad
Saturday: Blackened Cajun Catfish, Salad, Roasted Carrots and Asparagus
Sunday: Easter Dinner with Family

Ready… Set … COOK!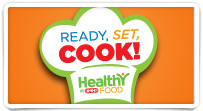 My grocery store — Texas based H-E-B — is working with shoppers to help us create flavorful, healthy, family-friendly meals.
Life is meant to be shared with the ones you love. Not only has family time been shown to be critical for childhood development but it also helps our well being as adults. Being with our family gives us a sense of belonging, creates traditions that are carried on for generations and fosters a trusting environment.

Regular home-cooked family meals tend to allow for healthier dietary habits to be developed by including:

Greater intake of fruits and vegetables
Reduced intake of fried food and soda
Reduced intake of saturated and trans fat acids
Greater intake of fiber
Through May 6th, shoppers can enter the official Ready, Set, Cook Challenge, where after registering, you will receive one new and healthy family-friendly recipe to try.  Each new recipe tried earns points — once you accumulate enough points, you will be entered into a drawing for a YEAR OF FREE GROCERIES …. PLUS a $1000 Kitchen Upgrade!
$25 HEB Gift-Card Giveaway
To help promote this new, healthy challenge, H-E-B is offering a $25 gift-card to one of my readers.  Entry is simple:
In a comment below, share your favorite healthy and family meal(s).
Bonus Entries:
*If* you want some extra entries to increase your chances, you may complete any of the following non-mandatory options (be sure to leave a separate comment for each completed bonus entry).
Subscribe to Following In My Shoes via an RSS Reader.
Follow me on Twitter
Tweet this giveaway (for your convenience, you may use the "tweet" button located at the top of this post; this post may be tweeted a max of 2 times daily — please leave the URL of your tweet in your comments below)
This giveaway will end at noon CMT, April 16th, 2012. Winner will be chosen using the "And The Winner Is" random selector.  Winner will be notified by email and will have 48 hours to confirm his or her win.
Disclosure: I received an HEB gift-card to facilitate this giveaway.