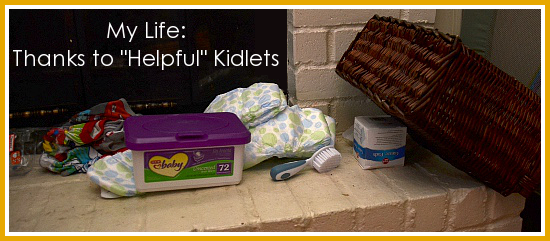 I like things to be pretty.  I don't like to see electrical cords around the house.  I don't like to see clutter.
Guess how my home looks most days?  Chaotic and full of toys, laundry waiting to be put away, and more toys.
But it isn't how I enjoy living — I have a personality that loves order.  Walking into a home that is clean and clutter free can calm me down faster than a two hour back massage.
With kidlets, however, trying to keep a spotless, orderly house is like trying to shovel during a blizzard.  I work on one zone while they destroy another.  And repeat.  Repeat.  Repeat.
Our Downstairs Diaper Station is one of those places that seems to always be a mess.  My upright basket just hasn't been cutting it — not with two boys in diapers, both of whom need various creams and ointments … and with one of those boys going through potty-training.
Several times a day, I straighten up the Diaper Station (fancy name for my old basket) and restock it.  If all goes well, it stays in good order for a few hours.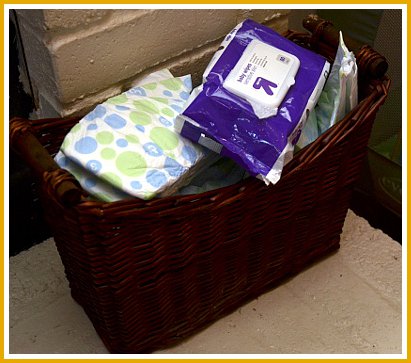 Then, invariably, I get stranded somewhere with a sticky diaper situation and I call on the Little Lady or Mr. Boy to bring my X, Y, and Z supplies.  That's then things go all topsy-turvy as they search … 'cause nothing is easy to find when it's all piled in a basket.
Thirty-One Gifts to the Rescue
Maria, a local Houston Thirty-One Gifts Consultant and Blogger, emailed several weeks ago, asking if we could work together on a giveaway.  Since I'm a sucker for pretty fabric and the promise of being able to pull everything together, I agreed.  Plus, I love supporting work at home moms whenever I have the chance.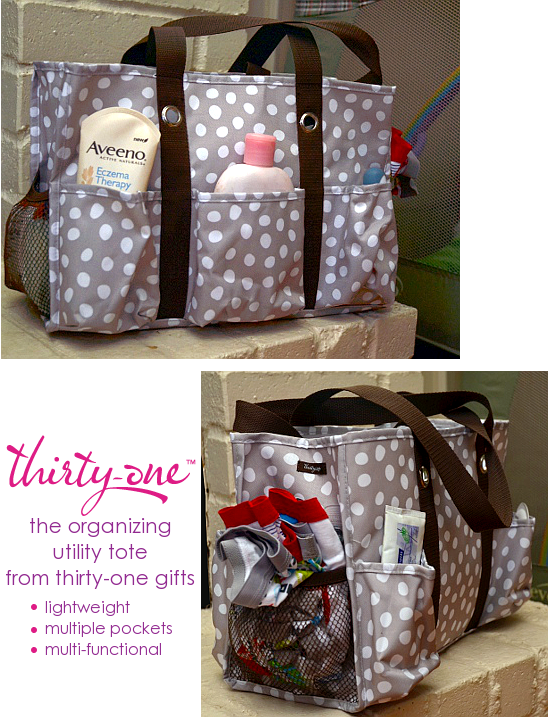 Maria sent me the Organizing Utility Tote (retail $25) in one of Thirty-One's new spring fabrics, the cute gray-brown and white "Lotsa Dots."  It didn't take many days — not even hours — of use before I was in LOVE with this bag.
Like so many of the Thirty-One products, this bag has an infinite number of possible uses: gym bag, diaper bag, car organizer, diaper organizer, cleaning supply storage … whatever need you have, it can fit the bill.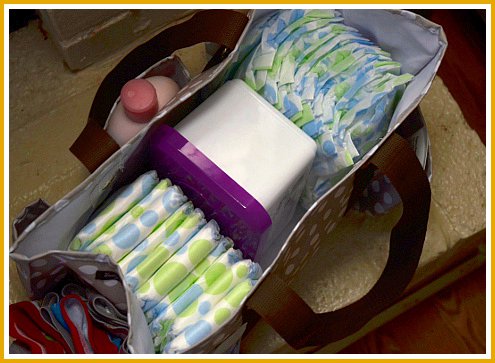 At first, I was a little surprised that all of the pockets are on the outside rather than inside of the bag, but as I have been using this tote to store the diaper/potty training supplies I use downstairs, I have come to appreciate those exterior pockets.  Everything you need to place in a pocket is instantly visible.  No worries about making a mess of things while digging through anything — everything has its one place and can be easily found by Mommy or  a four-year old Little Lady.
Features
10.25″H x 15.5″W x 6.5″D
12″ Handle Drop
Durable Laminated Nylon
Seven exterior pockets (2 of which are expandable mesh)
Available in one of ten different prints
Use the code SPRING15 for 15% off your Thirty-One gifts order …
a great way to SAVE as you get gifts ready for Mother's Day and Graduation!
More About Thirty-One Gifts
Thirty-One Gifts not only provides women with stylish, functional bags and totes, it primarily offers women a way to own their own "work from home" business:
Our mission is a reflection of this philosophy: to celebrate, encourage and reward women by offering quality products and an outstanding opportunity to become successful business owners.
Like Maria, women can use Thirty-One Gifts to supplement their personal income or family income.  Maria, who offers more detailed information on becoming a Thirty-One Consultant on her site, sums it up this way:
Simply put, each of us has only one life — one lifetime to live our dreams, our hopes and desires. One life to accomplish our goals, love others and support those in need. Thirty One is a vehicle that is helping me to achieve my goals and dreams in life. You, too, could find that Thirty One is an opportunity for you to put the brakes on the life you are living now, make some changes and live your life, your ONE LIFE, on purpose. With intention. You really can achieve all of your dreams with Thirty One coupled with a strong work ethic.
Just Need A Bag?
If you don't have a local consultant, Maria can help you out!  She offers online parties (and even Skype Events) for those who need long-distance options for ordering or hosting an event.
p.s. If you choose to "host" a party — even a virtual one — there are lots of perks, including discounts and free products!
And Now …. the Giveaway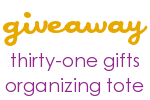 Maria has graciously offered to give one reader the Organizing Tote, in the same print I received (Lotsa Dots).  It's the PERFECT bag for picnics, trips to the zoo, out of town trips, or to use around your home like me!
Required Entry
Please answer this question in a comment on this post: 

What is Your BIGGEST Organizational Struggle?
Bonus Entries
The following entry methods are completely optional and not required for entry into this giveaway. If you choose to complete any or all of the bonus entries, please leave a separate comment on this post for each additional entry.
Visit Maria's Blog, Makin It Simple and leave a relevant comment on any of her posts.
Subscribe to Following In My Shoes via an RSS Reader.
Follow

me on Twitter

Tweet this giveaway (for your convenience, you may use the "tweet" button located at the top of this post; this post may be tweeted a max of 2 times daily — please leave the URL of your tweet in your comments below)
Giveaway will end April 14th, 2012, at noon CMT. Winner will be selected using the "And The Winner Is" random selector; winner will be notified by email and will have 48 hours (from the time the email is sent) to confirm his/her win. Prizes will only be sent to a Continental US address and only one prize per household can be claimed.
Disclosure: I was sent an Organizing Tote for the purpose of facilitating this giveaway. No other compensation was given and all opinions are my own.