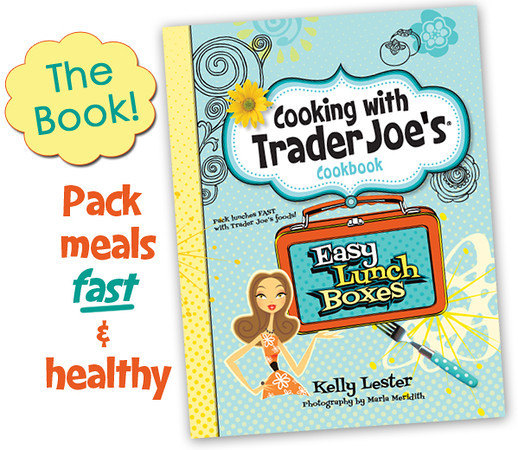 I stumbled upon this book recently (and the corresponding lunch box/bento system) thanks to interactions with other bento-lovin' Mamas.  The Cooking With Trader Joe's Cookbook: Easy Lunch Boxes.
The Easy Lunchboxes I've known about for awhile — coveting them each time I saw a lunch on Pinterest using one of the clear, divided containers . . . listening to Facebook friends talk about using and loving the easy to open containers.
Now, I have a set; a set of the stackable, easy to store and easy to pack, lunch boxes.
And they've been getting quite a bit of use this past week.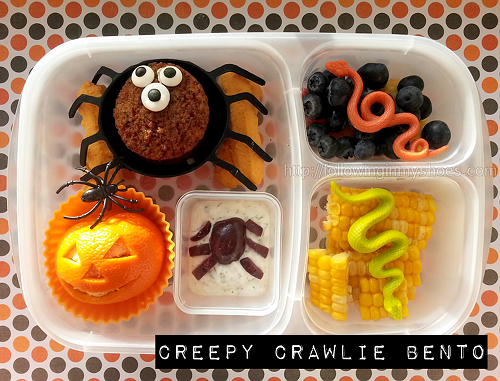 (one of the Halloween bentos I shared on Facebook last week)
I love trying out different boxes for the bentos I send, day after day, with the Kidlets to preschool.  The Easy Lunchboxes have become one of my favorites.  They're great for packing a lunch, regardless if you pack things "bento-style" or not.
And, now I have a ton of ideas for fresh, healthy (and easy) lunch options thanks to Kelly Lester's Cooking with Trader Joe's Cookbook: Easy Lunchboxes.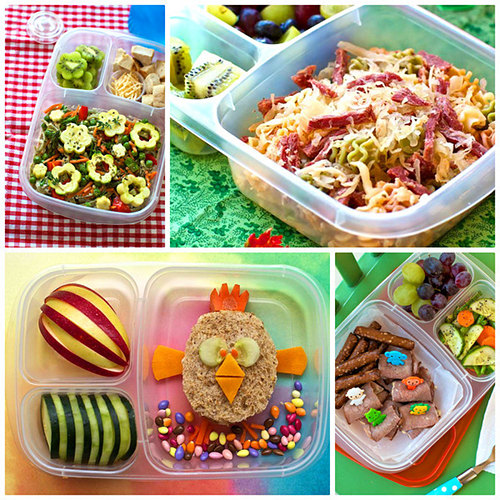 (photos from the cookbook)
There are 80+ different lunch ideas and recipes in this cookbook, ALL of which were created by REAL parents who make lunch for their children every day.  There are step-by-step cute bentos, vegetarian and vegan recipes, gluten-free recipes, "grown-up" lunch ideas. . .  there is a lunch for everyone in this book.  Even breakfasts and snacks on the go are covered.
While this book is the latest in a series of Cooking With Trader Joe's Cookbooks, you don't have to use Trader Joe's products in the recipes. . . which is nice for me since the closest TJ's is over an hour away.
The Cooking with Trader Joe's Cookbook: Easy Lunchboxes retails for $24.95 but can typically be purchased for much cheaper on Amazon!
Today's Lunch For The Kidlets
The lunch I made for the Little Lady and Mr. Boy was inspired by a recipe from the Cooking with Trader Joe's Cookbook: Easy Lunch Boxes.
Using the recipe for Tortilla Pizza as a springboard, I created these adorably "boo-tiful" Ghost Pizzas.  Mr. Boy was ready to eat at 7:00 am after I showed him his lunch!!!
Ghost Pizza Bento (in Easy Lunchboxes)
In large compartment — Tortilla shaped Ghost Pizzas; in Little Dipper Box — Pumpkin Seeds and dried Fruit; in smaller compartments — veggies and fruit.
Link Up with I Heart Lunch!
I adore getting inspiration and ideas (and even "THAT'S how you do that" moments) from others out there … so let's share with one another with the "I Heart Lunch Weekly Link-up."

You can link to a blog post or flickr photos — this linky is for any kind of healthy school lunch, regardless if it is Bento-style or not. I want to celebrate our efforts to provide good and enjoyable school lunches for our children!

The linky is offered each Tuesday when I share our Bento lunches so you'll be able to add your lunches every week.  My only request is that you either add a link back to this post or include the Lunch Graphic (which links back) to your post so others can get here to view the linked lunches too!
Link up your school lunches and bentos!  Please use a permalink for your post rather than linking your general blog/flickr account URL — this will help people go directly to your fabulous lunch!
Note: you can link a blog post, facebook photo, flickr page, etc.

Now — link 'em up!
disclosure: I was provided with a preview copy of the Easy Lunchboxes cookbook, and a set of Easy Lunchboxes to try out. Any opinions expressed are my own.