Ok.  I'm not gonna lie . . . I have wayyyyyy too much fun making themed bentos for the Kidlets.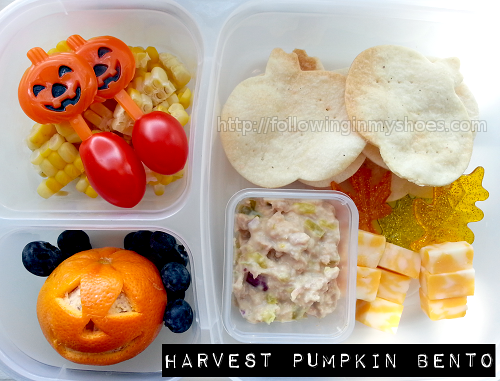 Harvest Pumpkin Bento (in an Easy Lunchbox System)

In the Large Section — Pumpkin Tortilla Chips, Colby Jack Cheese Cubes on leaf picks, Tuna Salad.  In the Smaller Sections — Fresh Corn and Cherry Tomatoes on pumpkin picks, Clementine Jack O' Lantern and Blueberries.
I know bento making isn't for everyone but it is for me.  It's fun, creative … I have to think outside the box (ha, ha) and find ways to make things look beautiful and fit in a confined space.
It's like creating and solving a puzzle every single day.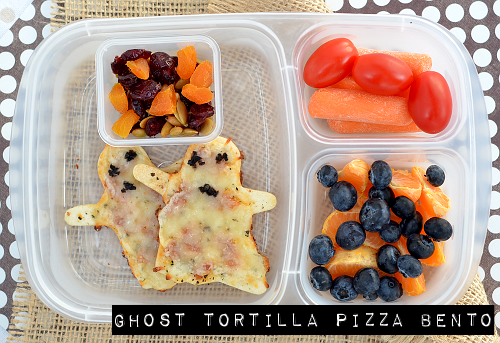 Ghost Tortilla Pizza Bento (in an Easy Lunchbox)

In Large Section — Ghost Pizzas cut out of flour tortillas, Pumpkin Seeds and Dried Fruit (in the "little dipper box").  In Smaller Sections — Blueberries and Orange Slices; Carrots and Tomatoes.
I love it — and I love whenever we come to a new holiday or a new, fun season.  With Fall in full swing, we have ample opportunity for lunches with LOTS of kid appeal.
Today?  It's all about Halloween Kid Food and Bento Lunches.
(Whoop!)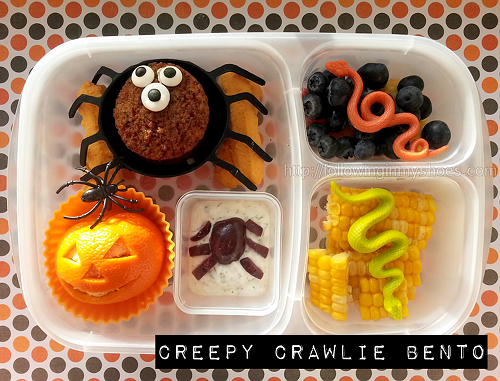 Creepy Crawlie Bento (in an Easy Lunchbox System):

In Large Section — Falafel (in the spider muffin cup), Cheese Straw "Cocoons" (underneath the spider cup), homemade Ranch Dip with an Olive Beetle, a Clementine Jack O' Lantern.  In Smaller Sections — Blueberries and Pineapple; fresh corn.
I've said it before and I'll say it again — my bento lunches are simple.  I love the elaborate bentos I can find on Pinterest, but I tend to stay simple with mine, using color and basic shapes carry a theme through my bento food.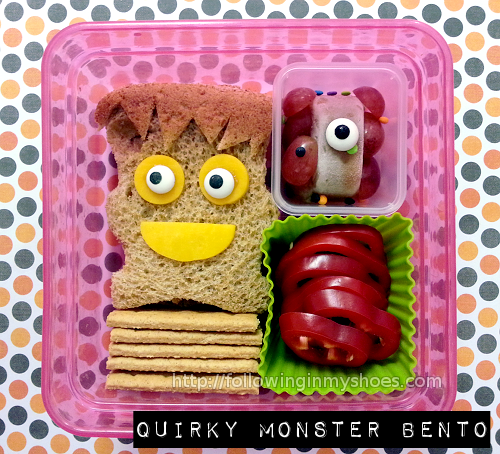 Quirky Monster Bento (packed in an Aladdin Sandwich Box)

Sunbutter Sandwich (cut with a Wilton Frankenstein cookie cutter), decorated with cheese and icing candy eyes; graham crackers; frozen applesauce and grapes with sprinkles; sweet pepper slices.
This simplicity has carried over into my Halloween bentos.  Now, before anyone calls, "FOUL!  These aren't simple lunches!", let's take a look at how easy and "every day" my bentos are. . . and, by extension, how simple it is to make a cute, kid-friendly lunch
(and how easy it really is to make a cute, kid-friendly lunch)
Simple Ways To Make Halloween Kid Food
1)  Use a sharp knife to carve a Jack O'Lantern face into a small orange.  It's cute and ends up helping Kidlets peel the orange later.
2)  Add an icing eyeball (found in the baking or cake decorating aisle of Target, Wal-Mart, Hobby Lobby and grocery stores) into yogurt or applesauce for a "melted monster or blob."
3)  Experiment with shapes.  In addition to monster face sandwiches, you can make your own tortilla chips in fun new shapes!  Use pumpkin, ghost or bone cooke cutters to cut shapes out of flour or corn tortillas.  Can be seasoned with sea salt, pepper, vinegar, olive oil — whatever your favorite flavors are.  Then bake at 350 degrees for 5-7 minutes or until crispy and golden.  (GREAT way to use up leftover tortillas!)
4)  Slice olives into ants, spiders or beetles and place them on the top of a vat of dip. (Thanks, Wendolonia, for that idea)
5)  Use the plastic bugs and rings your Kidlets accumulate in the lunch box! It's an fast, easy, and frugal way to ghoul up a lunch! (even leftovers like in today's lunch)
6)  Focus on color with your food: orange and black can be found in carrots, oranges, butternut squash, cheese, olives, black beans, pasta … so many foods can be used for this color scheme.  Even without spooky shapes or decor, you can create a Halloween lunch based on color alone.
7)  Use Halloween or Fall shaped pastas to add some fun to traditional pasta salads or spaghetti.
In reality, those seven different tips are all I implemented when I made bentos this past week for my kids.  It's all I ever do!  Making a lunch that appeals to a kid's aesthetic isn't hard and doesn't have to be time-consuming.  I promise!
Looking for MORE Halloween Kid Friendly Food Ideas?
Today, bloggers from the Bento Bloggers & Friends group are sharing their Halloween Bento lunch ideas!  It's a great way to get tips, tricks and ideas ranging from the simple to the amazingly elaborate.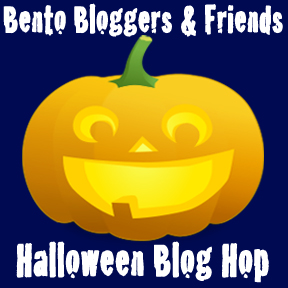 Feel free to head over to the linky page to see all the lunches that have been linked up … or swing by to visit Kristie at Beneficial Bento — she creates gorgeous traditional bentos, but she also brings out the fun with her weekly "Fancy Sandwich Friday" feature. I can only imagine how amazing her Halloween Bento will be today!
Hope you find inspiration today for creating kid-friendly, healthy food (with a few treats here and there).   But, before you go, I have one question:
Do you like cute Halloween food or scary Halloween food?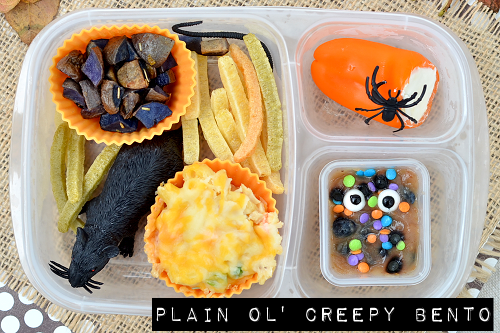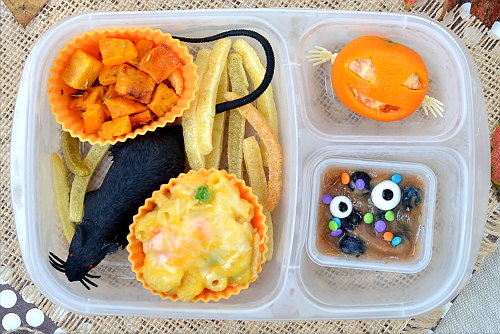 Just A Plain Ol' Creepy Bento (in an Easy Lunchbox System)

In the Large Section — Tuna Mac 'n Cheese Cupcakes, Roasted Butternut Squash (for Mr. Boy) or Roasted Purple Potatoes (for the Little Lady), Veggie Straws (don't they just look like something that has been decaying for a long time???). In the Smaller Sections — Applesauce Blobs and Blueberries, a Cream-Cheese stuffed Sweet Pepper for the Little Lady, and a Clementine for Mr. Boy.