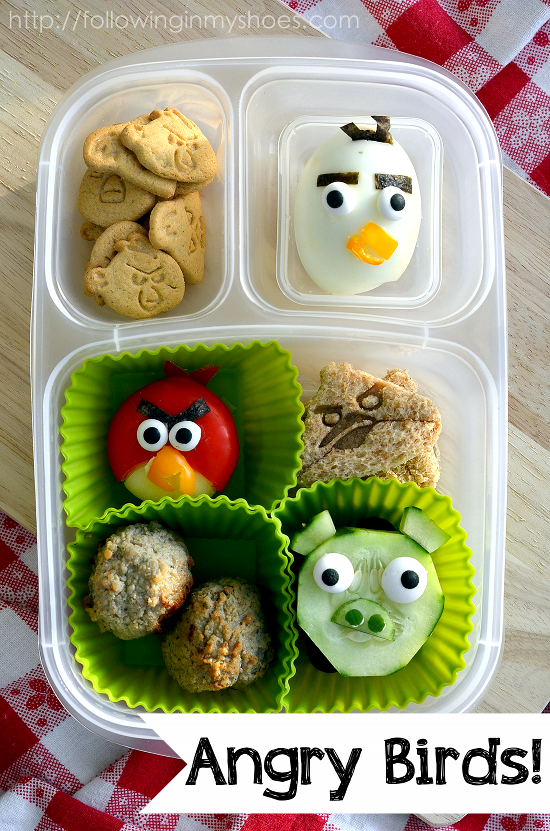 Angry Birds Bento (in an Easy Lunchbox System)

(In upper, smaller section) Angry Birds Graham Crackers, Hard Boiled "White Bird" Egg.  (In larger section) Babybel "Red Bird" Cheese, Sunbutter Sandwiches (made using Angry Bird cookie press), Cucumber "Green Pig", Meatballs.
As you know, I love a simple bento.  It fits my approach to food and it is easier and more timely for me in the mornings to do easy lunches.
But, I have to admit, I oooh and ahhhh over the incredibly intricate and gorgeous bentos I see on Instagram and Pinterest.  My jaw drops when I see the hand-carved sandwiches.  And, then Mr. Boy saw an Angry Birds lunch.
Just like that, my vow of simplicityw as over.  I was charged with making an Angry Birds bento.
The inspiration for the Red Bird came from Cute Food For Kids, where she showed off a Babybel cheese bird she had made.  Unfortunately, she didn't include instructions or any idea of how long it would take to make it.
It looks so simple doesn't it?  Cheese, candy eyes, Nori eyebrows…. a beak (which I made out of a piece of sweet bell pepper).
BULL.
My big ol', arthritic hands had the hardest time cutting everything just. right. and then attempting to "glue" (with cream cheese) all the itsy-bitsy details.
By the time I finished with two red birds, I was exhausted and rueing the day Angry Birds was created.  But, I couldn't stop.  When I go in, I go all in… and you HAVE to go all in with an Angry Birds theme.
So, I started making the White Angry Bird and (of course) one of the Green Pigs.  And these last two entities were even more annoying because the cream cheese just did NOT want to stick to their moist surfaces.
UGH!!!  DARN YOU, ANGRY BIRDS!!!!!!!!
The next morning, I woke early — still frustrated but now eager and excited to show the Kidlets their much-asked-for Angry Bird Bentos.
"Ugh!  MOM!!!!!! Why did you put an EGG IN MY LUNCH?"
(Yes, I heard that.  Twice.)
Never mind the fact that I had spent countless minutes (what seemed half of forever) the previous evening making their lunches.  Never mind that I only did it because THEY HAD ASKED FOR IT.  Never mind that I had been smiling when I opened the boxes for them.
All of that was for naught when they saw the hard-boiled eggs, which — it seems — they don't like.
(Who knew that?)
With that experience under my belt, I'm done with the cute detailed lunches.  Yes, they are adorable and so fun to look at … but, obviously, my children are jerks.
(just kidding … I love you guys … but no more Angry Bird bentos)
On to the simple bentos from this past week … the lunches that were hits!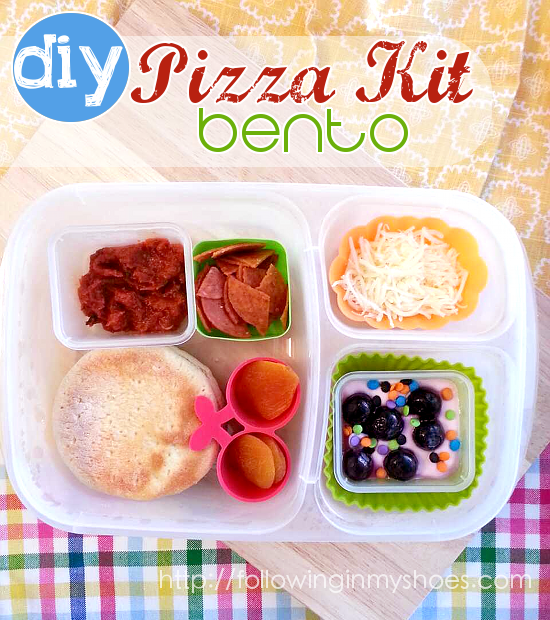 Pizza Kit Bento (in an Easy Lunchbox)

(in larger section) Homemade Pizza Sauce, Chopped Pepperoni, Dried Apricots, Homemade Pizza Crust.  (in smaller sections) Shredded Mozzarella, Greek Yogurt and Berries.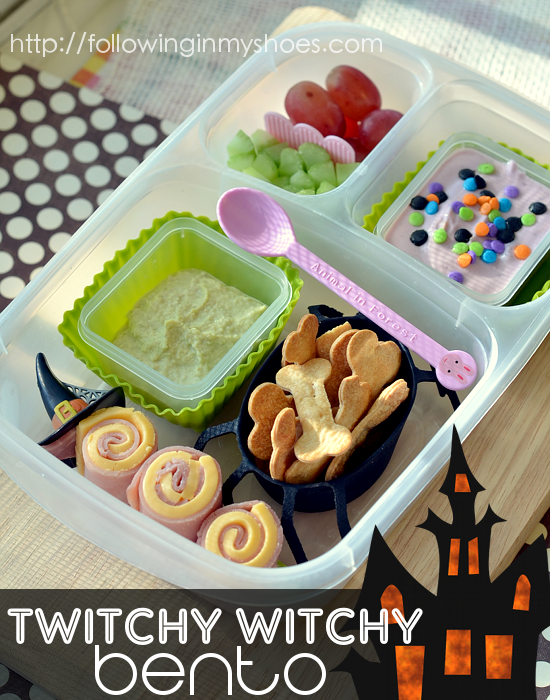 Twitchy Witchy Bento (in an Easy Lunchbox)

(in larger section) Ham and Cheese Rolls, Edemame Hummus, Tortilla Bone Chips.  (in smaller sections) Celery Sticks, Grapes, Greek Yogurt.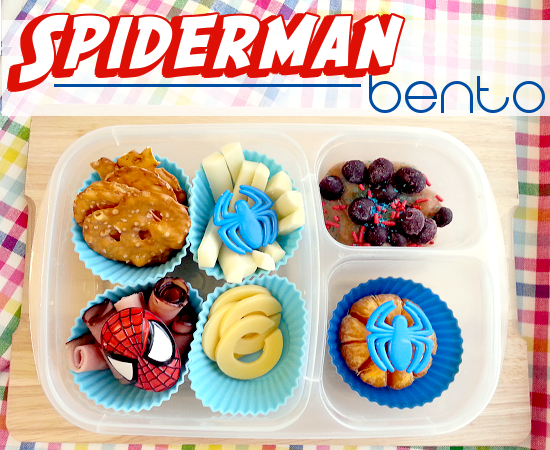 Spiderman Bento (in an Easy Lunchbox)

(in larger section) Pretzel Chips, Mozzarella String Cheese, Provolone Letters, Ham Rolls.  (in smaller sections) Homemade Applesauce and Berries, Clementine.
Yup, I'm back to simple bentos. Easy. Peasy. Little to no complaints.
p.s. Several people have asked about the shaped tortillas chips I've been putting in bentos lately, so here are instructions.
(disclosure — some affiliate links were used in this post)