A Snowman Bento (in an Easy Lunchbox System)

(In upper, larger section) Tri-Colored Carrot Sticks and Homemade Ranch Dip (in the little red container), Alphabet Pretzels, Sunbutter and Honey Snowman Sandwich — details made using sprinkles and all-natural fruit leather.

(In the smaller compartments) Yogurt with a few Holiday Sprinkles (in an Easy Lunchbox Little Dipper), Grapes and Raspberries
We are in full Holiday mode these days; the tree is up, the Christmas Jammies are getting worn nearly every night, and we enjoyed our annual North Pole Breakfast this past weekend.
We're watching Christmas movies and singing along to our favorite songs and carols. . . and drinking copious amount of hot chocolate.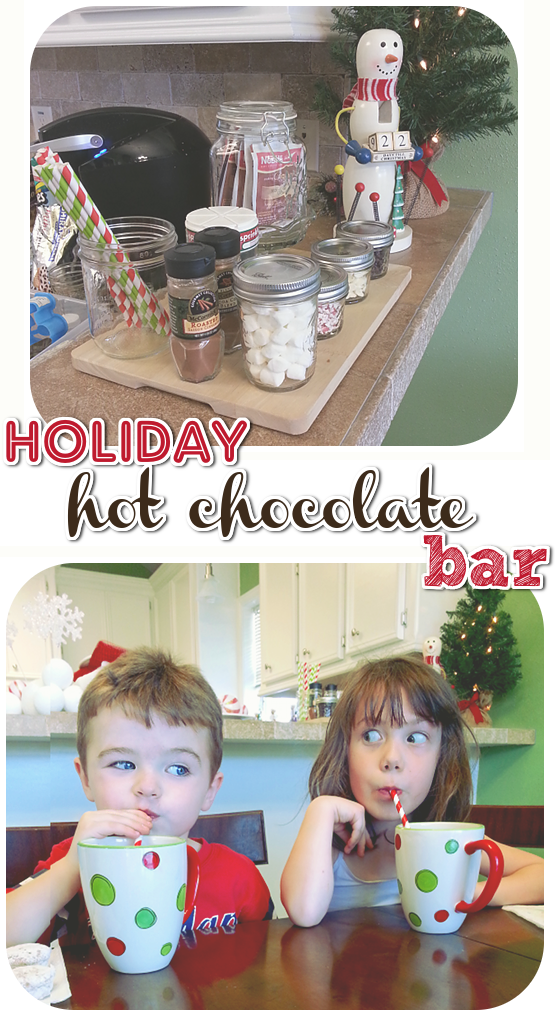 Yesterday, in addition to eating Snowman Sandwiches and turning the numbers on our Snowman Christmas Countdown Nutcracker, we made a DIY Hot Chocolate Bar. It was a project that took all of five minutes — a few seconds to pull out jars and a few seconds to raid my pantry for hot chocolate mix-ins. When I had finished, the Kidlets and I celebrated by making the perfect cups of cocoa.
To Make a Hot Chocolate Bar
Your Favorite Hot Chocolate (individual packets or homemade mix)
Mix-Ins

Marshmallows
Chocolate Chips
Crushed Candy Canes

Toppings

Cinnamon
Nutmeg or Hot Spices like Cocoa-Chile blends
Sprinkles

Air-tight Containers (If you don't have something on hand, Canning Jars are cheap — or reuse jelly and condiment jars)
Holiday Mugs (I adore festive mugs, so I always have them on hand, but you can pick cheap ones up at the Dollar Store)
Paper or Reusable Festive Straws (obviously, optional but fun!)
We picked an out-of-the-way area on our counter and put everything out; it will stay there through December for those days when I think we need a special treat.  Having it all ready to go means time saved from pulling it all out…. this way, we can just settle down to the business of family time!
For more inspiration and ideas for an at-home Hot Chocolate Bar, visit my Hot Chocolate Pinterest Board!
Do you have any food traditions

during the Holidays?
Let's Talk Kid Food!
I adore getting inspiration and ideas (and even "THAT'S how you do that" moments) from others out there … so let's share with one another with the "I Heart Lunch Weekly Link-up."

You can link to any kid-lunch/bento or kid-friendly recipe on a blog post or via flickr photos — this linky is for any kind of healthy school lunch and kid-food, regardless if it is Bento-style or not. I want to celebrate our efforts to provide good and enjoyable school lunches for our children!

The linky is offered each Tuesday when I share our Bento lunches so you'll be able to add your lunches every week.  My only request is that you either add a link back to this post or include the Lunch Graphic (which links back) to your post so others can get here to view the linked lunches too!
Link up your school lunches and bentos!  Please use a permalink for your post rather than linking your general blog/flickr account URL — this will help people go directly to your fabulous lunch!
Note: you can link a blog post, public facebook photo, flickr page, etc.
Now — link 'em up!