North Pole Breakfast 2012 was a SUCCESS!  Snowflakes and snowballs were everywhere … elves sat at each place setting … and a bunch of yummy, holiday food was gobbled up by the Kidlets and our guests.
I'm going to give all the details on Monday, including links for some of the ideas I implemented and a few of the dishes I made.  It really was so beautiful, so fun and something I enjoyed from start to finish.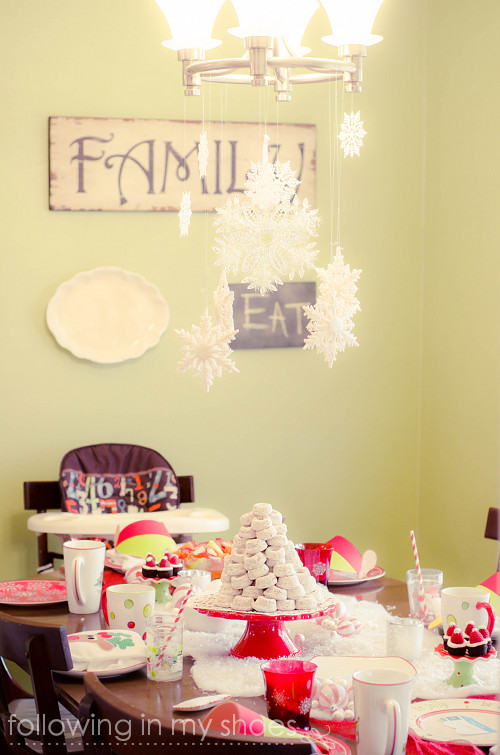 (Except for the cleaning-up part.  I wasn't too fond of that.)
For now, I want to share the unbelievable Asparagus and Ham Crustless Quiche I made as our main savory dish: cheesy and full flavor thanks to black forest ham and sun-dried tomatoes — and a bit Christmasy thanks to an Asparagus "tree" on the surface — this quiche comes together in about thirty minutes and is great for a holiday brunch or an evening dinner.
I found the original recipe on (of course) Pinterest, but it required ingredients I either didn't have on hand or couldn't find in my local grocery store.  A few substitutions and a change in the cooking method worked out perfectly, leaving us with a recipe even the babies in attendance scarfed down.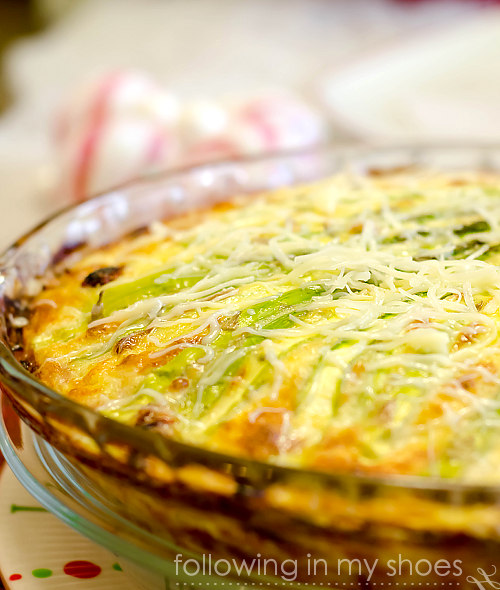 And that — folks — is proof of good eats.
So, here it is (adapted from Ile de France's Comte & Asparagus Frittata), my favorite new addition to our annual North Pole Breakfast.

Christmas Tree Holiday Crustless Quiche
A savory quiche with full flavor thanks to ham, Gruyere and White Cheddar, and -- of course -- fresh asparagus.
Recipe type:
Entree, Breakfast
Ingredients
2 tablespoons Olive Oil
4 medium Shallots, finely sliced
9 Eggs
¾ cup Milk
1 and ½ cups grated Gruyere, plus 2 tablespoons of grated Gruyere for topping
½ cup grated or diced White Cheddar
⅔ cup chopped Black Forest ham (about 4-5 deli slices, cut on a 2 or 3 thickness)
1 6.25 oz package of Sun-dried Tomatoes (dry, not packed in oil), julienned
Cracked Black Pepper
Pinch of ground Cayenne Pepper
6 Asparagus spears, bottom ends trimmed
Instructions
Preheat oven to 400° F and prepare a glass 8 inch, "deep dish" pie pan with either butter or cooking spray.
In skillet, heat 1 tablespoon of the oil and then add the sliced shallots, sautéing till soft and translucent.
In a mixing bowl, whisk together the eggs and milk.
Fold in the Gruyere and White Cheddar, ham, sun-dried tomatoes, both the black and cayenne pepper, and the sautéed shallots.
Pour the egg and cheese mixture into your prepared pie pan.
Using a mandoline (or vegetable peeler), carefully slice the asparagus spears into ribbons.
Arrange the asparagus ribbons on top of the egg mixture, in a triangle, "tree-shape".
Place the pan in the oven and bake until the center of the quiche is firm/set, about 20 minutes.
Remove from the oven and sprinkle with the reserved Gruyere.
Cut and Serve.