The bento boxes are starting to spill out of my cabinet.  From my new Fit and Fresh boxes to traditional bento boxes to sandwich boxes (and everything in between), I have quite the little stockpile of boxes.  And, recently, another box was added to my store: the Laptop Lunchbox.
This lunchbox system — which is based around a large rectangular box housing smaller food containers — has been around for awhile now.  As I've blogged hopped, visiting my favorite Bento bloggers, I've seen it over and over again, the bright colors and individual containers neatly organizing food and keeping everything from touching.
(that's very important to some Kidlets who shall remain nameless)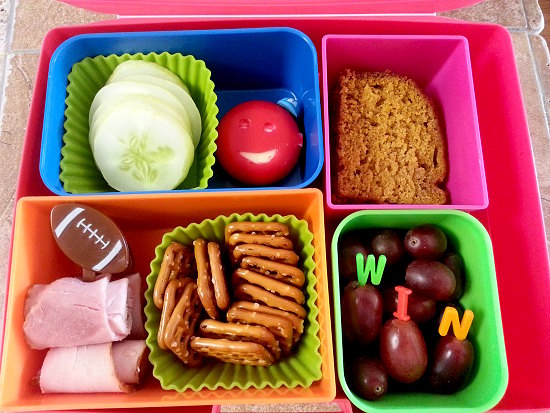 (one of Mr. Boy's lunches in his Laptop Lunch Bento Box)
After trying it out the past few weeks, I still love the colors (we have the Garden set) and Mr. Boy adores it, asking for it each time he sees it in the cabinet.  I think he is a fan of all the colors too.
Specs for the Laptop Lunch Bento Box 2.0
Total of 6 boxes: larger outer container, 2 open boxes(which hold 1.25 cups and 1.67 cups each), 2 boxes with lids (which will hold .75 cup and .67 cup each), plus one little container (dip size — holds .16 cup) with lid.

Modular System: Interior containers are removable and do not have to be used.
Lids are "leak-proof"
Dishwasher (top rack) and Microwave safe.
FDA approved for Food Use: Plastic parts do not contain lead, BPA, phthalates or PVC.
Made in the United States
*Optional Insulated Lunch Bag/Carrier available for purchase.
*Additional lidded boxes (of varying sizes) available for purchase.
"Our" Opinion of the Laptop Lunch Bento Box
Pros
This box can hold a LOT of food.  Sandwiches, chips, fruit, veggies — even pasta salads or yogurt can be sent for lunch with this box.  I don't fill it completely full because there isn't any way Mr. Boy could eat it all.
LOVE having leak-proof containers for sending Mr. Boy's beloved applesauce or veggie dip.  The individual containers have a very tight seal and haven't "exploded" when a certain exuberant little boy has dropped them.
Being able to toss them in the dishwasher is a beautiful thing.  I hate hand-washing anything and everything.
Each box has a place where you can write your child's name in case it is ever forgotten in his/her classroom.
Mr. Boy just adores all of the colors and boxes — it is very eye catching. There are ten different color schemes available for the bento box systems.
Cons
The outer container isn't difficult to open but it is a bit awkward for me.  You have to push down and then up on the latch — and since there isn't a handle or grip section, the smooth plastic is a little hard to handle while you try to manipulate the latch.  I had my husband try it, to see if it was just user-incompetence on my part — but he too had difficulty getting the lid to open.  It definitely takes a bit of practice.
Depending on your child's age and fine motor skill development, he or she may not be able to open any of the containers.  Mr. Boy can't open the outer container and has a difficult time removing the lids from the smaller boxes.  We have spent a lot of time practicing and with a lot of effort, he can get a lid off but not without spilling all of the contents.  (fortunately, his preschool teacher helps him during lunch … something he doesn't mind since he has a wee crush on her)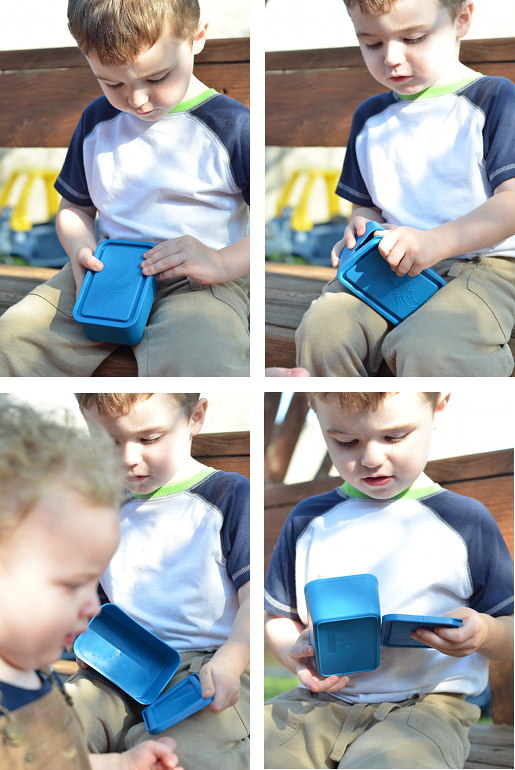 (Eek — a Baby Barney photobomb!  Still, you can see how Mr. Boy used his strongest 3-year-old muscles to open the box — this particular grip was the only way he could get it open.  Had there been food in the box at the time, it would have spilled)
The outer container/shell (which holds all of the other smaller ones) doesn't completely close.  Regardless of how I arrange the inner boxes, there is always a corner of the outer container that won't shut all the way.  Not a huge deal since the interior containers with lids are leak-proof … just irritates my OCD self!
Price.  These are not cheap boxes.  The box set retails for $23.99.  Now, according to the site, it can last for years, so if you're using this every day as "THE" lunchbox, it pays for itself…. just gotta pay a lot up front!
If you want an insulated carrier from Laptop Lunches, it will cost you extra.  $19.99 if purchased separately or $38.99 if you purchase a box/carrier set.   It is *possible* to find a cheaper option at Target/Walmart but you will need to check dimensions to make sure of a good fit.  Mr. Boy's Spiderman Carrier will hold the Laptop Lunchbox, but the box takes up all of the room in his carrier, barely leaving space for a cold pack.
Final Thoughts
Mr. Boy loves this box and I love having leakproof containers for "wet" foods . . . despite the fact that he needs help opening everything, I plan on using this box as long as it holds up.  As his motor skills improve, he should be able to open it himself at some point.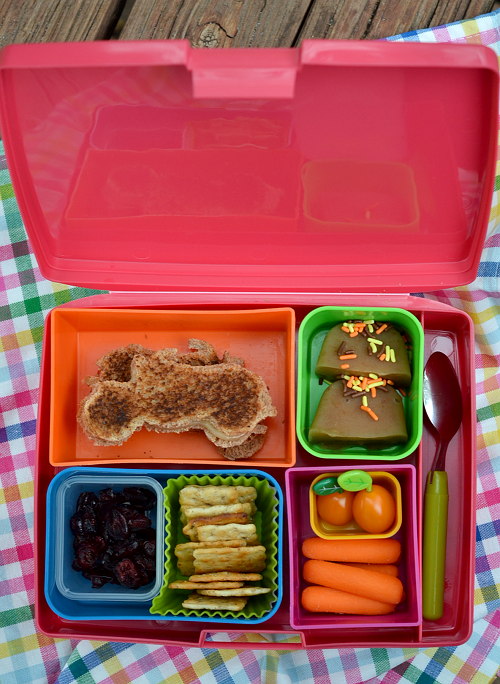 (today's lunch: Motorcycle Toasted Cheese Sandwiches, Homemade Applesauce (frozen but it should be thawed by the time he heats), carrots and tomatoes, crackers, dried cranberries)

I do wish there was some kind of handle or grip on the outer container to make opening the latch easer. . . perhaps continues practice will make that easier for Mama!
The price is a deterrent from getting a second box for the Little Lady (who definitely covets this box!); as much as I love my bento supplies, I just can't see myself paying over $20 for a lunchbox.  But, that's just me.  I'm cheap like that.
Purchasing Information
The Laptop Lunchbox products can be purchased directly from their site, through Amazon, and select retailers. Product options include bento box systems, kits, carriers, thermoses, utensils and cold packs.
disclosure: I was sent a Laptop Lunchbox to facilitate this review.  All opinions expressed are my own.