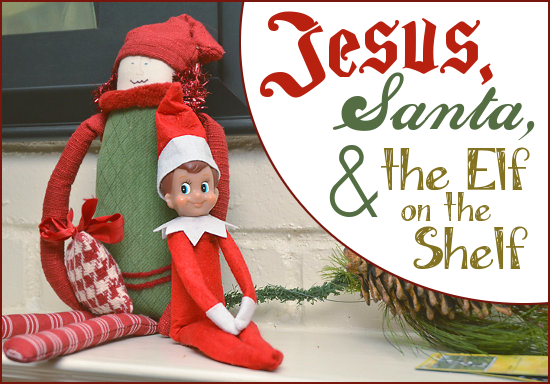 (part one, the story behind this letter, can be found here)
Dear Little Lady, Mr. Boy, and Baby Barney Kneeknuckles,
I hope you three kiddos are having a great Christmas season and getting ready to enjoy visiting your Gramie and Papa.  I hear you are going to be riding on an airplane in a few weeks to go see them!
This package I'm sending you has a very special friend in it – one of my little Elves.
Why am I sending him?
Well, this time of year – this time we call "Christmas" – gets very busy and kind of crazy.  Everyone just focuses on "want, want, want."  Have you been telling your Mommy and Daddy what you want for Christmas?  It's ok to want a few things, but I've seen people – grown ups and kiddos – get very selfish with all the stuff they want.  They want so many things that they forget the whole reason we even have Christmas….
 Jesus – God's son who was born a long, long, long time ago…

The very first "Christmas present" ever given to the whole big world.
I don't want you kiddos to forget about Jesus as you prepare for Christmas.  I want you to enjoy all the fun – hot chocolate, singing Christmas songs, candy and presents – but I don't want you to forget the most important present: God's love for us and His son, Jesus.  I don't want you to forget that it's still important to love others … to be nice to other people … to help other people (even your Mommy, Daddy, and each other) … to show other people how wonderful Jesus is.
So, the little Elf in your box is here to help you kids (and your Mommy and Daddy) remember these important parts about Christmas: Jesus, God's love and our job of joyfully sharing that love with others through our gifts, kind words and loving actions (the things we do for one another).
My Elf is going to hang out at your house, watching everything that happens … as a reminder for you to:
Love each other
Speak nicely to one another
Help each other
Help your friends and neighbors too
Give to people who don't have all the stuff you have
Remember that God loves you kiddos so, so, so much.
Take care of my little friend – he and I will talk every night about you kiddos and how you are doing this Christmas Season.
Looking forward to seeing great things and wonderful love from each of you,
Santa
 p.s. Don't forget to give my Elf a name!!!  He needs one.