Last year, I spent considerable time researching container and raised bed gardens.  What I should have spent time learning about what how to kill (ahem) carefully remove moles from my backyard.  What started out as a lush, fruitful garden turned into a sad compost heap thanks to the bajillion and a half blind moles that dug tunnels underground, depriving my herbs, cucumbers, squash and okra of a good soil base.
This year, knowing that the moles would be back (and, oh yes — they are . .. grrrrr), I didn't plant anything in my raised bed.  Instead the Husband and I poured all of our green thumb energy strictly into closed container gardening. . .  good ol' planter boxes and pots.  Mole proof.
But I've realized there is a new problem arising with both our contained plants and the front flower-bed (which is, so far, mole free)… our plants need a boost!
Growing up on a cattle ranch, fertilizer was both abundant and fresh; but now that I live the life of a city girl, I can't just run out to the pasture when I need food for my plant-life.  No, I have to do things a different way…. and Pennington has advice for me.  'Cause I obviously need it.
Questions — and Answers — About Fertilizing Your Plants

Why is fertilizing important?
Fertilization is an essential step in landscape maintenance and plant development, helping establish and sustain strong growth patterns. A fertilizer helps to supply the essential nutrients that plants need for healthy growth. Proper nutrition assures optimum plant growth and resistance to diseases, insects and environmental problems. Fertilizers, however, differ in nutrient content and release duration. Fertilizer selection should be based on the types of plants being fertilized, the nutrient content of the soil and the type of growth response desired.
Are there particular times to fertilize based on region?
Traditionally, where non-slow release fertilizers are being used, plants in the Southern regions tend to require fertilizing four times a year – in the spring, early summer, late summer and fall. This is due to the long growing season. In the Northern regions, there tend to be two growing periods. The first is after the garden's return from winter dormancy. The second is during the early fall when temperatures moderate and extreme heat spikes are over.
What fertilizer should be used for each type of plant?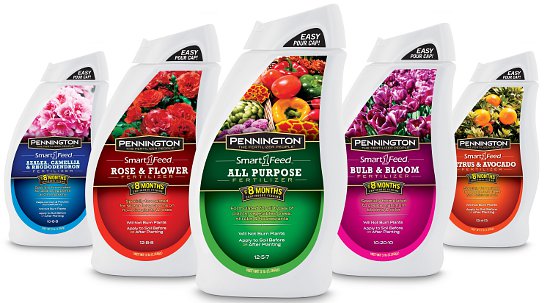 Pennington® Smart 1 Feed™ consists of a complete line of long-lasting, specialty premium fertilizers designed for efficient feeding, proper nutrition and healthy plant growth. The line features mix variations that have been customized for various growing environments, plant types and application needs, taking the guesswork out of mix selection. There are five mix variations, including: All-Purpose; Azalea, Camellia, Rhododendron (ACR); Bulb & Bloom; Citrus & Avocado; and Rose & Flower.
What is a slow-release fertilizer? What are its benefits?
Slow-release fertilizers, such as Pennington® Smart 1 Feed™, provide a more even uptake of nutrients by the plant over an extended period of time, depending on the soil temperature. As the name denotes, slow-release fertilizers release nutrients slowly over time, effectively spoon-feeding plants the nutrients they need, when they need them.
What are the negative effects of over-fertilization?
Although fertilization is important to landscape development, it can also cause plant stress and be harmful when done incorrectly.  Over-fertilization can cause excessive plant growth and additional water requirements. The impact can be more severe during periods of drought and high temperatures. Fertilizers are salts, and excessive amounts can damage plants by drawing water from the root zone. Plant cells in these roots begin to dehydrate and collapse, and the roots can be become "burned" – or dried out to a point where they are unable to recover.
How can over-fertilization be prevented?
First, it's essential to understand the amount of fertilization needed for the particular type of plant being fed. Second, homeowners should avoid fertilizing during a drought or high heat. During periods of drought, a best practice is to reduce the amount of fertilizer being applied and the frequency of application in non-irrigated areas. A fertilizer that has a slow-release mechanism, such as Pennington® Smart 1 Feed™, maintains the proper release of the right nutrients at the appropriate time and in the correct amounts.
GIVEAWAY!
Pennington Seed would like to give one of my readers a $50 Home Depot gift-card so he or she can try the Pennington® Smart 1 Feed™ fertilizers!
To enter:
Please leave a comment below, telling me the name of your favorite plant to grow.
Extra Entries
Any of the following options may be completed for any extra entries into the giveaway.  These additional entries are completely optional and not required.  Please leave a separate comment for any completed extra entry.
Giveaway ends at noon (CMT) on June 25th, 2012.  Winner will be chosen at random and will be notified via email; winner has 48 hours (from the time the email is sent) to confirm his or her win.
Central Garden & Pet partnered with bloggers such as me to help educate us all about their Pennington Smart 1 Feed® products. As part of this program, I received compensation. They did not tell me what to purchase or what to say about the use of the products. Central Garden & Pet believes that consumers and bloggers are free to form their own opinions and share them in their own words. Central Garden & Pet's policies align with WOMMA Ethics Code, FTC guidelines and social media engagement recommendations. A winner will be chosen by random and gift card fulfillment will be handled by a third party.