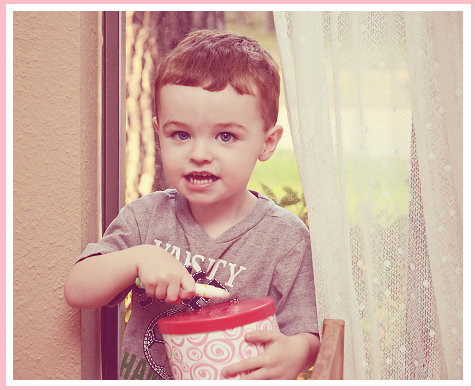 When you're two … and a boy … you live a very interesting life and have a very specialized skill set.
You can pick your nose (which, according to the proud light that shines in your eyes each time this happens, is a very big accomplishment).
You can throw dirt on your sister's hair (your now highly-developed hand/eye coordination has brought about the fruition of this life-long goal).
You can turn anything — and I mean ANYTHING — into a drum. Even toilet paper holders.
Yep, Mr. Boy is rocking out to a pink, swirly-twirly toilet paper holder … er, cover … um … something with which you can contain your toilet paper (I guess in case it wants to run away).
Honestly, I'm not really sure what this container is officially called.   Neither does Mr. Boy — he just calls it his "Mum."
(that's "Drum" in two-year-old speak)
When this toilet paper holder/Drum arrived  last week, Mr. Boy was convinced we had just received a new container of cookies.  As soon as his disappointed eyes saw the inside of the cylinder was empty, he rallied and decided to repurpose it as a drum.
I couldn't stop him.  I tried explaining what it was for … tried explaining that it's a symbol for breast cancer awareness and research … that the Cottenelle brand of toilet paper is offering these free containers to people through October 8th.
The child didn't care.  Mr. Boy blissfully ignored me and began a very complicated cacophony of  tribal drumming, screams and a carefully choreographed dance.  The pink toilet paper cover/holder was now officially a "Mum."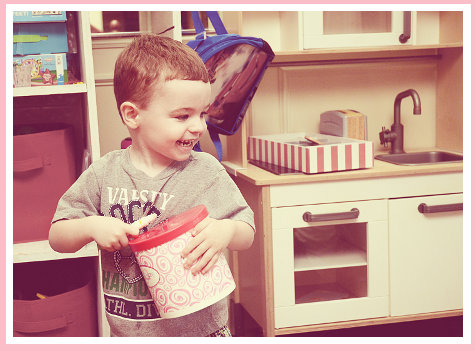 The Giving Hope a Hand Initiative
This October, the Cottonelle brand is partnering with Kroger to show support and raise breast cancer awareness through the Giving Hope a Hand® initiative. Through Giving Hope a Hand®, Cottonelle brand and additional partner companies will assist Kroger in raising $3 million for breast cancer awareness, treatment and research in the communities we share.

In an effort to raise breast cancer awareness, the Cottonelle brand will be offering pink toilet paper roll covers for a limited time.

From September 25-October 8, you can visit Kroger to purchase specially marked packages of Cottonelle Clean Care, Cottonelle's most care-worthy toilet paper yet, and receive a printout with instructions on how to redeem a free pink toilet paper roll cover.
The Toilet Paper Roll Cover
While I have to admire Mr. Boy's creative use of the container as a drum (although my ears don't appreciate it), our new pink box does have another purpose:  toilet paper roll cover.
To help people care for their toilet paper like never before, the Cottonelle brand is introducing new designer roll covers to put the spotlight on its most care-worthy toilet paper ever: Cottonelle Clean Care.

Think of your bathroom and how every item has a place – a holder for your toothbrush, a dish for your soap, containers for your cotton swabs … the list goes on.  People take great care in making sure bathroom essentials are put away in a place of their own, except when it comes to toilet paper.

Gone are the days of stuffing toilet paper rolls in your linen closet or aimlessly storing in spare cabinets.

Roll covers let people care for their toilet paper like never before, and these are not your grandmother's crochet roll covers.
$50 Kroger Giftcard Giveaway (closed)
In an effort to help spread the word about the Giving Hope A Hand program, Cottonelle is offering one Following In My Shoes reader a $50 store giftcard.
To Enter:
Leave a comment below answering the following mandatory question:
What is your favorite charitable organization or cause to support?
Extra Entries:
As always, bonus entries are completely optional; PLEASE leave a SEPARATE comment for each bonus entry you complete.
Subscribe to Following In My Shoes via an RSS Reader.
Follow Following In My Shoes via Google Friend Connect (located in my sidebar).
Follow me on Twitter
Tweet this giveaway (for your convenience, you may use the "tweet" button located at the top of this post;  this post may be tweeted a max of 2 times daily — please leave the URL of your tweet in your comments below)
This giveaway will end Sunday, October 9th, at 3pm.  The winner will be chosen by the "And The Winner Is" random selector and will have 48 hours to confirm his or her win.  In the event I do not receive that confirmation, another winner will be selected.
Disclosure: I received a $50 Kroger gift-card to share the news about the Giving Hope a Hand initiative and to facilitate this giveaway.