The Little Lady has been in school for nearly a month now and has eaten a Bento lunch each school-day.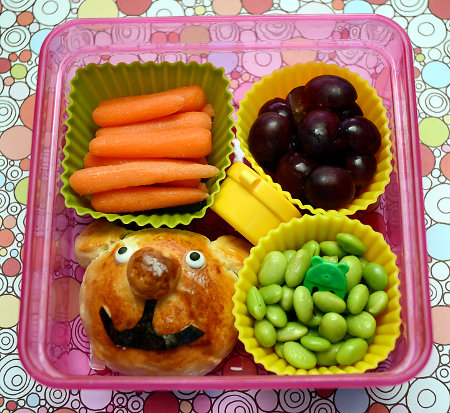 (Stuffed Biscuit Bento with steamed edemame, carrots, yogurt dip, and grapes)
Or, eaten most of a Bento lunch.  It seems she's a bit social at lunch time and doesn't always get everything consumed — but, she finishes everything up in the car as her "going home snack."
(Hey – it works for me; I don't have to hear "Can we stop and get something to eat?".)
She is loving these fun and healthy lunches and so is Mr. Boy.  Yes, Mr. Boy gets a "skoo 'unch" every day too.  Why?  He's two and determined to be four and have everything equal to his "Sissy."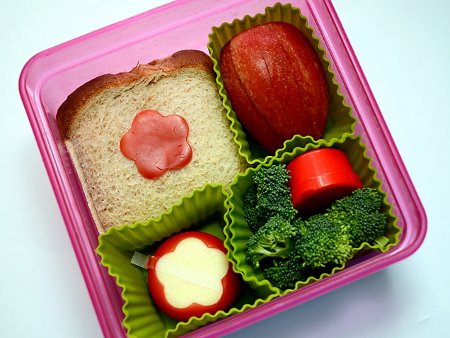 (A Red Bento – in honor of her class's Color o' the Month: almond butter & honey sandwich, apple slices, a Babybel cheese (I used a small cookie cutter to cut out the flower shape), broccoli & yogurt dip)
Making him a lunch and letting him take it along as we drop the Little Lady off at preschool is a HECK of a lot easier than dealing with a fit-throwing toddler.
Learning To Make Easy … At Night
Because our school mornings are insane (mostly thanks to a little Barney K., who ALWAYS wants to nurse about 15 minutes before it is time to leave), I prepare the majority of the bento lunches at night, after the kidlets have gone to bed.  So much more peaceful!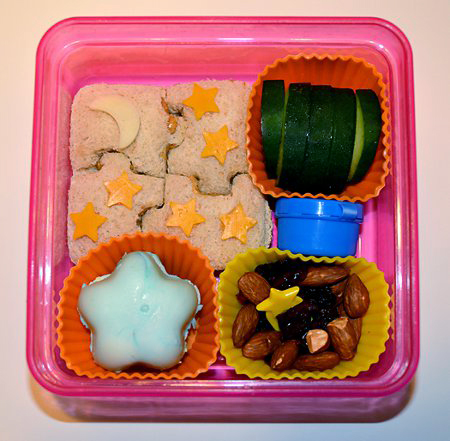 (The Stars at Night Bento: almond butter puzzle sandwiches, a shaped hard-boiled egg, homemade trail mix, cucumbers and yogurt dip)
The Deconstructed Lunch
Most of the time, I make the process even simpler by packaging her bento "deconstructed style" (a la "Lunchables").  The presentation is still bright and colorful — and the items are healthier than an actual Lunchable product — but the assembly takes hardly any time because I'm just putting "ready to go" items in her box.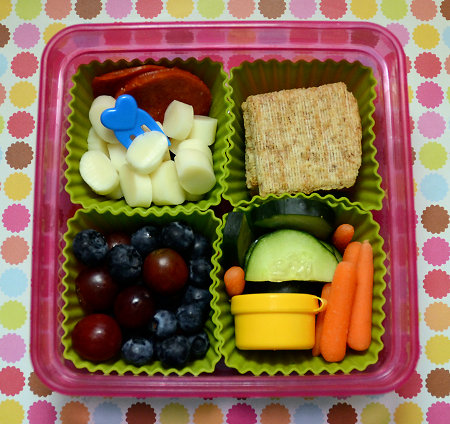 (Pizza Bento: Pepperoni, Mozzarella & Triscuit crackers, blueberries & grapes, cucumbers & baby carrots with yogurt dip)
Freezable Lunches Save Time
Another way to save time is to bake "entrees" that are freezable — like savory muffins.  I freeze a batch and then they are ready to go when I have a busy week and need a go-to item for her bento.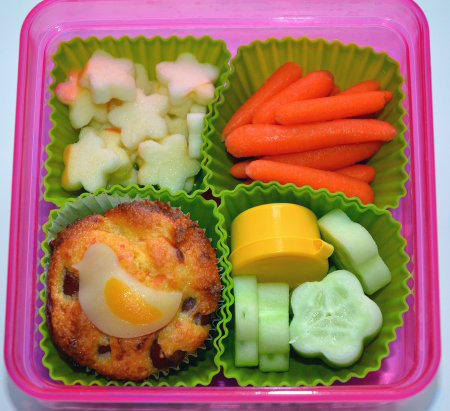 (An End of Summer Bento: Savory Cheese & Sausage Muffin – baby carrots, cucumber flowers & yogurt dip, apple flower slices – which were dipped in pineapple juice to prevent browning)
Now that school is in full swing, what tips & tricks have you implemented to create healthy and easy lunches for your kidlets?