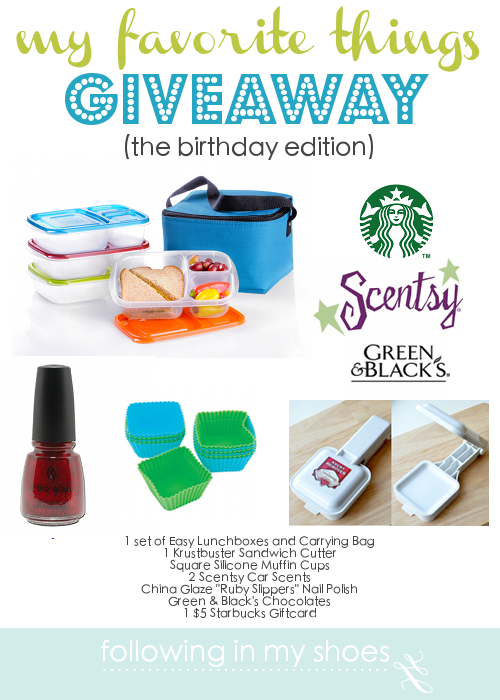 So … here it is.  The giveaway I've talked about on Facebook: a few of my favorite things for one lucky reader.
Why a non-sponsored giveaway?  Well, my birthday is coming up: 12-12-12.  I figure a special, once in a lifetime kind of birthday like this deserves something special.  Since *I* don't need anything, I decided to use this year's birthday as a way to thank all of YOU for sticking around, reading, commenting, and sharing my posts.
I enjoy you guys, whether you chat with me here on the blog or on Twitter, Facebook, or Instagram.  You make me smile.  A lot.
For this birthday giveaway, I've compiled some of my very, very favorite "every-day" items …. things I use to make lunch or things to treat myself.  They are all necessities for this mama — especially the coffee and chocolate!!!!!!
One reader will win the entire Birthday Package:

My favorite Easy Lunchboxes, Scentsy car scents, a Starbucks card, chocolate (the BEST chocolate in the world, mind you), my favorite Holiday nail polish, and lunch supplies (silicone muffin cups and a sandwich cutter).
To Enter:
Leave a comment below.  What you say is up to you … just please let it be nice.  😉
Bonus Entries
I know some of you like extra chances in a giveaway, so here they are.  Any of the following options may be completed for extra entries into the giveaway.  These additional entries are completely optional and not required. 
Please leave a separate comment for any completed extra entry.
Follow me on Twitter
Follow me on Pinterest
Follow Easy Lunchboxes on Facebook (you'll get lots of good lunch ideas from this page!)
Tweet this giveaway (for your convenience, you may use the "tweet" button located at the top of this post; this post may be tweeted a max of 2 times daily — please leave the URL of your tweet in your comments below)
Good luck!  
This giveaway will end on my birthday (12/12) at 10:30 am; the winner will be notified by email and must respond within 48 hours from the time the email is sent to confirm his/her win.  USA only.
(many thanks to Easy Lunchboxes for graciously donating the lunch boxes and container for this giveaway; all other items were purchased by me)