I promised that I would be posting pics, recipes, links and all the details from our North Pole Breakfast last weekend … and  I meant to do it earlier.
But, life happens.  And sick babies happen.  And a sick Daddy happens.  And then you drink wine.
Just kidding.
Maybe.
But, here it all is.  Everything…. EVERYTHING from our breakfast.  This year, we invited my husband's brother and family to join us; now that we all live in the same town, we love finding reasons to get together for special occasions.  And they love being told to wear elf ears.  I just know it.
Without further ado — all the pics.  At the bottom of the post, you'll find all the links for recipes and inspiration for those of you who throw one together (whether it be big or small) for your families.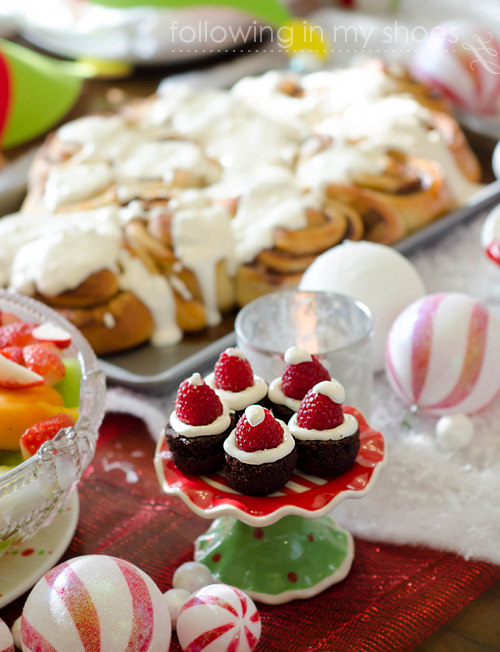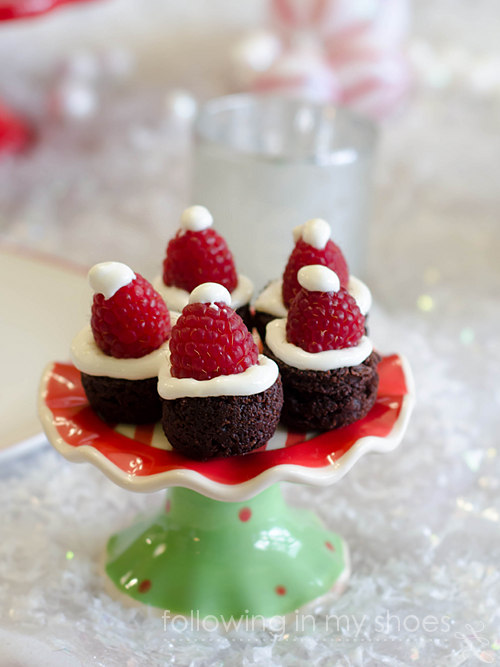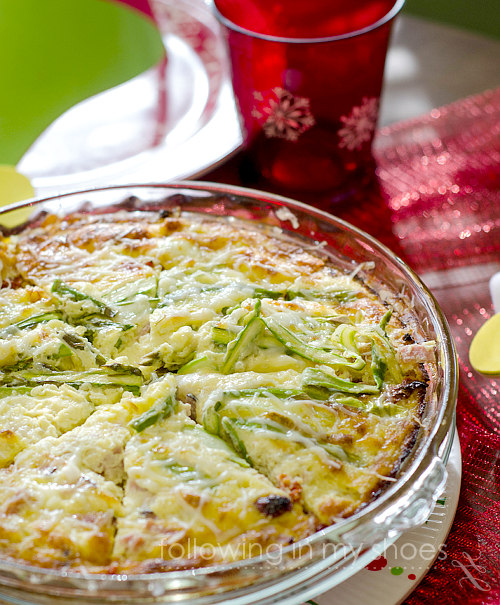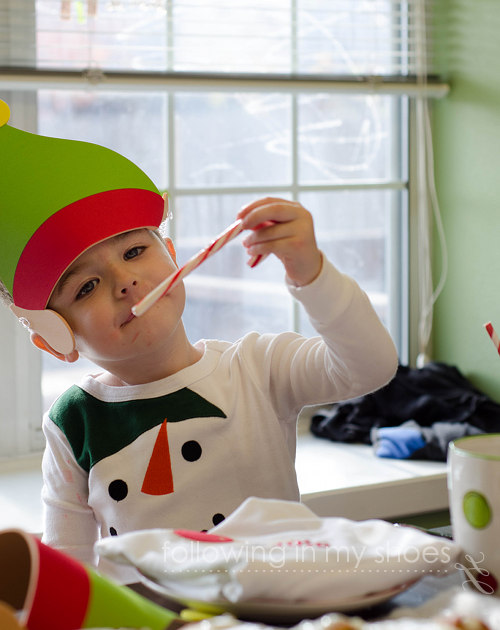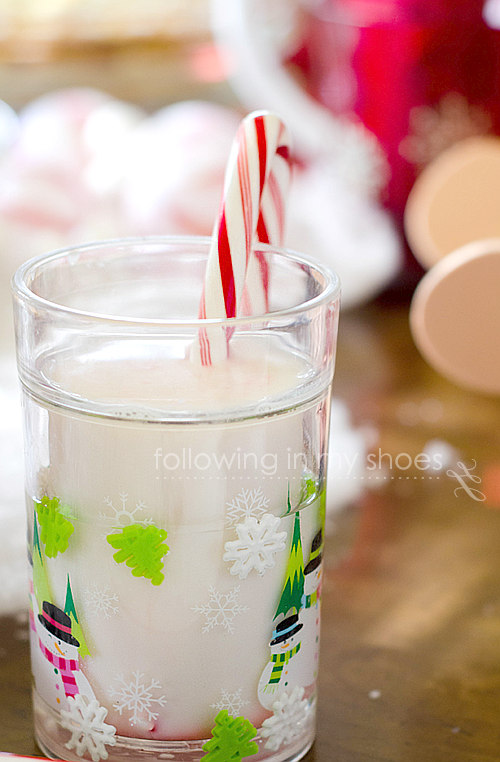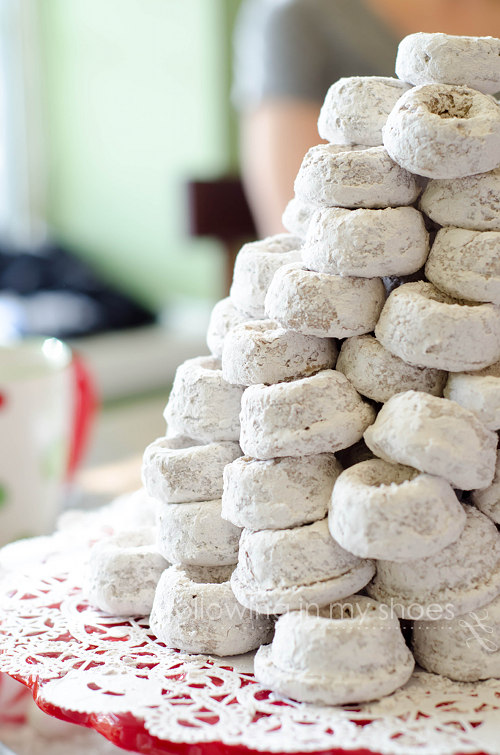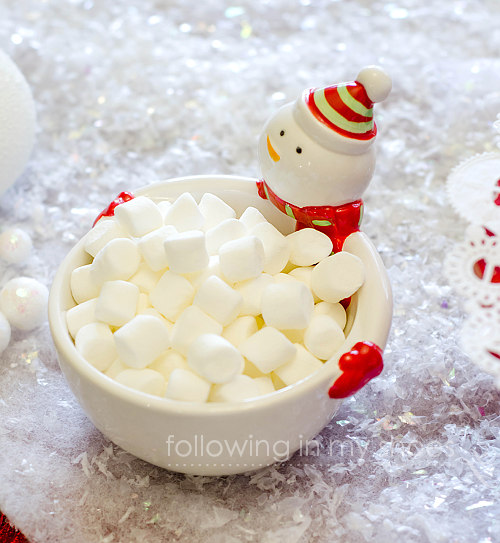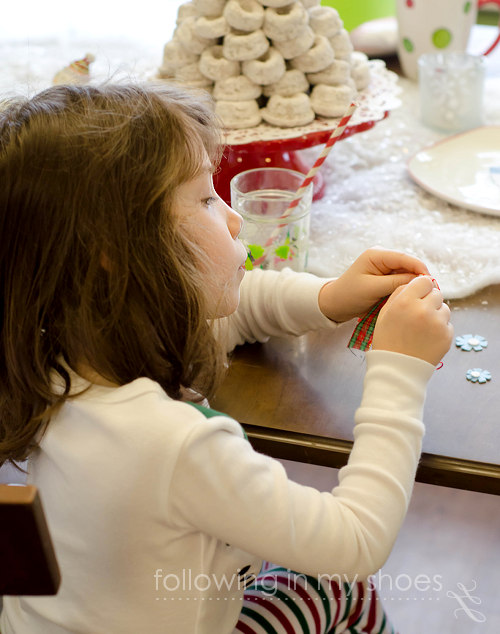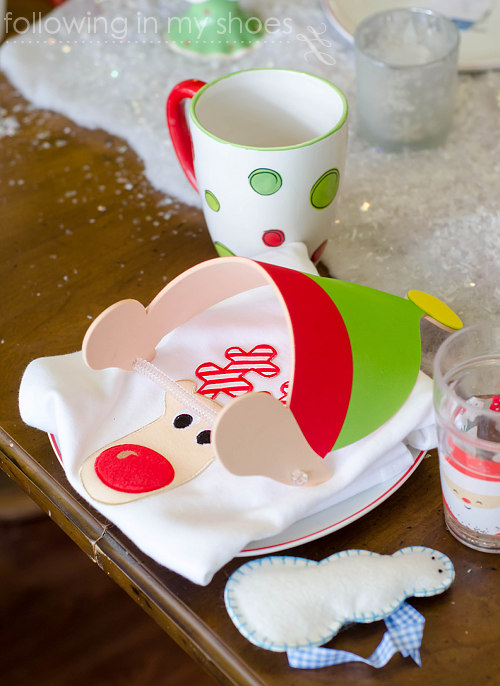 Food and Drinks
Santa Hat Brownies (I used raspberries instead of strawberries — they were cheaper!  And, I used a simple frosting of cream cheese and marshmallow fluff)
Perfect Hashed Browns (fool-proof, by the way)
Fresh Fruit
Hot Chocolate and Marshmallows
Candy Cane Milk (regular milk with a unwrapped candy cane placed in the glass.  As the candy cane melts, the milk turns pink from the bottom up.  So pretty!)
Decorations
Plastic Snowflakes hung (with fishing wire) from our light-fixture
Quilt batting as a "blanket of snow" on the table.
Snowflakes (sold in bags in Christmas decor aisles)
Styrofoam Balls sprayed with foam snow
Shatterproof Christmas Ball Ornaments
Mix n' Match Christmas Dishes and Cups
Place Settings
Elf Hat
Reindeer Shirt (I made these with Garanimals brand white turtle necks and Iron-On Reindeer Appliques.  Cheap and easy!)
Activity/Party Favor
Snowman Ornament Craft (I had these for the kids to make while I finished up breakfast.  It was perfect!  I found them at Hobby Lobby — all of their Holiday craft kids are 50%.  After they finished, I wrote their individual names on the back of each one, along with the date)
Additional Resources and Ideas
Note: All crafting supplies and nearly all of the decorations has been purchased, over the years, from Hobby Lobby; I love when all of their Christmas stuff goes on the 50% off sale, so I stock up.  Most of the decor was used last year during our 2011 North Pole Breakfast.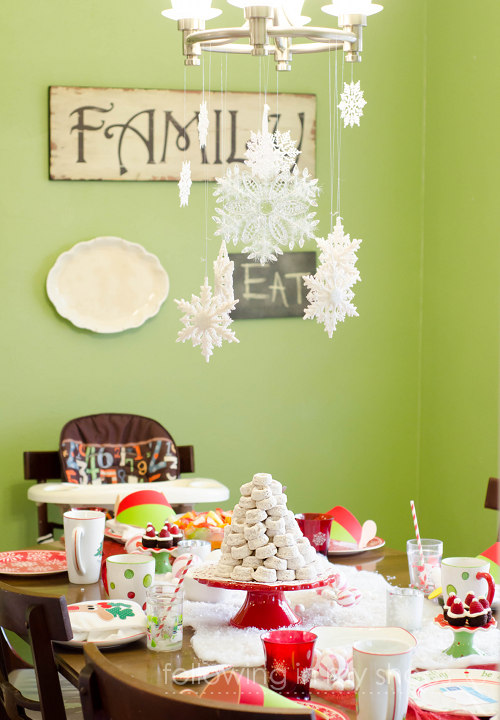 A North Pole Breakfast is a permanent part of our Holiday Season.  Fun.  Magical.  Special.  And, it's an easy tradition for anyone to implement, regardless if you do it the first Saturday of December or Christmas Day.  The menu can be big or as simple as Christmas Themed Eggs in a Basket or pancakes.
Ultimately, the point is to enjoy a meal … with family.  And that, we do.
If you have holiday breakfast plans, I'd love to hear about it!!!!
North Pole Breakfasts from YOU!