When I was around 12 years old, I was in 4-H and my primary activity (no, I wasn't into cows and the like even though I DID live on a farm) was competitive speaking.  And despite the face it has been over 20 years, I still remember the topic that garnered me awards on both the county and state level: Child Car Seat Safety.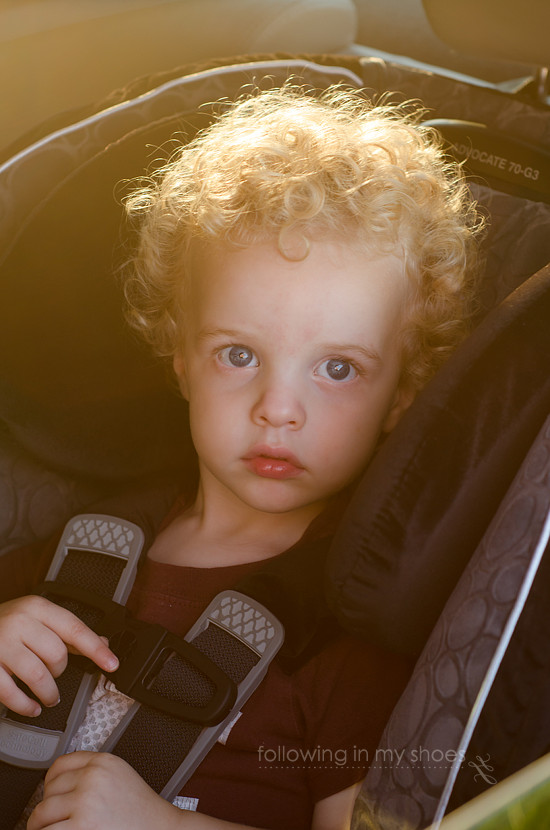 At that time, nationwide child car safety laws and mandatory child restraint systems and seats were still relatively new.  Goodness, I remember — as a little kid — standing in the backseat while my mother drove AND I can recall playing in the floorboard.
THE FLOORBOARD!!!!
Carseats were not yet required by law (in our state) when I was a wee lass … but by the time I was twelve, things had changed and I was passionately sharing statistics with people, trying to help parents and caregivers understand why these new laws were in place.
Fast-forward twenty years and carseat safety is still a hot topic among parents, pediatricians and numerous agencies.  But, even after all of this time, there are still people NOT using proper restaints for their kids.  Don't believe me?  Just sit in the car pick-up lane at a preschool or elementary and you'll see — as I did just this week — how many little bitty ones aren't being put into car seats, or are being allowed to sit in the front seat, or aren't even using ANY thing that could protect them in a crash (whether it be a booster or seat-belt).
It's frightening.
In our family, we have been smack dab in the carseat world for six years; my mini-van holds three carseats that were chosen for their ability to protect my children in the event of a wreck.  And, thankfully, they've not had to be tested.  We've not had to see if they really will hold up under pressure or high-speeds.  But, after installing our newest carseat — the Britax Advocate 70-G3 — into my Husband's sedan, I'm suddenly seeing where our old safety seats might be lacking.  The Britax Advocate? It just screams safety.
Even the Husband — who has always sworn a carseat is a carseat is a carseat — was impressed by the numerous safety features of this carseat.
Britax Advocate 70-G3 Safety Features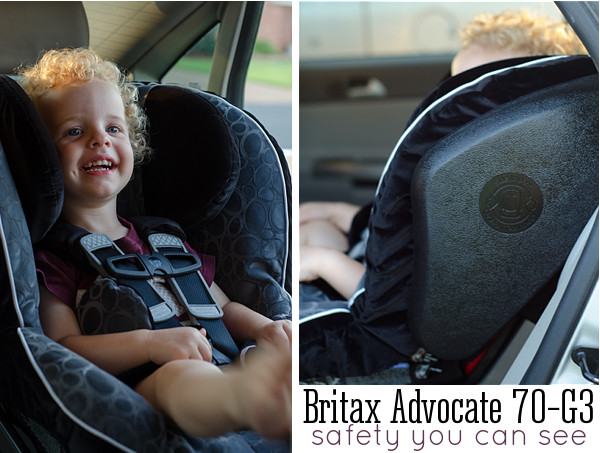 One of the first things that visually stands out ("Safety You Can See") with this carseat is the side-impact protection, which uses 3 layers to keep my sweet boy safe and provides the. most. solid. side protection I have seen on any carseat in my 6+ years of parenting.  I love how protected my little guy will be with this!
1st layer: feature a rigid shell with deep side walls lined with energy-absorbing foam providing Side Impact Protection.
2nd layer: energy-absorbing True Side Impact Protection head restraint that keeps the head, neck and spine aligned.
3rd layer: Side Impact Cushion Technology has energy-absorbing cushions on the child seat's exterior to reduce side impact energy by diverting 45% of the crash forces away from the seated child. These cushions also provide extra protection for the adjacent passenger.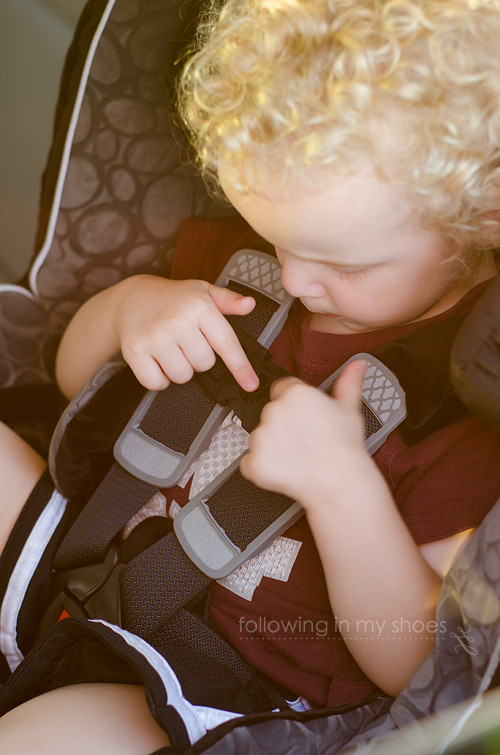 Safety Technology even in the harness: the straps in this carseat have several different ways of ensuring YOU are using them properly so that they, in turn, can do their job of keeping your child safe during a crash.
Get ready for some coolness, people!
With the Britax Click and Safe feature, as you pull the strap to tighten the harness, you will hear an audible CLICK when the harness is properly snug against your child.  Soooo simple and no need to remember to do the "pinch test" to check if the straps are good to go.
Having a perfectly sung harness means that the next little bit of safety harness technology can come into play:  BRITAX HUGS™ Chest Pads with SafeCell Technology®.  The HUGS Chest Pads are affixed to the seat shell, helping make sure the harness is properly positioned on your child.  PLUS, during a crash, the SafeCells on the back side of the HUGS Chest pads help reduce forward movement of your child …. AND, the SafeCells compress to further manage energy, reducing the risk of head injury.
Other Important Things To Note:
BRITAX's patented Energy Absorbing Versa-Tether (reduces forward movement and rotation, helping each safety component  to work  as a system, offering the most advanced protection to children)
BRITAX offers Revolutionary Head Safety Technology that dramatically reduces the risk of head injury and provides complete protection from all sides in the event of a vehicle crash.
BRITAX has its own crash test simulators, in the U.S., Europe and Australia that can certify to strict global requirements.
All BRITAX seats are fully loaded with best-in-class safety features that far exceed federal standards.
Purchase It
The Britax Advocate 70-G3 retails nationwide for $379.99.  You can also find it on Amazon (currently selling for over a hundred under the suggested retail price!).
Win It
Want your own Britax Advocate 70-G3?  Here's your chance!!  I have partnered with Britax and Tapinfluence to give one to my readers … you just need to enter using the Rafflecopter form below!
Safety matters when it comes to car seats. I want one that will protect my child. And Britax convertible car seats have so many safety features — and knowing that makes me feel like my child is safe while in the car. Click here to learn more about Britax safety features.
This is a sponsored conversation written by me on behalf of Britax. The opinions and text are 100% mine.