Maternity wear is not synonymous with hiding your bump in over-sized clothing. While you do require a bigger size once the bump starts to show, it certainly does not imply a tent (and slacks don't need to be the order of the day).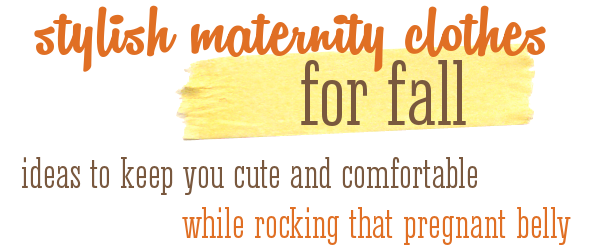 Dressing in style during maternity however can be a bit tricky, but it's quite possible to keep your style statement intact through the fall season.
Maternity Clothes for Fall
Black Tee & Patterned Leggings
You can easily get overwhelmed in pregnancy, especially if it's your first time. Rather than wearing a big shirt that starts hanging after a week or so, wear a maternity t-shirt in black (go with a slightly bigger size). Allow it to show the curve of your belly and then pair up a black jacket if it gets cold.
To brighten up the look, add some Preggers leggings that are trendy when it comes to pregnancy wear. Ideally you would want to go with the one that has a pattern to them or perhaps a color suitable for the winter season and contrasts well with black. Think coca, papyrus or maybe even navy blue.
Maxi Dresses
Maxi dresses are one the best of maternity wear in terms of both style as well as comfort. Stitched in a loose style, yet not hiding everything away, they can easily spruce up your wardrobe.

You can perhaps get a couple of maxis: a plain one and a patterned one. That way you can style the plain one in different ways as the season progresses and make it a frugal buy, and alternately wear the patterned one just as it is.
Knit Dress & Faux Fur Coat
Dresses look lovely once you begin to show, but it's hard to decide which kind to wear allows for comfort and style at the same time. Knit dresses are going to be a good option because they come in all sorts of designs and give you a variety to choose from.

We suggest a dress in black and white color combo, small polka dot pattern, a Peter Pan collar and a flared out skirt. Pair it with a faux fur lined coat that keeps you warm and snuggled when going out.
Jumper & Jeans
For a more relaxed, at home look, this outfit idea is perfect for a day when all you feel like doing is lie on the sofa, watch TV and eat some Tex Mex Migas. Jumpers (sweaters) are a blessing in disguise and come in a variety of funky patterns as well as cartoon and comic prints.

Choose a few that suits your style and go with two or three. Pair them with your favorite jeans, whether they are plain blue ones or patterned ones that have been quite in vogue, and make lounging around your house a part of your fall style statement.
The Final Word
Maternity fashion therefore was never about draping yourself in extra-loose outfits. Be creative with what you wear and perhaps even go beyond the maternity section to find your personal style zone.
[exceptional-citing quoted="rachel" template="bubble-gray-round" date="" ]Pregnant or not, how do you plan to dress up this fall? Feel free to leave comments with your personal style ideas.[/exceptional-citing]
disclosure: This dedicated content is provided by guest writer, Sara Stringer.