Get ready for the worst but most beautiful phone picture ever: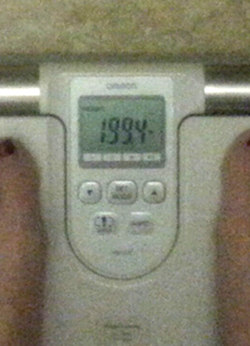 This picture is the result of waking before the sun, grabbing your nearly dead camera phone, and heading into your dimly lit closet to snag a scale pic.
You get the grainest picture EVER … but it still makes you grin because you've finally met a mini-goal.
I haven't been under 200 pounds since I stopped nursing Baby Barney Kneeknuckles (or, Monster Toddler Barney Kneeknuckles as his 18-month "Well Baby Visit" proved today.  34 inches tall and a head size in the 99th percentile.  Dude.).  That's been a year — a year of post-nursing weight gain and stress eating and limited activity.
Just before I conceived that baby, I'd spent the better part of 2010 losing the baby weight from Mr. Boy.  I lost nearly 40 pounds that year, and the entire time I was pregnant and then in Baby Barney's first year of life, I was dreading the process of losing weight again.  So, I ignored it.  Ignored being healthy and just let the weight creep on.
But the past 5-6 weeks of the Omron Fitness challenge with Mamavation have been so GOOD to remind me of what's important.  To show me how simple (yes, simple) weight loss really is.
Healthy isn't hard.  Is it work?  Heck, yeah … but if you are smart about it and disciplined and just put your big girl panties on and DO IT, healthy is completely accessible.
Even to a girl like me with polycystic ovarian syndrome and rheumatoid arthritis, a healthy life (and, yes, with weight loss) can be achieved.  You just have to believe it and work at it.
Official "End of Challenge" Results
Pounds Lost: 11.6
(I think upping my cardio helped increase my pounds lost over the past two weeks)
Inches Lost: 13.0
Smart food choices, eating breakfast, drinking water, MOVING each day, and working smarter (not just harder) with tools like my pedometer and heart monitor have all gotten me to the point where I am this week.  I have more energy (no coffee needed here!), my clothes fit better …heck, I'm wearing clothes that were around BEFORE Barney Kneeknuckles.  And, to quote the Husband, my backside is "getting rounder in the right way."
That, folks, is a compliment I can take to the bank.
Join Us for the #iheartOmron Twitter Party
Coming on February 20th, all of us in the #iHeartOmron challenge will be tweeting with Leah Segedie (founder of Mamavation) and others about our experience making the healthy changes we have been making.
In addition, you'll have the chance to win one of the three tools I've used the past month: the Strapless Heart Rate Monitor, the USB Pedometer, and the Full Composition Monitor & Scale.
Who: Omron Fitness & Mamavation
When: Wednesday, February 20th
Time: 8-10pm EST (5-7pm PST)
Hashtag: #iheartOmron
Theme: Workout SMARTER instead of longer
Click here for full info and the RSVP form.
What type of mini-goals do you set for yourself?
disclosure: This post is sponsored Omron Fitness as a collaboration withBookieboo Blogging Network and Mamavation – a community dedicated to weight loss for women and obesity prevention for families.  I was provided with product and compensation for my time and honest opinions.