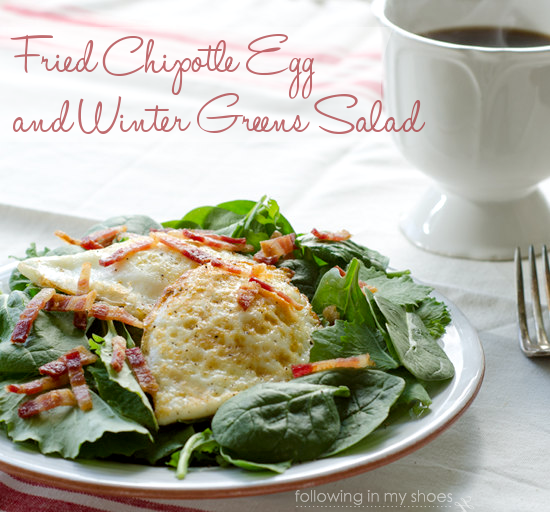 So, there's this breakfast salad that both the Husband and I have been making several times a week.  I threw it together one day on a whim.  In the midst of my fitness challenge, I needed a breakfast that combined protein, healthy fats, and fiber.
And . . . I needed to go the grocery store because my fridge had only a few items in it, but taking all three Kidlets to the grocery store is something I avoid at all costs.
(I know I'm not the only one, right?  RIGHT?)
Instead, I grabbed those fridge staples and crossed my fingers I would have something edible.  Ha!  It's laughable now to think I was worried — the first bite told me there was nothing but deliciousness in this meal.
I mean, c'mon — seriously.  How could I go wrong with such basic ingredients?  Eggs, baby kale and spinach … butter, bacon and Chipotle Tabasco.
Yes, folks, that's the secret ingredient for this Fried Chipotle Egg and Winter Greens Salad.  A St. Louis chef introduced me to it this past summer, during a family camping trip.  It's AMAZING.  Unlike regular Tabasco, which is good but has a lot of heat, the Chipotle Tabasco gives a smokey flavor with a more subtle amount of spice.  We have used it on vegetables, steaks and now eggs.  You have to get a bottle..
And then be prepared to make this over and over and over.
Simple. Flavorful. Perfect.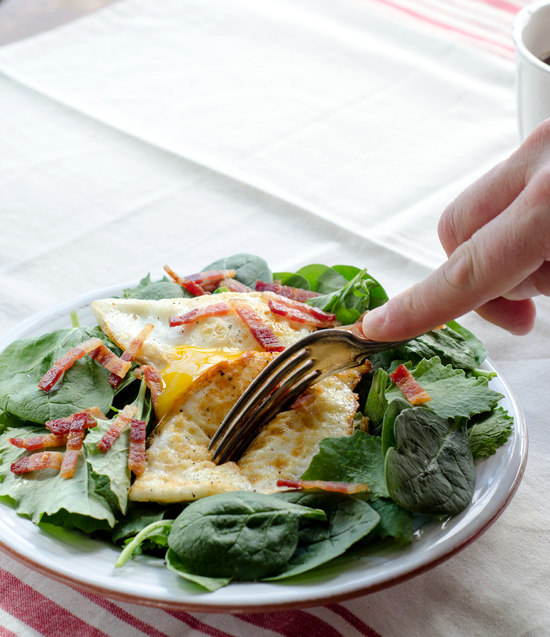 And THEN … as you start going through an exorbitant amount of eggs because you are ADDICTED to this dish … be prepared to lose your ever-lovin' mind as you watch yourself (in a near out-of-body experience) decide you need to raise chickens.
Chickens.  You know — the egg-laying kind.
Yes, you'll decide you need to raise chickens.  And you'll impulsively head off to the bookstore for Chicken books, which (of course) you'll "Instagram" as soon as you've purchased them.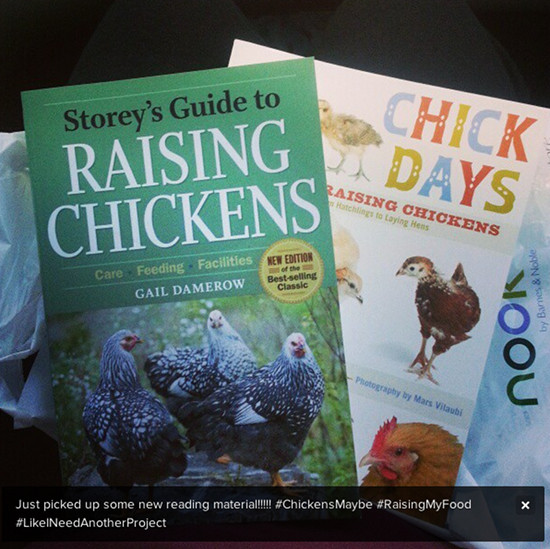 (I'm sure everyone who saw this pic in their stream just rooooolled their eyes … much like the Husband did)
Yes, you'll stay up till well, well past midnight browsing "backyard chicken" forums.
Yeah, there are forums.
Yeesh.

Fried Chipotle Egg and Winter Greens Salad
(ingredients are listed per person served)
Ingredients
2-3 cups of Baby Kale and Baby Spinach
1-2 Large Eggs
1 tablespoon of Unsalted Butter
Chipotle Tabasco
Salt/Cracked Black Pepper
Cooked Bacon, if desired
Instructions
Before cooking, place your salad greens on a dinner plate and set aside.
In a non-stick or egg pan, melt the butter over low heat.
Once melted, crack open the eggs and pour the raw eggs into the pan.
Season the egg with a few dashes of Chipotle Tabasco and a sprinkling of salt and cracked black pepper.
Cook over low heat until the whites become opaque, and then -- using a soft tipped spatula -- gently flip the eggs.
Cook for an additional 8-10 seconds and then remove the cooked eggs, gently placing them atop the plated greens.
Top with cooked bacon, if desired.
Serve immediately.