This week was stressful.  Who knows exactly why, but it simply was.  Stressful, loud, chaotic.  And we bought Girl Scout Cookies from a friend's daughter.
(eeeeek!)
In the past year or so, I have realized that I am a stress-eater … or, more accurately, a stress binger.  When stressed, tired, worn-out emotionally and mentally, I turn to food.  French bread, chocolate, Nutella, cream cheese.  And I don't stop with just one portion.  I eat until I feel better and forget the stress . . .  for the moment.
And, this week, amid everything that has been going on, I have wanted all of my old vices: to sit down and put my feet up, watch reruns of Downton Abbey, and nosh till I felt better.
But, I didn't.  Eat, that is. . . . Downton Abbey I did give into as, it turns out, it can be watched while you walk on a treadmill.  Woo hoo!
No, I ignored the Girl Scout cookies and I stopped adding sugar to my hot tea.  I'm trying to break this emotional addiction to sugar — trying hard.  But it's a huge hurdle for getting back to the body and lifestyle I used to have.  It's time to be in control of food instead of letting food control me.
This Week in Numbers
Technically, I had a slight gain this week of about 8 ounces.  Yeah, I'm not going to worry about a mere 8 ounces.  That could have been the result of any number of things, and could even be reflective of muscle gain from our new (HARD) workouts.  No, such a slight gain doesn't worry me because my body measurements continue to show that body fat is melting away.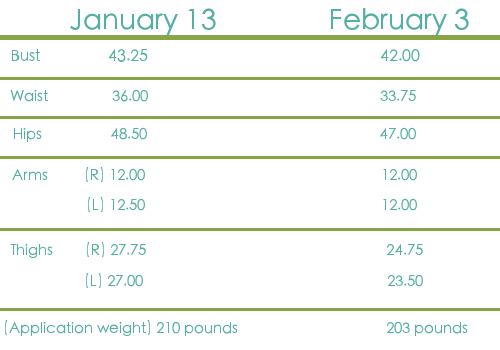 Total weight lost for challenge: -7 pounds
Total Body Inches Lost: -12 inches
So, How Do I Look?
This week, I'm supposed to share "after pics" for this challenge.  Well, that's a bit of a misnomer – – the challenge is NOT over.  Not in the least . . . but I'll explain more about that later.
So, let's call these photos "Update Photos".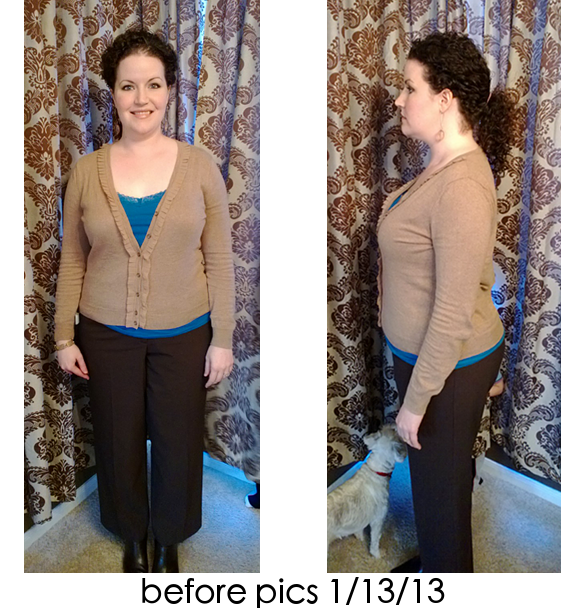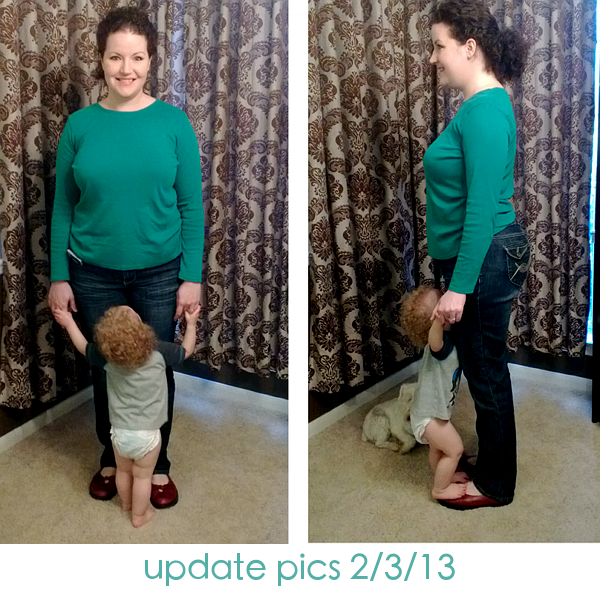 (ignore the crying toddler, who couldn't be persuaded from trying to climb up me during the pics … and, oh, yes, ignore the ever present dog who must be by me at all times)
To be perfectly honest, neither my Husband nor I can see any difference yet in my outward appearance.  I think the last time I lost weight (after pregnancy #1), I didn't see any visible changes in my face, etc., until around the loss of around 12-15 pounds.  At that point, there was enough gone that I could SEE the changes.
But, this past week, I *was* able to start wearing various pants and jeans that haven't come out of the closet in quite some time.  I wore them — comfortably — and I was even able to EAT while wearing them!  C'mon, you know what I'm talking about … it wasn't that they were just "barely" able to fasten … uncomfortable if even a sip of water entered my body.  No, these pants fit and stayed comfortable all day long.
That is a nice change.
Using Weight Loss Tools to Work Smarter, Not Harder
Last Thursday, I received my Omron Strapless Heart Monitor.  This little wrist-worn device has been an eye-opener!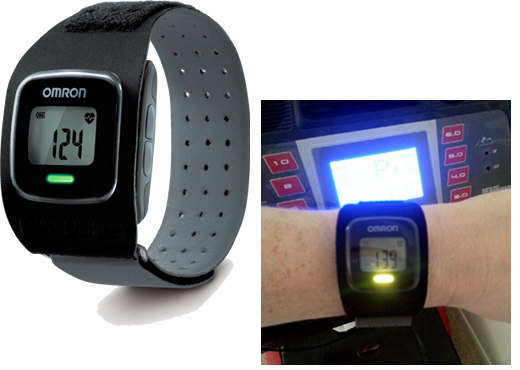 First of all, I appreciate the fact I don't have to try wearing this monitor around my chest.  Been there, done that, and failed.  This monitor is worn like a watch and during each work-out, it uses an optic sensor to monitor blood flow, keeping track of my heart rate, calories burned, distance (if running/walking), and pace.
But my favorite component is knowing exactly HOW hard I need to push myself to meet my goal.  See the glowing light on the face-plate?   That light changes as your heart-rate changes.
Blue —

warm-up/cool down

 

Green —

your body is burning fat and building endurance

Yellow —

the cardio range for your body

Red —

maximum range for power/speed
With this type of monitor, I have realized over the past few days that I haven't been pushing myself enough when it comes to my cardio workouts.  Maybe that's the reason for not seeing more actual weight loss?  I'm curious to see what happens this next week as I use the heart monitor to do a better job staying in the optimal cardio range for my body.
Bob Greene, personal trainer for Oprah, is also a fan of this heart monitor.

Heads Up for a Chat and Some Prizes!
Coming on February 20th, all of us in the #iHeartOmron challenge will be tweeting with Leah Segedie (founder of Mamavation) and others about our experience making the healthy changes we have been making.
In addition, you'll have the chance to win one of the three tools I've used the past month: the Strapless Heart Rate Monitor, the USB Pedometer, and the Full Composition Monitor & Scale.
Who: Omron Fitness & Mamavation
When: Wednesday, February 20th
Time: 8-10pm EST (5-7pm PST)
Hashtag: #iheartOmron
Theme: Workout SMARTER instead of longer
Click here for full info and the RSVP form.
Now, what's your preferred form of cardio?
disclosure: This post is sponsored Omron Fitness as a collaboration withBookieboo Blogging Network and Mamavation – a community dedicated to weight loss for women and obesity prevention for families.  I was provided with product and compensation for my time and honest opinions.